The Guardian: I delivered my first line and Anthony Hopkins burst out laughing By Ryan Gilbey
Details

Hits: 2291
The star of Hitchcock is versatile, nuanced and passionate. Yet James D'Arcy is so self-deprecating, he says he once got a Hollywood audition only because they thought he was Colin Firth.
James D'Arcy sweeps into the London restaurant, grabs my hand in a matey greeting, and slides in beside me on the banquette. He wriggles out of a black sweater, revealing an olive T-shirt and tanned forearms.
I have just seen Hitchcock, his most recent film, an enjoyably heightened account of the making of Psycho in which he gives an eerily exact rendering of Anthony Perkins, wringing his rolled-up script anxiously in the presence of Hitch (played by Anthony Hopkins). Like most of his work to date, it gives no clue as to whom D'Arcy might be offscreen; he is equal parts talent, pointed handsomeness and mystery.
Though alert and nuanced in everything from the briny melee of Master and Commander: The Far Side of the World to the trippy fantasia of the forthcoming Cloud Atlas, he resists categorisation. "Hollywood absolutely loves him," says Hitchcock's director, Sacha Gervasi. "He's a rising star and he's already garnered this reputation as a chameleon-like actor."
He also feels like a bit of an open secret. Horror aficionados will recognise the 37-year-old from playing straight-arrow types in An American Haunting and Exorcist: The Beginning. Some of his finest work has been largely unseen (his turn as a prison guard in Screwed) or confined to television (he was a dynamic Irish nationalist in the mini-series Rebel Heart). He will give his best even in a film as facile as W.E., Madonna's Edward and Mrs Simpson story, where he brought warmth and breeziness to some atrocious writing (Wallis: "You certainly know the way to a woman's heart." Edward: "I wasn't aiming that high.")
You would be forgiven for lumping him in with the "posh pack", those thirtysomething pretty boys who include Benedict Cumberbatch, Tom Hiddleston and Eddie Redmayne. Indeed, there is a strong fraternal resemblance between Cumberbatch and D'Arcy: the narrowed eyes, foppish hair, taut smile and pink, triangular face. Both have paddled in the same shallow waters of British television, catching themselves a Silent Witness here, a Marple there. D'Arcy has also played Sherlock Holmes (in the TV film Sherlock: Case of Evil) albeit to less fanfare than Cumberbatch. But if the likes of Sherlock, War Horse and the new Star Trek sequel make Cumberbatch the Beatles of modern British acting, D'Arcy is something altogether pricklier and more enigmatic: he is the Kinks.
His range and idiosyncrasies are well reflected in his latest films. He is reportedly terrifying as a psychopath in the as yet unreleased home-invasion thriller In Their Skin. This month, he will be seen beneath varying layers of prosthetics in Cloud Atlas, adapted from David Mitchell's millennia- and continent-spanning novel. That movie has three directors, six cross-pollinating stories and a multitasking approach to casting that enables D'Arcy, Tom Hanks, Hugh Grant and Halle Berry to diversify far beyond their own ages, ethnicities and, in some cases, genders. "It's a headfuck," he marvels. "An amazing, groundbreaking, extraordinary piece of art." When most people whip out their phones, you brace yourself for cute pet pics or babies in bubblebath. But D'Arcy scrolls excitedly through his snaps to show me himself as an elderly, prune-faced, gay scientist or a futuristic Asian interrogator with a head like a butternut squash.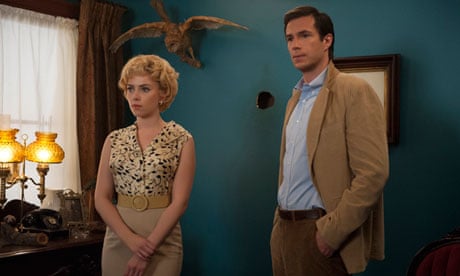 Before Cloud Atlas comes Hitchcock, in which D'Arcy brings jolts of nervous energy to every second of his brief screen time while also capturing the nagging sadness behind Perkins's over-eager grin. I am in the middle of complimenting him on this when I use the i-word. "I wasn't really trying to do an impersonation, to be honest," he winces. "But the way Perkins delivers a sentence is so distinctive that you can't really half-do it. He takes pauses in unusual places, and his voice has a certain pitch to it. In my opinion, he wasn't the most versatile actor. Around the same time as Psycho, he did a comedy, Goodbye Again, where he's not a million miles away from Norman Bates. He's really gangly. All arms."
His Hitchcock audition story is one I hope he never tires of telling. "Anthony Hopkins was in there with Sacha," he recalls. "He was staring at me for, like, five minutes. It was almost embarrassing. I delivered my first line and he burst out laughing and fell off his chair. I mean, he actually fell off. Once we started the scene again, we improvised for about 45 minutes, and at the end of it, Hopkins asked me in character: 'What would you do to get this part?' I said: 'Well, Mr Hitchcock, I'd do almost anything to get this part.' And he said, in his own voice: 'Well, I think you're going to get it.' I was thinking: 'Was that Hitchcock? Was it Hopkins? Who said that?'"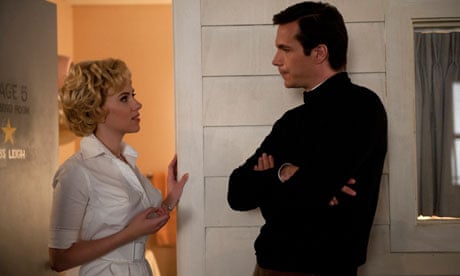 The thrust of Gervasi's film is that artists express through their work desires that would otherwise remain hidden, whether it is the unsavoury impulses attributed to Hitchcock himself or the personal schisms of the closeted Perkins. Despite the film's blase approach to Perkins's sexuality, it is a discussion that D'Arcy is reluctant to extend. "I want to tread a bit delicately. He has children and I met a number of them when the movie opened in America. I think you're asking questions here about his sexuality." As does the film, I say. "Yes, it does. I would hesitate, though, to say that Perkins was in any way trying to make a statement through the movie. The best you could say is what we hear in the film: 'Think of the duality he'd bring to Norman Bates.'"
D'Arcy's passion for acting began with school plays and a stint at the National Youth Music Theatre, where he gazed on contemporaries such as Jude Law and Jonny Lee Miller and thought: "I can't do what they do." After spending his gap year teaching drama in Australia, he returned to try his chances at Lamda. Finishing his audition piece there, D'Arcy remarked politely to one of the tutors that he hoped to see him at the start of term, only to receive a ferocious upbraiding. "I was very upset. I ran off down the street and an older student came and found me. He was my saviour, really."

That student was Alistair Petrie, now an actor himself in Cloud Atlas and Channel 4's Utopia. "I remember James as this irresponsibly handsome young man, very tall and charismatic, who'd bolted off because he didn't feel it had gone well," Petrie tells me. "I suppose it illustrated how much he cared. Even now you can see how that concern bleeds into his work."
When the call came from Lamda telling D'Arcy he had been accepted, he had just finished watching The Godfather for the first time. "I answered the phone and I had to physically stop myself from going: 'I can't take the place – I'll never be able to do what I've just seen Pacino and Brando do, so I can't come. Sorry!'"
It's typical of him that a moment of personal triumph should be undercut by nuttiness. Most of his anecdotes have that self-deprecating element. There was the time he received a 1p an hour rise after having a gun pointed at him by a customer when he was working in McDonald's. How he realised he had landed a Hollywood audition only because a studio underling had misinterpreted an instruction to "Get that Mr Darcy guy". (They really wanted Colin Firth.) How he spluttered incredulously when a female hack at the Master and Commander premiere said: "This movie has lots of seamen in it. Do you like seamen?" (He only realised afterwards that she was from Playboy magazine, and that the joke was on him.)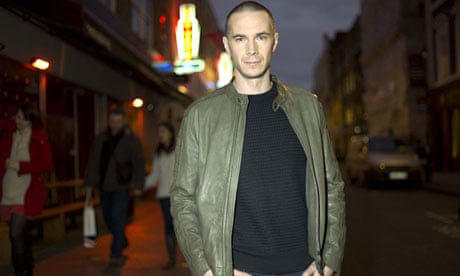 James D'Arcy: 'Not your typical, egotistical actor.' Photograph: Alex Lentati/Evening Standard
He is intensely serious about his work, it seems, without necessarily feeling the same way about himself. "D'Arcy's not your typical, egotistical actor," says Gervasi. "Most are self-absorbed and boring, and that's not him at all. I really think he can do anything. He could be James Bond one day if he wants to be. Seriously. It's up to him."
Petrie believes his old friend's greatest successes lie ahead of him: "He's a very unshowy actor who goes about his business simply and quietly, and because of that he hasn't got recognition as quickly as other people. But I hope that'll change. The best scripts should now start landing at his door."