James D'Arcy: Madonna used to curtsey to me on W.E. set
BBC Newsbeat / 11 Jan 2012 / Interview by Chi Chi Izundu, written by Steven McIntosh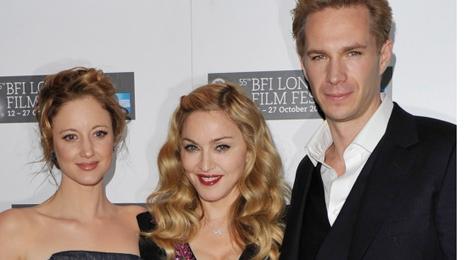 Andrea Riseborough, Madonna and James D'Arcy
The cast of W.E. have revealed what it was like to work with Madonna as she directed her first film.
James D'Arcy, who plays King Edward VIII in the movie, says the singer helped the actors get into character for their roles.
D'Arcy said: "Madonna used to curtsey to me quite a lot. She used to call me Your Royal Highness, she still calls me that when she emails me.
"It was quite nice being bowed to. I rather enjoyed it."
The actor joked that he wanted his family and friends to start bowing to him while he was playing the role.
"I'm still making them bow and curtsey to me, that's something that's stayed with me until the film finished," he said.
W.E. is Madonna's first film as a director and is based on the life of Wallis Simpson, the Duchess of Windsor.
D'Arcy says Madonna had a vision for how she wanted the movie to turn out.
"Madonna was so prepared and so clear about what her vision was and very good at communicating it, so that made it easier," he said.
But the 36-year-old said that cast and crew members weren't allowed to call her Madge on set.
"I never heard anybody call her Madge," he admitted. "That was the first thing I discovered. You don't call her Madge, that's for sure."
Jewellery bodyguards
Andrea Riseborough, who plays Wallis Simpson, said Madonna had a ritual that would help her get into character on set.
"At the beginning of each scene, Madonna would place on the final touches of the Duchess," Riseborough said.
"She would put on the Duchess's jewellery, and some if it actually belonged to the Duchess, and from that point on we had that moment of complicity."
Riseborough revealed that bodyguards were hired to protect the jewellery on set.
"I had between two and six very burly security guards who were lovely, who would follow me around - even to the bathroom," she said.
Describing the plot of the film, the actress said: "W.E. is the story of the life of Wallis Simpson, and it's viewed through the eyes of a modern day character called Wally, who exists in the 90s, and vicariously lives through Wallis's 1930s romance in an effort to escape her own disappointing marriage.
"Wally then finds a liberation of freedom towards the end that Wallis never gets to have."