Chicken/Egg is now on IMDB
Details

Category: Latest updates
One of the great things about being a fan of James D'Arcy is that he is energetic and always full of delightful surprises. 
One fine April morning of this year, we were surprised with a funny tweet from a magician who hashtagged Hayley Atwell.  Roffman was doing a little bit of "magic advising" on the set of Chicken/Egg, filming somewhere in London.  
At that time, we weren't  really sure if Hayley had a part in his short film, but now we are as Chicken/Egg was just posted on IMDB.  Hayley Atwell is "Lauren" while Nikolaj Coster-Waldau is "Kenneth."   
James' adorable nephew, Huxley, whom we had last seen giving Hayley a kiss on the set of Agent Carter in his Captain America outfit, on the last day of S1, is also in the cast list as "George."  Perhaps Hux is following the footsteps of his super-fun uncle.
The short film which was originally 13 min, is now extended to 15 minutes.  
In addition, James is director, writer and producer.  That's wearing a lot of hats!   
Synopsis: "A magician and his uncle are entertainers at a children's party, though they are not all that they seem."
 It is now in post-production.  It seems to be developing quite quickly, so hopefully that means we shall see it soon.
James' short film is becoming more and more promising, now that we have the Kingslayer in a chicken suit, Agent Carter and mini-Capt. America on board. Heavens!  What could this all be about? 
Gernika Opens in Cinemas Today & Best Interviews of the Week !!!
Details

Category: Latest updates
It is finally here, 09 September, the day that Gernika finally opens in 92 theatres across Spain!
 We wish the Gernika producers and cast/crew, the best success in the world, not only because Koldo Serra is the greatest guy in the world, but also that this is an important story to be told.  We hope that the pre-release of Gernika in downloads and DVD by Sony Pictures will not have adverse effects at the box office.
Here are the best of James' interviews from this week's promotions in Madrid and Bilbao.
e-cartelera, 09 Sept. by Ivan Ginés
NON STOP PEOPLE by Patricia Lopez  (the video is not embed-friendly, so click the link)
"We Talk to to the Stars of 'Gernika'
Series.On Day by Maria Reinoso   "This movie talks about many things"  
An interview with James D'Arcy and Ingrid Garcia-Jonsson.  (only James' below)
SERIES ON DAY: Our own history is erasing apace events that took place in Guernica, and I guess that is not well known outside our borders. How did you hear about the bombing?
James D'Arcy: For me, the first contact with the story was reading the script, if I'm honest. I think he had seen the painting of Picasso, but not something you figure out immediately. Certainly I did not know that Guernica was the first time that civilians had been chosen to be bombed, the first city that had been wiped off the map. I knew I had something to do with the Spanish Civil War, but not much more. Logically, it also taught in British schools, so one of my first impressions when you read the script for the first time was "wow, this is an important story. The world needs to hear this story. " That did it , I will not say exciting, because it seems inappropriate given the background, but I did feel it was a good project that part.
SOD: I do not know much about the attack, how you met with this project and decide to be part of it?
JD: I'm not sure, but I think Jack Davenport, who is my friend, was involved in the project for quite some time, and when he thought about who could play Henry, sent an email to Jack to ask "What would you think James? "and he said" would be great, it's very good friend of mine , "so they sent me the script. But I think Jack had told me about it before, had an inkling about it, although he had not paid much attention.
SOD: Did you have any trouble understanding the script or relacionaros with your colleagues?
JD: If I had been given the script with Spanish I would not have understood a word. I think even the parts in Spanish and German were translated my script when I read it , to understand everything, thank God. In addition, luckily all my classmates were pretty good with English and were very kind to me, because they could have talked all the time in Spanish, but spoke mostly in English to understand almost everything.
SOD: Ingrid is bilingual, have you learned some Spanish?
JD: The truth is no. At first I tried, I said "I will learn Spanish while recording hard" but the runnings are so tired that you can only think of the recording. The idea of learning a language while going about your mind almost at once.
SOD: What has been the hardest for you, James, when preparing your character?
JD: For me was reading a lot about history before shooting began. I knew nothing about how it was the Spanish policy in the thirties, so that enough research needed, look at it from an objective point of view and decipher everything. Actually you could sum up in trying to tell the truth, no sides, but in a way it was also entertaining.
SOD: After seeing the end result of Gernika, what was your first impression? Do you think that has anything changed by adding post-production, such as special effects?
JD: I have not seen the movie (laughs), but I do not think that changes anything. The special effects put them later, so I just have to pretend you are there at the time to act. Really all that involves acting is pretend.
SOD: James, both Dunkirk and The Snowman, your next projects, you will conduct a dramatic role. Do you feel more comfortable in that genre?
JD: Not exactly. Jobs simply are coming. I love doing drama, but for example Agent Carter was fun, I loved working and simply playing the fool.
SOD: We feel the obligation to ask the following. All the news saddened by the cancellation of Marvel's Agent Carter. Do you see possible Jarvis play in the future?
JD: Maybe, yes. I do not think this series is finished. I think we can do more. I do not know how, but I know Hayley continue, Dom continue, Enver showrunners continue ... and also would like to continue. Okay, because you can continue the story five years later and have more adventures, if people wanted. So we'll see, maybe. A I loved playing that character, you may do it again.
El Mundo by Javier Estrada   James D'Arcy: "We must remember tragedies like this"
What did you know about the bombing of Gernika before shooting this film?
I am ashamed to say that I knew almost nothing. I will even admit that he had not seen the famous painting that Pablo Picasso painted until I did not read the script. I think this film honors what happened to many people and sheds light on those facts.
But you will have learned something ...
During filming, my castmates and I had the privilege of meeting a few survivors. I was surprised them the glint of their eyes and they seemed alive. Even after contemplating a tragedy of these dimensions.
Do you think Gernika possible that this story will never be forgotten?
Absolutely. We must remember such terrible tragedies like this. From them you can learn a lot for our future.
How was the experience of shooting on the orders of a Spanish director and Koldo Serra?
Koldo is a true movie lover. I might even say that its most prominent feature is the staff almost encyclopedic knowledge he has of the Seventh Art. It is one of the directors who has more expertise. Every time we shot a scene you saw how excited him what he was doing. It is one of those people who love their craft.
Did you ever think you'd work in a Spanish production?
I was very excited when I was invited to participate in a Spanish film of such a large scale like this. Luckily I played my character in English. My Spanish is terrible and just had to say anything in that language!
How do you definías Maria Valverde, his costar?
Mary is a lovely and talented partner, but also a friendly, helpful and very funny. I think you can not ask for anything more than a star like her (laughs). It has been a pleasure working with him.
You have participated in several period films. What are you most interested in this genre?
Nothing special. Actually, I've always looked for stories that have heart. And that is something that quite often occur in period films. Since I was little I have always loved to pretend. I guess I got lucky and somehow became that fun at work! (Laughs).
Series.On Day by Helena Rubio   Excerpt from interview with Ibon Perez
Ibon Perez is a young journalist , well known in Euskadi and has also worked nationally in chains like Cuatro or Telecinco.
SOD: How did you live the experience of working on something? And sharing scenes with actors of great prestige as Maria Valverde or James D'Arcy?
IP: When you hear this "3,2,1" action ", your head goes into the background and forget to where you are. You do not know if it's 1937 or 2016. Maria Valverde and James D'Arcy were very respectful. They do not be looking over his shoulder, which is what I think anyone who does not know them. To me touched me share scenes with D'Arcy and ... I could not be a more folksy uncle!
EITB.eus  by Natxo Velez   Interview with Koldo Serra "We had to tell the story of the bombing of Gernika"
What would you highlight what each of the protagonists has brought to the film?
James and Jack have been known for 15 years, are friends, and although never before had worked together, that helped the atmosphere in the backlot. In addition, when they discovered what was behind the word "Gernika" were very involved emotionally, and it was very easy to work with.
As more will come, check our Press: Articles and Interviews 2015-2016 for new ones
09 Sept 2016 issue of Fotogramas approves James' style :
OK - James D'arcy
We like James D'arcy work in our cinema and comes multiple times to Spain.
The list of theatres in Spain where Gernika is playing. (from Gernika Facebook)
Great news! James attending the Gernika premiere & 2 clips!
Details

Category: Latest updates
An exciting announcement from Gernika Facebook and twitter today:
Thanks to Iberia express we are going to have the presence of Maria Valverde and James D'arcy in the promotion of the premiere in Spain!! You we keep reporting
Good news: thanks to @iberiaexpress we can count with María Valverde and James D'Arcy in Madrid in brief :)  

We don't have news of the venue yet, but we can be sure the date would be September 09. 
To make the wait more bearable, Cinemania released an Exclusive: The Making of "Gernika' with unpublished behind the scenes images and interviews with Koldo Serra, Maria Valverde, James D'Arcy, Alex Garcia, Ingrid Jonsson, Julian Villagran and Irene Escolar.  Gracias!  This really is a film that keeps on giving. Enjoy.
"Making of the Special Effects" exclusive by Fotogramas.es
A high profile Gernika premiere at the Guggenheim Museum Bilbao
Details

Category: Latest updates
Wednesday, 07 September 2016: It was a wonderful and thrilling day promoting Gernika at the splendid Guggenheim Museum in Bilbao.  After an intense 6 weeks of filming in Bilbao in the months of May and June last year, the film returned to the city for its premiere. (photo above by @jonpi_reyes twitter)
It started with Maria Valverde posting "Flying to Bilbao!' on her instagram.
The tall gentleman at the back looks like James, doesn't it?
The day began with Press Passes at 11.00 am and interviews starting before noon and through the early afternoon. 
At 2 pm, @BistroGuggenheim instagram.   What a glorious setting for an interview!
Maria Valverde twitter, in the afternoon, after 4 pm.
Barbara Goenaga reminded everyone that there was a presentation at the Fnac Bilbao at 5 pm!
Fnac Espana (twitter) "James D'Arcy and Barbara Goenaga accompany Koldo Serra (and Jose Alba) in our shop presenting @GernikaTheMovie"
Our super-lucky friend @aleja_rdjr met James at the Fnac dvd/book/music store after the presentation at 6 pm.
"Fangirleo 150%  A year late again see #JamesDarcy"     
Note to self:  It must be that Star Wars T-shirt...  James is a big fan of Star Wars.
 In the evening, it was back to a night at the museum...  (I've always wanted to say that)
At 8.30 pm, VIPs and actors prepare to present Gernika at the Guggenheim Museum Auditorium. 
(photo by @koldoserra twitter)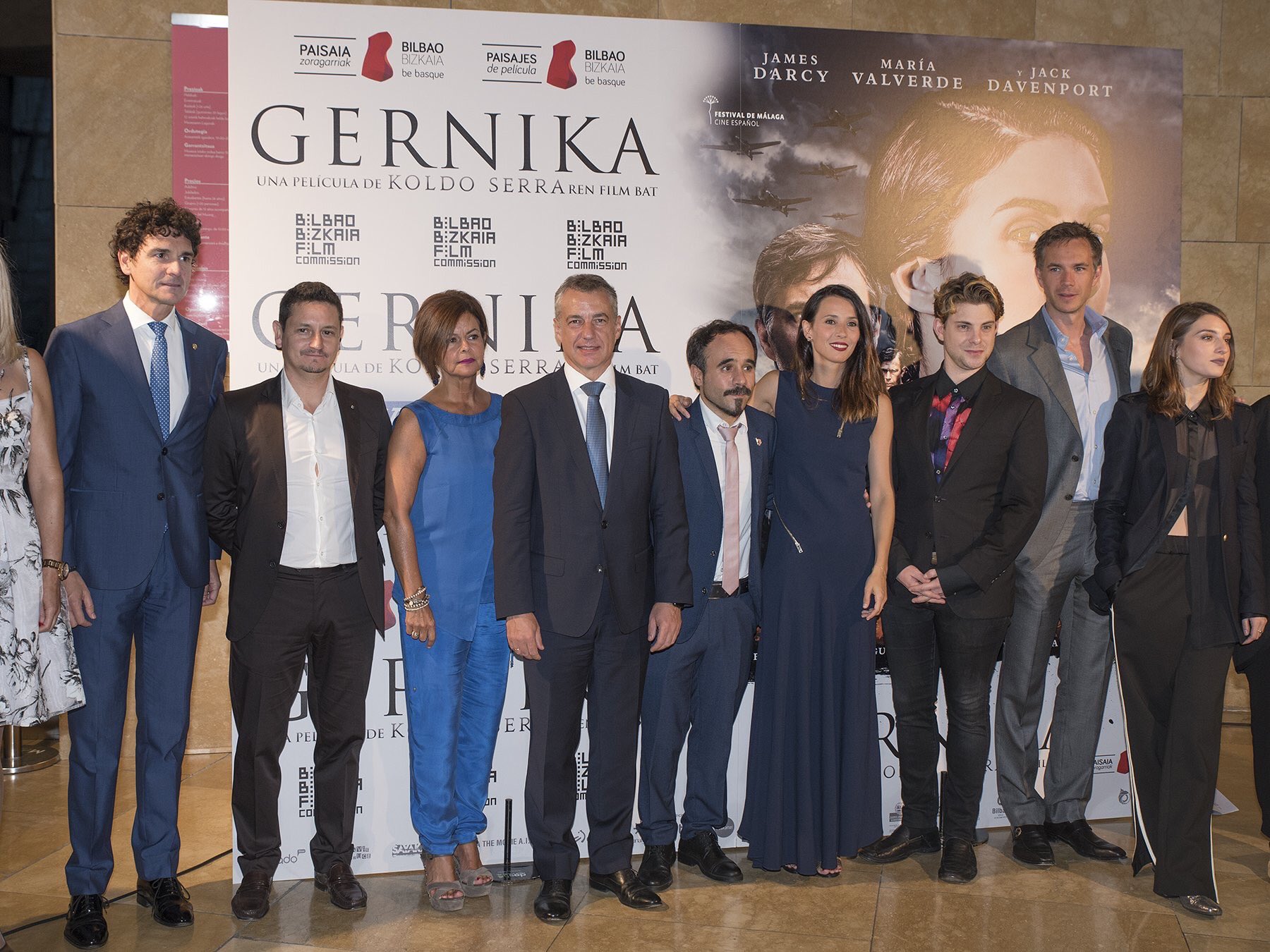 Koldo Serra with James D'Arcy, Maria Valverde and Barbara Goenaga, along with producers Daniel Dreifuss, Carlos Clavijo and co-writer Nahikari Ipina took the stage to address the audience.
With a great sense of humour, Koldo began the presentation by saying: "In my years as a student of Fine Arts, I always knew that one of my works would end up being hanged in this museum. Today we play at home, and for that I am a little nervous in this presentation. I want all attendess leave happy with the work done."  Source: El Correo
James must have been nervous as well as thrilled because in the front rows sat some very important regional, provincial  and local authorities: Lehandakari Iñigo Urkullu, Deputy General of Bizkaia Unai Rementeria, Mayor of Bilbao Juan Maria Aburto, Minister of Public and Justice Administration Josu Erkoreka, Minister of Economic Development Arantxa Tapia, directors of the Basque Government, President of General Meetings, Ana Otadui, Bilbao councilmen... I could go on, but I think you get the gist..
The 297 audience comprised mostly of authorities, artists and film lovers... This is a well-dressed crowd, folks!
(photo below by Bilbao Ekintza twitter)
After the successful evening with many congratulations, James got to greet more VIPs..
Koldo introduced James to the Mayor of Bilbao, Juan Maria Burto (pic from @juanmariburto instagram)
A pic with his lovely co-stars, Maria Valverde and Barbara Goenaga.... in the plaza of the giant flower cat..  I digress..
(photos by @Montxohache and @Asiersanger twitter)  Many thanks!
.... and he's off to the sunset, no, not quite..    a night still young and luminous to celebrate in beautiful Bilbao!    
There have been several video clips recording this special event, we shall try to embed it here whenever it is possible. 
VIDEO LINKS 
Iñigo Urkullu video on his facebook   
Bizkaia Media: Unai Rementeria previews Gernika - a little bit of James at the end  
Bilbao Ekintza: Before the premiere at the Guggenheim Museum.
Bilbao Ekintza: The Gernika Team taking photos before the premiere
 Jose Erkoreka Facebook: James meeting Lehandakari Iñigo Urkullu
Some new photos just came in:  Thanks to the eagle eyes of @alexander_bendo..   From Ibon Perez TV facebook
And look who made the pages of El Correo the next day!!!    Thanks to @carlosclavijo22 twitter for the scan!
Update 2016.09.09:  The photos for this event are now in the Gallery
Cine+Food Pre-Premiere and "Making of" Gernika exclusive clip
Details

Category: Latest updates
Cine+Food is giving 5 double invitations to see the pre-premiere of Gernika next Thursday, 01 September at 10 pm at Cinesa El Muelle.  Koldo Serra and Maria Valverde will be attending.
To win, all you have to do is comment on the post "Who you want to take to enjoy the pre-premiere" on the Cine + Food Facebook.   You have until next Friday, 26 August at noon. The same day, they will announce the winner of the raffle.  
Published by eitb.eus today, the "Making of" Gernika by Koldo Serra, which will hit theatres on 09 September.
"The film crew has used 30 locations in Euskal Herria. The shooting has generated 125 direct jobs and 625 indirect and 900 extras participated."  
Recent articles with stunning new behind-the-scenes images
Details

Category: Latest updates
Two new articles have been published with breathtaking images of Gernika.
From Hola! , an interview with Alex Garcia which touched on the subject of the beautiful scenery of Gaztelugatze, the Basque farmhouse where Henry meets Teresa's family and final the scenes of devastation. Very interesting and worth a read.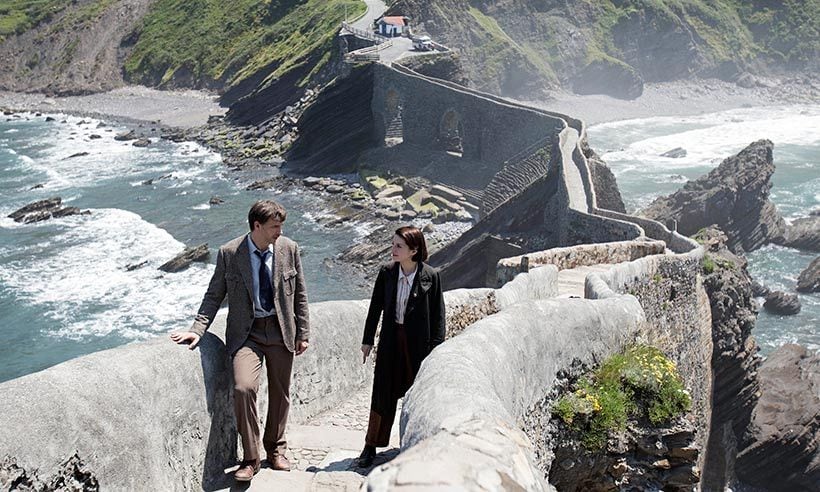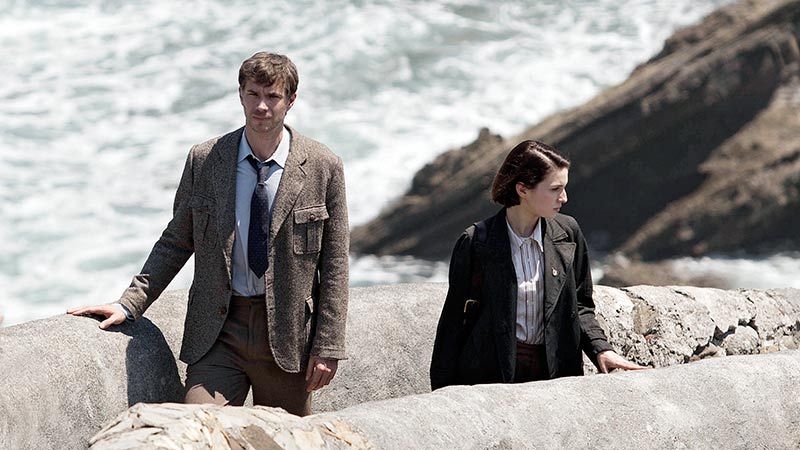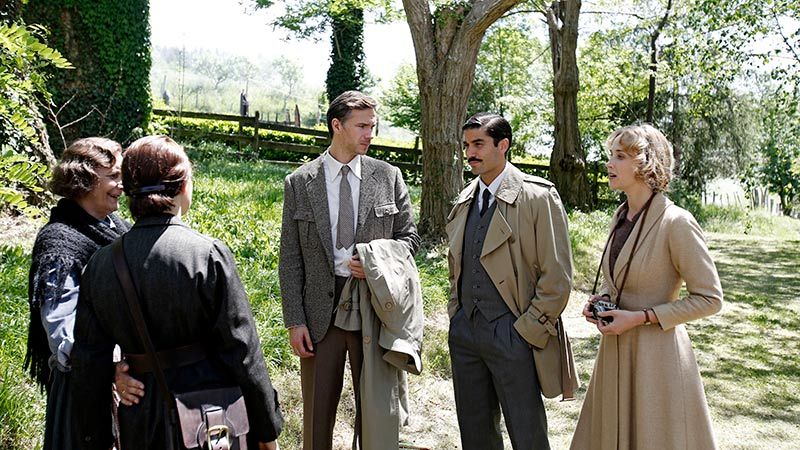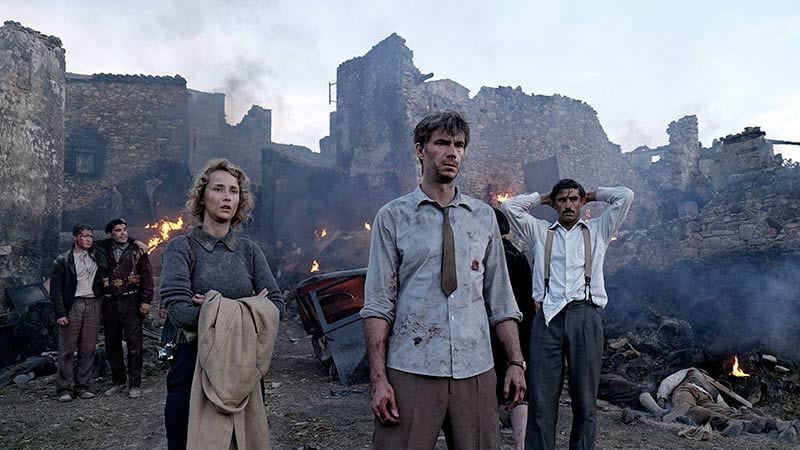 The second article is by Oskar Belategui, 07 September 2016, called "Bombs fall back on Gernika" on El Correo.
It is a film review and comes with 39 of the best images during the filming and these are the ones with James.
These are the press photos when they were filming at Barakaldo. You might have seen them before...
Gernika on Slovenian TV with new stills
Details

Category: Latest updates
Gernika is now available on SiOL TV.  The price to rent for 48 hours is € 3.50 on Dkino SiOL TV channel and is in English with Slovenian subtitles. 
siol.net contained a very nice summary of Gernika, points of interest, a trailer and several new stills we haven't seen before. 
A love story during the Spanish Civil War, sited in the Basque town, which was destroyed in the bombing of the Nazis.
Spain in 1937. The civil war raging between the Republican government and battle the forces of the later dictator Francisco Franco, also affects the life of the inhabitants of the Basque town of Gernika. Here you cross over the fate of a cynical American journalist Henry and Teresa - Republican censor responsible for the control of news by journalists sent abroad.
In their relationship is subsumed Soviet apparatchiks Vasily, who was sent against his will in Spain to advise Republican government. Their lives and emotions themselves to the test when the German air force attacked the city.
Points of Interest:
• The film was premiered at the Film Festival in Malaga on 26 April this year, the 79th anniversary of the bombing of Gernika - the first city in history, which was completely destroyed in the bombing.
• Although the event passed almost 80 years, this is the first feature film showing the horrors of the Nazi attack on Gerniko. Alain Resnais was already in 1950 made a short film about the tragedy of 2014 are on television broadcast mini-series bombs over Gerniko .
• Basque director Koldo Serra has started work on the project in 2012, a big part of the story is based on the testimonies of people who survived the attack.
• The character of Henry ( James D'Arcy ) is loosely based on the American correspondent from Spain George Steer . This is arrived at Gerniko shortly after the destruction of the city, an article that was published in publications The Times and The New York Times, is inspired Pablo Picasso to painting masterpiece Guernica.
• Spanish-American productions filmed in the Basque Country, including in Gernika, a budget of EUR 6 million, which is three times more than the average budget of a Spanish film.
This is Aritz Atela's photo.
 A very nice still of Irene Escolar who played Isabel, Teresa's cousin.
First photos from the Madrid Photocall & Premiere of Gernika
Details

Category: Latest updates
Monday, 05 September 2016, was a very busy press day for Gernika in Madrid.  James who had flown in the night before, attended the morning photocall, presentation and press interviews at the Palafox Cinemas. I think we've seen this shirt before.

In attendance were: director Koldo Serra, Maria Valverde, Ingrid Garcia-Jonsson, Alex Garcia, Barbara Goenaga, Julian Villagran, Victor Clavijo and Hugo Silva.  #GernikaTeam
Series On Day editor, Maria Reinoso interviewed James in the morning.  
TV presenter, Raquel Atanes also interviewed James :"With my d'Arcy particular... I feel like Bridget Jones"  
Videos Diarios interviewed Maria Valverde and there's a bit of James' interview near the end. There's a longer interview with James, but unfortunately, it's in flash and can't be embedded here, but it's in the Telemadrid website. 
In the evening, starting around 9.30 pm, there were more photos, a presentation on the stage of Palafox cinema and the premiere of Gernika. It must have been sweltering, but James wore his black suit being the proper gentleman that he is.
 The premiere wrapped up quite late, (poor Koldo!)  but seems to have been a resounding success! 
Photo sources: Zeleb  & Katrina magazine, Series On Day, GernikaTheMovie, El Palomitron & Raquel Atanes facebook, Marcos Pergon, Ignacio Bustamente, Eneko Rugino on instagram. (Many thanks for your great photos!)
Bilbao Kultura reports that there will be another Premiere of Gernika in Bilbao to be held in the auditorium of the Guggenheim Museum Bilbao on Wednesday, 07 Septembre at 20.30 and a media press pass at 11.00 a.m.
The gala will be attended by the Lehendakari, Iñigo Urkullu, the Deputy General of Bizkaia, Unai Rementeria, and the Mayor of Bilbao, Juan Mari Aburto.
Maria Valverde, James D'Arcy, Barbara Goenaga and the director Koldo Serra, will attend the Bilbao event.
There is also another screening of Gernika on Tuesday, 06 September at 20.00 at Cinesur Nervion Plaza in Sevilla. But we don't know who will be attending, only that it might have "the presence of part of the film crew."
Stay tuned as more interviews and photos will come in during the week. 
Some wonderful additions, this morning..    Many thanks!!!   (Thanks to rebelheart1647 for the finds!)
From CarlosClavijo (twitter)
Oh James!! 
Does that mean there was a party after the party??   Priceless photos, thank you Mr. Clavijo22! 
 From MariaValverde who tweeted that this was the "best of yesterday."    Go #teamgernika!
From CUORE.. 
More photos have been uploaded into the Public Appearances Galleries.  
Jarvis' costume at FIDM "The Art of TV Costume Design" Exhibit
Details

Category: Latest updates
Photo credit: @save_agent_carter tumblr
It's not too late to get up-close to the wonderful costumes designed by Giovanna Ottobre-Melton and Phillis Gilliam. 
The costumes for Marvel's Agent Carter are still on display at the FIDM Museum in downtown Los Angeles till 15 October 2016.  
Costume worn by James D'Arcy as Edwin Jarvis.
A great blog was posted on Marvel's Agent Carter TV Costumes on display  with photos by Jason in Hollywood.   
"That's a wrap!" for war epic, Dunkirk
Details

Category: Latest updates
On Friday, 02 September 2016, the production staff at Warner Bros. Burbank Studio marked the end of filming by postings snaps on instagram. P.A. @manjarinakijany posed with director Christopher Nolan at the Dunkirk wrap party yesterday.
Jack Taggart, head costume ager/dyer posted on his facebook: 
"And.... After months in Europe and World War II refought and won.."
Costume designer,   Krista Guggia posted on her instagram:  (Harry Styles must be standing on a box of vodka)
@kristaan127: "And that's a wrap on Dunkirk! It's been an absolute pleasure to work with this true class act. 7 long, crazy months and I can't wait to see the final product!"
In recap, the production dubbed "Bodega Bay" which began in 23 May, ended on 02 September.
23 May - 22 June:  Dunkerque, France
24 June -22 July:  Urk, Netherlands
25 - 29 July:  Swanage & Weymouth, Dorset, UK
03 - 05 August:  Daedalus Airfield, UK
08 Aug - 02 September:  Warner Bros Burbank Studio, Universal Studios  &  Point Vicente Lighthouse, Los Angeles, USA
Dunkirk is now formally in post-production and will come to theatres worldwide, next summer, July 19, 2017 in Belgium, France, Sweden and July 21 for USA, UK, Germany 
Looking forward to seeing our handsome Lieutenant-Colonel Winnant of the BEF on the big screen next summer!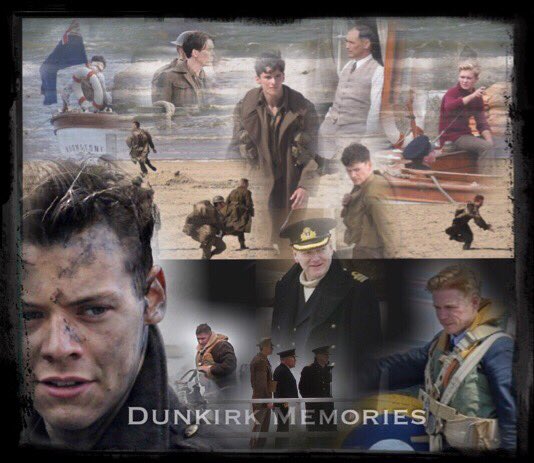 (memory collage by @Snow_Ladybug, many thanks!)
At the BBC Proms, to hear Julian Ovenden sing
Details

Category: Latest updates
We've been so lucky lately with these random James D'Arcy sightings in London. Many thanks to Nicola Bates @MusicalMissB, we have James and Ed Stoppard waiting at the stage door to watch their friend, Julian Ovenden sing at the Royal Albert Hall tonight.
BBC Prom 38: The John Wilson Orchestra performs Gershwin
7 pm / Saturday 13 August 2016
John Wilson and his orchestra pay tribute to American songwriters, George & Ira Gershwin.
Singers: Louise Dearman, Matthew Ford, Julian Ovenden
Ed Stoppard is an English actor (The Pianist), also a LAMDA grad, and son of play & screenwriter, Sir Tom Stoppard.  You might recall that James directed a play by Tom Stoppard, "The Real Inspector Hound,"  25 years ago at the Grammar School in Australia.
For those of us less fortunate to attend this, BBC iplayer has it.  Here are Julian's renditions of  S'Wonderful and Love Walked In.
Films + Food with Gernika today!
Details

Category: Latest updates
Koldo Serra giving directions to James D'Arcy, who plays an American journalist.  Photo from Las Palmas.
Today marks the opening day of Festival Cine + Food 2016 at the capital of Gran Canaria. 50 films will be shown in this festival from Thursday to Sunday (01-04 Sept, 2016).
Tonight, Gernika, will be presented by director Koldo Serra and Maria Valverde in the Room Cinesa El Muelle at 22.00.
We also have a number of new articles about Gernika this week..  Koldo Serra mentions James D'Arcy and Jack Davenport in this interview by Carmen Aranda Las Palmas / Canarias7.es (parts of it below)
Koldo Serra:  Gernika is a romantic war drama. It is a film that counts the days before the bombing and shelling, and all through a love story between a reporter American war and censorship office republican press. 
- Censors?
Koldo Serra:  Maria Valverde interprets an editor who monitors what is published in newspapers. Of course, Henry, journalist, collides with it. The character of Mary is inspired by a real woman who had some resonance at the time, Constancia de la Mora, the head of the office of Republican press in Madrid.
 - Was it difficult to recreate that chapter of history?
Koldo Serra: Recreate another era it is always complicated. We shot the whole film in real locations. We had to remove modern street furniture and sometimes digitally, remove and put other things. The effort sets, costumes and art direction has been very important, but looks much on the screen. 
- The distribution of Gernika is very broad and international, how has it been working with James D'Arcy and Jack Davenport? 
Koldo Serra:  Great. They're Majis guys. In addition, among them it is very good relationship, are personal friends for 15 years. Working with them was like being with family. As in all, those who want to understand understood. All spoke English team. It was very easy to work with. They know where to come and go as they please. They were very dedicated to this work.  
- That's a lot for a Spanish film, but little for international production.
Koldo Serra: Right. Our idea was to make a movie of 10 million and finally had 6 million. With time you get. It took six weeks of filming instead of the 8 we expected. For all special and physical effects that has, not a lot of money. 
James is a Maji (magician genie?) and works very fast it seems, so directors, take note:
Give James lots of work, he'll save you tons of money!
A nice chap in Soho and Chicken/Egg tidbits
Details

Category: Latest updates
@davesimon10 was so lucky to meet James in Soho, London today and he shared a photo on his instagram. Many thanks!
What is even more amazing is that this is his second time to find James in Soho this year. Check out our CANDIDS gallery. 
And on James' short film that he directed in April 2016 (1 month), we have few finds from various sources.
Since it's not on the IMDB, we'll have to create one for him. 
Title: CHICKEN / EGG
Synopsis: A magician and his uncle are entertainers at a children's party, though they are not all that they seem.
Genre: Comedy Drama
Duration: 13 minutes (short film)
Directed by: James D'Arcy
Production Company:
CrossDay Productions Limited - (Soho-based, independent film production company run by Pippa Cross and Janette Day)
DOP: Petra Korner
2nd Unit: Catherine Goldschimdt
2nd Unit Focus Puller: Ilaria Fulvio
Camera: Amira & Alexa XT
Set Consultant: Paul Roffman (London magician)
Cast:
Nikolaj Coster-Waldau (in the chicken suit, role?)
Max Fowler (Greg)
Scarlet-Blaze Jacks (one of the children in the birthday party)
Billy Jenkins (Young Johnny)
Todd Von Joel (policeman 1)
Joseph Lindoe (policeman 2)
* There was a short video of the filming on April 17-18 posted by Darren Jacks on Facebook. *
Here are some links that might be worth following up on:
Damascus Cover finally reaches the big screen
Details

Category: Latest updates
Way back in 2014, James D'Arcy was slated to begin filming an espionage thriller "The Damascus Cover" with Daniel Spencer to start on October 13, 2014 in Morocco, when he suddenly dropped out. On IMDB September 2014, we learned James could no longer do it and Jonathan Rhys Meyers was taking over the role. The filming didn't start till the following year, wrapping on March 24, 2015
After two years, we finally have an interesting back story as to why James had to leave this interesting project .  Here are excerpts from The Times of Israel, "From Damascus to Jerusalem, a 39-year-old novel reaches the big screen" published today.
It was director Daniel Berk who pulled the 1979 thriller off the shelf of a Tel Aviv friend's home library, and then emailed Kaplan, asking for the rights to develop the book as a screenplay. That was eleven years ago.
Berk emailed Kaplan each year for the next eight years, asking for permission to renew the option, until he finally raised enough funding in 2014, said Kaplan.
In Kaplan's novel, washed-up Israeli spy Ari Ben Sion takes on the mission of heading to Syria to save the children of a Jewish family, while posing as an ex-Nazi officer. His handlers at the Mossad have other plans for him that become clear during his time in Damascus, and it's those twists and turns that made the novel popular, said Kaplan.
The $5 million movie, which was filmed in Israel and Morocco — "it's cheaper there," said Kaplan — had several cast changes before last winter's seven-week filming got underway.
The first set of cast members included actors James D'arcy and Abigail Spencer, but changes in D'arcy's own career ended up forcing him to leave the film. Berk also opted for several European Union actors, who are often less expensive to hire than American actors for tax reasons.
The casting agent was given a list of eleven European Union actors who were available to start working in three weeks time for the seven-week shoot, and out of the eleven actors, Rhys Meyers was the only name the agent recognized, "so she chose him," said Kaplan.
In October, Rhys Meyers sliced a tendon in his hand, and filming was delayed again until February. By that point, Spencer took another offer, and they replaced her with Olivia Thirlby ("Juno, "Dredd"), who, said Kaplan, played the role a little "sexier." Rhys-Meyers, he said, "really inhabited the film."
Kaplan with Jonathan Rhys Meyers and Olivia Thrilby on the Morocco set (photo by Howard Kaplan)
Hurt, who has a home in Morocco, offered them five days of filming, from a Sunday through Friday, so he could make the 5 p.m. train in order to spend the weekend in his home. Avni showed up several times, as he lived "nearby" in Israel, and could easily hop over whenever he was needed for filming.
Rhys Meyers, or "Johnny," as Kaplan said he likes to be called, once lived in Morocco as well, and was more available to spend time with the crew, said Kaplan, who shared dinner with him at the end of filming.
The film, which depicts Syria at a far different period than the current civil war, is now set in 1989, following the fall of the Berlin Wall.
We're glad that this film finally made it from the pages of a novel in 1979 to the big screen in 2016 and everything worked out well in the end.
James gave up Damascus Cover to be Jarvis in Agent Carter, who is not quite a spy, so we hope James may find another exciting thriller such as this in the future, maybe without having to shave his head again, hopefully. 
The film is in post-production and here's a trailer: 
Gernika new images
Details

Category: Latest updates
New images from Betta Pictures and a Gernika pressbook.pdf.    Out in cinemas on 09 September 2016.
And here are some more from Sony Pictures GmbH (SPHE) represented in Germany: 
And some of the other cast members...
Presenting the 2016 Jury of the British Film Festival in Dinard
Details

Category: Latest updates
Ouest France unveiled on Monday, Aug. 29 that James D'Arcy is one of the jury members at the 27th edition of the British Film Festival in Dinard.
From 28 September to 02 October, 2016, James will be joining the panel comprising of:  Claude LeLouch (Jury President), Victoria Bedos (writer/director), Julie Ferrier (actress), Eric Lagesse (distributor / producer), Lespert (director), Sylvie Testud (actress/director), Colin Vaines (producer), Phil Davies (actor), plus one more not yet selected.  
The British Film Festival was created in 1990 at the most British of French seaside resorts on the Emerald Coast, and has been the vehicle for films wishing to conquer the European market. This year, for 5 days and 5 different cinemas, Dinard will show 6 competing films, 20 premieres, 20+ short films with 30,000 festival attendees.
The six films in competition for the Golden Hitchcock are:
Away: by David Blair  Joseph and Ria bind an unlikely friendship
Moon Dogs: by John Philip  Michael Thor and his brother live on a small island of Shetland. No other common marriage of their respective parent, the two boys barely speak..they then launched into a frantic road trip...
Sing Street: by John Carney  Dublin, 80s Pop, rock, metal, new wave passing loop on K7 readers
Prevenge: by Alice Lowe  Ruth is pregnant.. and a serial killer as absurd as vicious. She slips into the skin of different characters to better win the confidence of its victim...
Chubby Funny: by Harry Michell  Oscar is sure to have talent. He is wrong. He thinks that nothing is ever his fault. Again, he is mistaken... 
This Beautiful Fantastic: by Simon Aboud  Bella Brown, bubbly young woman, dream of writing a successful children's literature. Life is not kind to her: unhappy childhood, thwarted ambitions and infects boss ...
Le Pays Malouin reported on Tuesday that the 20 premieres scheduled will showcase the films of Colin Firth, Ralph Fiennes, Patrick Dempsey, Vanessa Redgrave, Kate Dickie, Gary Lewis and Gerard Butler.
Also for the first time this year, there will a competition for the short films of the young emerging filmmakers and talent. 
The 2016 Festival Trailer from their   official website     
Also today, there is a 4-page spread article on Gernika in the latest edition of Cinemania (September 2016).  
You can see the full pages in our Magazine Scans gallery.
TV's most delightful characters: Edwin Jarvis
Details

Category: Latest updates
It's not surprising that Jarvis made "TV's most delightful characters" as he is most entertaining, resourceful and well, just #Jarvelous!   Although we won't get a third season of Agent Carter, we couldn't thank James enough for creating human Jarvis who has become an unforgettable and beloved addition to the Marvel universe.
Here is the list from AM New York's Emily Schienvar, August 10, 2016.
Edwin Jarvis from 'Marvel's Agent Carter' 
The butler for the Stark family (of Iron Man fame), Edwin Jarvis (James D'Arcy) is polished, poised and positively British. Jarvis makes for an excellent sidekick for Peggy Carter, what with his military experience and access to Howard Stark's latest inventions. He is utterly devoted to his wife Ana, whom he rescued from Budapest during World War II, even reconsidering his crime-fighting side gig after she is injured. Jarvis offers a helping hand to Peggy even after she insists that she continue her work on her own, training himself in martial arts and gymnastics in between missions. In the period between "Agent Carter" and the "Iron Man" movies, Jarvis served as the Stark family's butler until his death, at which point Tony Stark immortalized him in the form of J.A.R.V.I.S., an artificial intelligence system.            (Credit: TNS / Kirk McKoy)
The rest of the TV characters and actors on the list:  ( This is quite an excellent list. )
Kenneth Parcell from '30 Rock' (Jack McBrayer)
Dustin Henderson from 'Stranger Things' (Gaten Matarazzo)
Rory Gilmore from 'Gilmore Girls' (Alexis Bledel)
Rogelio de la Vega from 'Jane the Virgin' (Jaime Camil)
Paula Proctor from 'Crazy Ex-Girlfriend' (Donna Lynne Champlin)
Kimmy Schmidt from 'Unbreakable Kimmy Schmidt' (Ellie Kemper)
Donnie Hendrix from 'Orphan Black'  (Kristian Bruun)
Jessica Huang from 'Fresh Off the Boat' (Constance Wu) 
River Song from 'Doctor Who'  (Alex Kingston)
Andy Dwyer from 'Parks and Recreation'  (Chris Pratt)
Peggy Olson from 'Mad Men'  (Elisabeth Moss)
Foggy Nelson from 'Marvel's Daredevil' (Elden Henson)
Penelope Garcia from 'Criminal Minds' (Kirsten Vangsness)
Nick Miller from 'New Girl'   (Jake Johnson)
Tina Belcher from 'Bob's Burgers' (Dan Mintz)
Leo Fitz from 'Marvel's Agents of S.H.I.E.L.D.'  (Iain De Caestecker) 
Debra Morgan from 'Dexter' (Jennifer Carpenter)
Angela Montenegro from 'Bones' (Michaela Conlin) 
Lincoln Rice from 'Broad City' (Hannibal Buress)
Agent Dana Scully from 'The X-Files' (Gillian Anderson)
Cisco Ramon from 'The Flash'  (Carlos Valdes) 
Gernika Photocall + Interviews - Monday, Sept 05 and 3 new images
Details

Category: Latest updates
A call for press passes and interviews for Gernika was posted by MadAvenue PR Communications with 3 new images.
Aside from the Premiere in Madrid, James is also expected at the Photocall * Press Interviews on Monday, September 05.
Watch for a draw for 1 double entry for the premiere of Gernika on Gernika Facebook.  It will soon be posted.
As an exciting preview, Henry and Maria's costumes are currently on display at FNAC Callao de Madrid, followed by a presentation by the director and producers on Sept. 15th.
Gernika #BTS interview and deleted scene
Details

Category: Latest updates
James D'Arcy and Maria Valverde describe their characters on Gernika in this behind-the-set exclusive by Hoy Cinema
(Many thanks to Alexander Bendo for putting this on youtube.) 
Here is a new Deleted Scene published by Sony Pictures on youtube.
It's August 24th! You know what that means.....
Details

Category: Latest updates
Happy Birthday to our one in a minion, fave most lovely, precious and adorable James D'Arcy!   
Have a big, crazy and happiest of birthdays from all of us to you!   Is it 43 or 41?, it doesn't matter...  Love you always!
A number of online tributes have exploded overnight attesting to how well-loved he is... He has made over 76 films, yet we want more.. He's not only a tremendously versatile & respected actor, he's also a screenwriter, a director, a championship dubsmash dance creator, he's an inspiration, an icon, a man of many talents with depth in thoughts and wit. It seems there's very little James cannot do and we've got the feeling that there's always an ace in his sleeves to surprise us in years to come. Happy Birthday and thank you, James D'Arcy!!

Above pic, thanks to @corpsieb and below, a beautiful birthday video from @alexanderbendo
 A collage of Darcee through the years...
A special photo from @BettaPictures
                      Today we are celebrating, our dear #JamesDArcy this birthday. Congratulations Henry ;)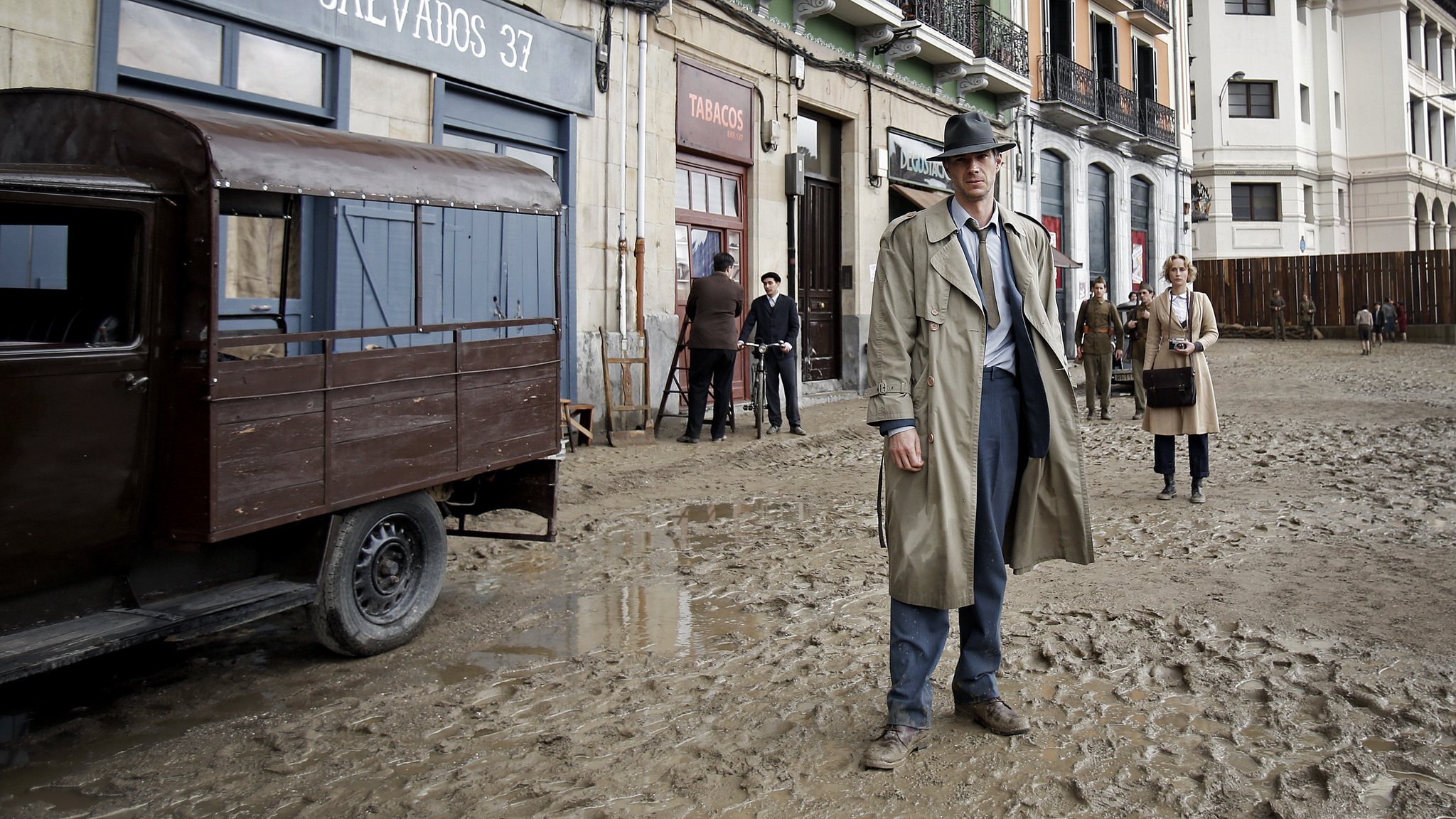 Happy Birthday to the wonderful & talented #JamesDArcy @Marvel pass our best wishes along please ;)
8 hours agoHappy Birthday to the wonderful & talented #JamesDArcy@Marvel pass our best wishes along please ;) #SaveAgentCarter
From Emma Jacobs, from her short film "Dreams Never End" with a tribute to Anthony Perkins/Tuesday Weld "Pretty Poison."
                     Happy Birthday to this gentleman... James D'Arcy #HITCHCOCK     
Oh James, you crack us up like no other... never change, please. 
Powerful imagery in Dunkirk First Teaser
Details

Category: Latest updates
Warner Bros. unveiled the first official trailer of Christopher Nolan's Dunkirk today. It was reportedly being shown at SDCC and in theatres playing Suicide Squad this weekend.
You won't see any of the main actors and it is a very short clip, but it offers an eerie tone of bleak landscape, crashing waves, rows of dead bodies in the sand, the ominous ticking and brings home the sense of vulnerability and dread among the soldiers awaiting evacuation on the pier.
We can see now why Christopher Nolan has been given the kind of carte blanche, in terms of budget, other directors can only dream about.
Dunkirk will debut in theatres on 21 July 2017.