"That's a wrap!" for war epic, Dunkirk
Details

Category: Latest updates
On Friday, 02 September 2016, the production staff at Warner Bros. Burbank Studio marked the end of filming by postings snaps on instagram. P.A. @manjarinakijany posed with director Christopher Nolan at the Dunkirk wrap party yesterday.
Jack Taggart, head costume ager/dyer posted on his facebook: 
"And.... After months in Europe and World War II refought and won.."
Costume designer,   Krista Guggia posted on her instagram:  (Harry Styles must be standing on a box of vodka)
@kristaan127: "And that's a wrap on Dunkirk! It's been an absolute pleasure to work with this true class act. 7 long, crazy months and I can't wait to see the final product!"
In recap, the production dubbed "Bodega Bay" which began in 23 May, ended on 02 September.
23 May - 22 June:  Dunkerque, France
24 June -22 July:  Urk, Netherlands
25 - 29 July:  Swanage & Weymouth, Dorset, UK
03 - 05 August:  Daedalus Airfield, UK
08 Aug - 02 September:  Warner Bros Burbank Studio, Universal Studios  &  Point Vicente Lighthouse, Los Angeles, USA
Dunkirk is now formally in post-production and will come to theatres worldwide, next summer, July 19, 2017 in Belgium, France, Sweden and July 21 for USA, UK, Germany 
Looking forward to seeing our handsome Lieutenant-Colonel Winnant of the BEF on the big screen next summer!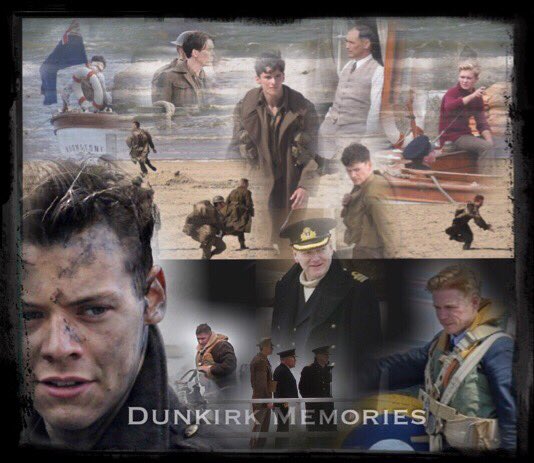 (memory collage by @Snow_Ladybug, many thanks!)
Films + Food with Gernika today!
Details

Category: Latest updates
Koldo Serra giving directions to James D'Arcy, who plays an American journalist.  Photo from Las Palmas.
Today marks the opening day of Festival Cine + Food 2016 at the capital of Gran Canaria. 50 films will be shown in this festival from Thursday to Sunday (01-04 Sept, 2016).
Tonight, Gernika, will be presented by director Koldo Serra and Maria Valverde in the Room Cinesa El Muelle at 22.00.
We also have a number of new articles about Gernika this week..  Koldo Serra mentions James D'Arcy and Jack Davenport in this interview by Carmen Aranda Las Palmas / Canarias7.es (parts of it below)
Koldo Serra:  Gernika is a romantic war drama. It is a film that counts the days before the bombing and shelling, and all through a love story between a reporter American war and censorship office republican press. 
- Censors?
Koldo Serra:  Maria Valverde interprets an editor who monitors what is published in newspapers. Of course, Henry, journalist, collides with it. The character of Mary is inspired by a real woman who had some resonance at the time, Constancia de la Mora, the head of the office of Republican press in Madrid.
 - Was it difficult to recreate that chapter of history?
Koldo Serra: Recreate another era it is always complicated. We shot the whole film in real locations. We had to remove modern street furniture and sometimes digitally, remove and put other things. The effort sets, costumes and art direction has been very important, but looks much on the screen. 
- The distribution of Gernika is very broad and international, how has it been working with James D'Arcy and Jack Davenport? 
Koldo Serra:  Great. They're Majis guys. In addition, among them it is very good relationship, are personal friends for 15 years. Working with them was like being with family. As in all, those who want to understand understood. All spoke English team. It was very easy to work with. They know where to come and go as they please. They were very dedicated to this work.  
- That's a lot for a Spanish film, but little for international production.
Koldo Serra: Right. Our idea was to make a movie of 10 million and finally had 6 million. With time you get. It took six weeks of filming instead of the 8 we expected. For all special and physical effects that has, not a lot of money. 
James is a Maji (magician genie?) and works very fast it seems, so directors, take note:
Give James lots of work, he'll save you tons of money!
A nice chap in Soho and Chicken/Egg tidbits
Details

Category: Latest updates
@davesimon10 was so lucky to meet James in Soho, London today and he shared a photo on his instagram. Many thanks!
What is even more amazing is that this is his second time to find James in Soho this year. Check out our CANDIDS gallery. 
And on James' short film that he directed in April 2016 (1 month), we have few finds from various sources.
Since it's not on the IMDB, we'll have to create one for him. 
Title: CHICKEN / EGG
Synopsis: A magician and his uncle are entertainers at a children's party, though they are not all that they seem.
Genre: Comedy Drama
Duration: 13 minutes (short film)
Directed by: James D'Arcy
Production Company:
CrossDay Productions Limited - (Soho-based, independent film production company run by Pippa Cross and Janette Day)
DOP: Petra Korner
2nd Unit: Catherine Goldschimdt
2nd Unit Focus Puller: Ilaria Fulvio
Camera: Amira & Alexa XT
Set Consultant: Paul Roffman (London magician)
Cast:
Nikolaj Coster-Waldau (in the chicken suit, role?)
Max Fowler (Greg)
Scarlet-Blaze Jacks (one of the children in the birthday party)
Billy Jenkins (Young Johnny)
Todd Von Joel (policeman 1)
Joseph Lindoe (policeman 2)
* There was a short video of the filming on April 17-18 posted by Darren Jacks on Facebook. *
Here are some links that might be worth following up on:
Damascus Cover finally reaches the big screen
Details

Category: Latest updates
Way back in 2014, James D'Arcy was slated to begin filming an espionage thriller "The Damascus Cover" with Daniel Spencer to start on October 13, 2014 in Morocco, when he suddenly dropped out. On IMDB September 2014, we learned James could no longer do it and Jonathan Rhys Meyers was taking over the role. The filming didn't start till the following year, wrapping on March 24, 2015
After two years, we finally have an interesting back story as to why James had to leave this interesting project .  Here are excerpts from The Times of Israel, "From Damascus to Jerusalem, a 39-year-old novel reaches the big screen" published today.
It was director Daniel Berk who pulled the 1979 thriller off the shelf of a Tel Aviv friend's home library, and then emailed Kaplan, asking for the rights to develop the book as a screenplay. That was eleven years ago.
Berk emailed Kaplan each year for the next eight years, asking for permission to renew the option, until he finally raised enough funding in 2014, said Kaplan.
In Kaplan's novel, washed-up Israeli spy Ari Ben Sion takes on the mission of heading to Syria to save the children of a Jewish family, while posing as an ex-Nazi officer. His handlers at the Mossad have other plans for him that become clear during his time in Damascus, and it's those twists and turns that made the novel popular, said Kaplan.
The $5 million movie, which was filmed in Israel and Morocco — "it's cheaper there," said Kaplan — had several cast changes before last winter's seven-week filming got underway.
The first set of cast members included actors James D'arcy and Abigail Spencer, but changes in D'arcy's own career ended up forcing him to leave the film. Berk also opted for several European Union actors, who are often less expensive to hire than American actors for tax reasons.
The casting agent was given a list of eleven European Union actors who were available to start working in three weeks time for the seven-week shoot, and out of the eleven actors, Rhys Meyers was the only name the agent recognized, "so she chose him," said Kaplan.
In October, Rhys Meyers sliced a tendon in his hand, and filming was delayed again until February. By that point, Spencer took another offer, and they replaced her with Olivia Thirlby ("Juno, "Dredd"), who, said Kaplan, played the role a little "sexier." Rhys-Meyers, he said, "really inhabited the film."
Kaplan with Jonathan Rhys Meyers and Olivia Thrilby on the Morocco set (photo by Howard Kaplan)
Hurt, who has a home in Morocco, offered them five days of filming, from a Sunday through Friday, so he could make the 5 p.m. train in order to spend the weekend in his home. Avni showed up several times, as he lived "nearby" in Israel, and could easily hop over whenever he was needed for filming.
Rhys Meyers, or "Johnny," as Kaplan said he likes to be called, once lived in Morocco as well, and was more available to spend time with the crew, said Kaplan, who shared dinner with him at the end of filming.
The film, which depicts Syria at a far different period than the current civil war, is now set in 1989, following the fall of the Berlin Wall.
We're glad that this film finally made it from the pages of a novel in 1979 to the big screen in 2016 and everything worked out well in the end.
James gave up Damascus Cover to be Jarvis in Agent Carter, who is not quite a spy, so we hope James may find another exciting thriller such as this in the future, maybe without having to shave his head again, hopefully. 
The film is in post-production and here's a trailer: 
Gernika new images
Details

Category: Latest updates
New images from Betta Pictures and a Gernika pressbook.pdf.    Out in cinemas on 09 September 2016.
And here are some more from Sony Pictures GmbH (SPHE) represented in Germany: 
And some of the other cast members...
Presenting the 2016 Jury of the British Film Festival in Dinard
Details

Category: Latest updates
Ouest France unveiled on Monday, Aug. 29 that James D'Arcy is one of the jury members at the 27th edition of the British Film Festival in Dinard.
From 28 September to 02 October, 2016, James will be joining the panel comprising of:  Claude LeLouch (Jury President), Victoria Bedos (writer/director), Julie Ferrier (actress), Eric Lagesse (distributor / producer), Lespert (director), Sylvie Testud (actress/director), Colin Vaines (producer), Phil Davies (actor), plus one more not yet selected.  
The British Film Festival was created in 1990 at the most British of French seaside resorts on the Emerald Coast, and has been the vehicle for films wishing to conquer the European market. This year, for 5 days and 5 different cinemas, Dinard will show 6 competing films, 20 premieres, 20+ short films with 30,000 festival attendees.
The six films in competition for the Golden Hitchcock are:
Away: by David Blair  Joseph and Ria bind an unlikely friendship
Moon Dogs: by John Philip  Michael Thor and his brother live on a small island of Shetland. No other common marriage of their respective parent, the two boys barely speak..they then launched into a frantic road trip...
Sing Street: by John Carney  Dublin, 80s Pop, rock, metal, new wave passing loop on K7 readers
Prevenge: by Alice Lowe  Ruth is pregnant.. and a serial killer as absurd as vicious. She slips into the skin of different characters to better win the confidence of its victim...
Chubby Funny: by Harry Michell  Oscar is sure to have talent. He is wrong. He thinks that nothing is ever his fault. Again, he is mistaken... 
This Beautiful Fantastic: by Simon Aboud  Bella Brown, bubbly young woman, dream of writing a successful children's literature. Life is not kind to her: unhappy childhood, thwarted ambitions and infects boss ...
Le Pays Malouin reported on Tuesday that the 20 premieres scheduled will showcase the films of Colin Firth, Ralph Fiennes, Patrick Dempsey, Vanessa Redgrave, Kate Dickie, Gary Lewis and Gerard Butler.
Also for the first time this year, there will a competition for the short films of the young emerging filmmakers and talent. 
The 2016 Festival Trailer from their   official website     
Also today, there is a 4-page spread article on Gernika in the latest edition of Cinemania (September 2016).  
You can see the full pages in our Magazine Scans gallery.
TV's most delightful characters: Edwin Jarvis
Details

Category: Latest updates
It's not surprising that Jarvis made "TV's most delightful characters" as he is most entertaining, resourceful and well, just #Jarvelous!   Although we won't get a third season of Agent Carter, we couldn't thank James enough for creating human Jarvis who has become an unforgettable and beloved addition to the Marvel universe.
Here is the list from AM New York's Emily Schienvar, August 10, 2016.
Edwin Jarvis from 'Marvel's Agent Carter' 
The butler for the Stark family (of Iron Man fame), Edwin Jarvis (James D'Arcy) is polished, poised and positively British. Jarvis makes for an excellent sidekick for Peggy Carter, what with his military experience and access to Howard Stark's latest inventions. He is utterly devoted to his wife Ana, whom he rescued from Budapest during World War II, even reconsidering his crime-fighting side gig after she is injured. Jarvis offers a helping hand to Peggy even after she insists that she continue her work on her own, training himself in martial arts and gymnastics in between missions. In the period between "Agent Carter" and the "Iron Man" movies, Jarvis served as the Stark family's butler until his death, at which point Tony Stark immortalized him in the form of J.A.R.V.I.S., an artificial intelligence system.            (Credit: TNS / Kirk McKoy)
The rest of the TV characters and actors on the list:  ( This is quite an excellent list. )
Kenneth Parcell from '30 Rock' (Jack McBrayer)
Dustin Henderson from 'Stranger Things' (Gaten Matarazzo)
Rory Gilmore from 'Gilmore Girls' (Alexis Bledel)
Rogelio de la Vega from 'Jane the Virgin' (Jaime Camil)
Paula Proctor from 'Crazy Ex-Girlfriend' (Donna Lynne Champlin)
Kimmy Schmidt from 'Unbreakable Kimmy Schmidt' (Ellie Kemper)
Donnie Hendrix from 'Orphan Black'  (Kristian Bruun)
Jessica Huang from 'Fresh Off the Boat' (Constance Wu) 
River Song from 'Doctor Who'  (Alex Kingston)
Andy Dwyer from 'Parks and Recreation'  (Chris Pratt)
Peggy Olson from 'Mad Men'  (Elisabeth Moss)
Foggy Nelson from 'Marvel's Daredevil' (Elden Henson)
Penelope Garcia from 'Criminal Minds' (Kirsten Vangsness)
Nick Miller from 'New Girl'   (Jake Johnson)
Tina Belcher from 'Bob's Burgers' (Dan Mintz)
Leo Fitz from 'Marvel's Agents of S.H.I.E.L.D.'  (Iain De Caestecker) 
Debra Morgan from 'Dexter' (Jennifer Carpenter)
Angela Montenegro from 'Bones' (Michaela Conlin) 
Lincoln Rice from 'Broad City' (Hannibal Buress)
Agent Dana Scully from 'The X-Files' (Gillian Anderson)
Cisco Ramon from 'The Flash'  (Carlos Valdes) 
Gernika Photocall + Interviews - Monday, Sept 05 and 3 new images
Details

Category: Latest updates
A call for press passes and interviews for Gernika was posted by MadAvenue PR Communications with 3 new images.
Aside from the Premiere in Madrid, James is also expected at the Photocall * Press Interviews on Monday, September 05.
Watch for a draw for 1 double entry for the premiere of Gernika on Gernika Facebook.  It will soon be posted.
As an exciting preview, Henry and Maria's costumes are currently on display at FNAC Callao de Madrid, followed by a presentation by the director and producers on Sept. 15th.
Gernika #BTS interview and deleted scene
Details

Category: Latest updates
James D'Arcy and Maria Valverde describe their characters on Gernika in this behind-the-set exclusive by Hoy Cinema
(Many thanks to Alexander Bendo for putting this on youtube.) 
Here is a new Deleted Scene published by Sony Pictures on youtube.
It's August 24th! You know what that means.....
Details

Category: Latest updates
Happy Birthday to our one in a minion, fave most lovely, precious and adorable James D'Arcy!   
Have a big, crazy and happiest of birthdays from all of us to you!   Is it 43 or 41?, it doesn't matter...  Love you always!
A number of online tributes have exploded overnight attesting to how well-loved he is... He has made over 76 films, yet we want more.. He's not only a tremendously versatile & respected actor, he's also a screenwriter, a director, a championship dubsmash dance creator, he's an inspiration, an icon, a man of many talents with depth in thoughts and wit. It seems there's very little James cannot do and we've got the feeling that there's always an ace in his sleeves to surprise us in years to come. Happy Birthday and thank you, James D'Arcy!!

Above pic, thanks to @corpsieb and below, a beautiful birthday video from @alexanderbendo
 A collage of Darcee through the years...
A special photo from @BettaPictures
                      Today we are celebrating, our dear #JamesDArcy this birthday. Congratulations Henry ;)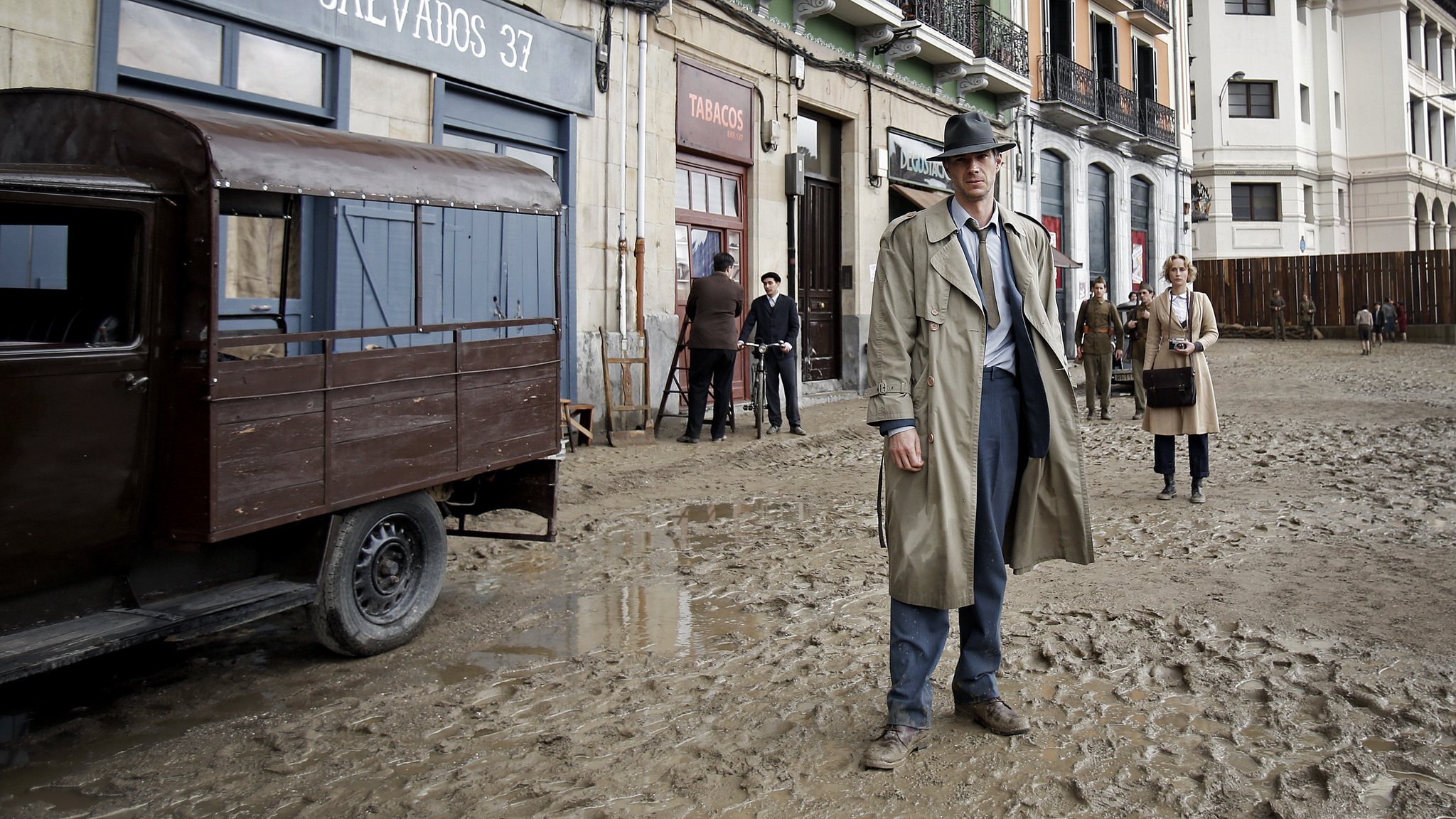 Happy Birthday to the wonderful & talented #JamesDArcy @Marvel pass our best wishes along please ;)
8 hours agoHappy Birthday to the wonderful & talented #JamesDArcy@Marvel pass our best wishes along please ;) #SaveAgentCarter
From Emma Jacobs, from her short film "Dreams Never End" with a tribute to Anthony Perkins/Tuesday Weld "Pretty Poison."
                     Happy Birthday to this gentleman... James D'Arcy #HITCHCOCK     
Oh James, you crack us up like no other... never change, please. 
Powerful imagery in Dunkirk First Teaser
Details

Category: Latest updates
Warner Bros. unveiled the first official trailer of Christopher Nolan's Dunkirk today. It was reportedly being shown at SDCC and in theatres playing Suicide Squad this weekend.
You won't see any of the main actors and it is a very short clip, but it offers an eerie tone of bleak landscape, crashing waves, rows of dead bodies in the sand, the ominous ticking and brings home the sense of vulnerability and dread among the soldiers awaiting evacuation on the pier.
We can see now why Christopher Nolan has been given the kind of carte blanche, in terms of budget, other directors can only dream about.
Dunkirk will debut in theatres on 21 July 2017. 
Great news! James attending the Gernika premiere & 2 clips!
Details

Category: Latest updates
An exciting announcement from Gernika Facebook and twitter today:
Thanks to Iberia express we are going to have the presence of Maria Valverde and James D'arcy in the promotion of the premiere in Spain!! You we keep reporting
Good news: thanks to @iberiaexpress we can count with María Valverde and James D'Arcy in Madrid in brief :)  

We don't have news of the venue yet, but we can be sure the date would be September 09. 
To make the wait more bearable, Cinemania released an Exclusive: The Making of "Gernika' with unpublished behind the scenes images and interviews with Koldo Serra, Maria Valverde, James D'Arcy, Alex Garcia, Ingrid Jonsson, Julian Villagran and Irene Escolar.  Gracias!  This really is a film that keeps on giving. Enjoy.
"Making of the Special Effects" exclusive by Fotogramas.es
Guernica is now out on DVD and HD Digital
Details

Category: Latest updates
Guernica is now out on DVD and HD Digital through various channels like Sony Pictures, Netflix, iTunes, Amazon, VUDU, Amazon Video, etc.  
The DVD and digital editions contain nine deleted and extended scenes.   
Guernica is the first film to tell the story of the tragic events of April 26, 1937 during which a Basque country village was completely destroyed by the Nazi Luftwaffe and Fascist Aviazione Legionaria at the behest of Franco`s Nationalist government to shatter Republican forces and Basque autonomy.  
It is a war film skillfully intertwined with a romantic narrative of an American journalist and a local press-office censor who form a secret alliance five days before the event.
James' character is based on real life New York Times reporter, George Steer, whose report to the world inspired Picasso to immortalize the events in a mural-sized oil painting which now hangs at Museo Reina Sofia in Madrid.
 RTVE.es and Betta Pictures released a new extended trailer in Spanish which features several extra scenes. 
The Final Trailer in English.  Gernika - Trailer VOSE-HD from Koldo Serra on Vimeo.
We also have a clip with Ingrid Garcia-Jonsson playing a photographer who follows Henry (James D'Arcy) to the front lines. 
From Under the Radar.  (clip will start after the short ad)
 Note: The title of the movie is Gernika, while the DVD is called Guernica.
According to Europa Sur, Gernika will have a national premiere in Spain on September 09 at the Campo de Gibraltar at the Odeon Multiplex. 
In anticipation of its cinema release, Gernika The Movie released a collection of photocromas and special posters on their social media on twitter, instagram and facebook, They have been added into the Gernika Posters & Covers.
And here's a nice review of James on Times Union.
Cine+Food Pre-Premiere and "Making of" Gernika exclusive clip
Details

Category: Latest updates
Cine+Food is giving 5 double invitations to see the pre-premiere of Gernika next Thursday, 01 September at 10 pm at Cinesa El Muelle.  Koldo Serra and Maria Valverde will be attending.
To win, all you have to do is comment on the post "Who you want to take to enjoy the pre-premiere" on the Cine + Food Facebook.   You have until next Friday, 26 August at noon. The same day, they will announce the winner of the raffle.  
Published by eitb.eus today, the "Making of" Gernika by Koldo Serra, which will hit theatres on 09 September.
"The film crew has used 30 locations in Euskal Herria. The shooting has generated 125 direct jobs and 625 indirect and 900 extras participated."  
Interview with James D'Arcy by Jake Freels
Details

Category: Latest updates
Jake Freels, was able to interview James who was on the set via e-mail through his agent.  The young man didn't meet with James so we have no photo.
The interview was posted on his Future Filmakers Move Reviews Blogspot and his mom, Jessica brought it to our attention through her twitter @greenflagfly.  Many thanks!!!  
Wednesday, July 27, 2016
AN INTERVIEW WITH ACTOR JAMES D'ARCY
I was fortunate to interview actor James D'Arcy of TV's "AGENT CARTER," and such films as "Master and Commander," and "Cloud Atlas." Presently he is working with Christopher Nolan on the WWI drama "Dunkirk."
He is also a graduate of the London Academy of Music   and Dramatic Art, which happens to be my mothers Alma Mater. 
I hope you enjoy it. 
Question 1: On Agent Carter, You played the character Jarvis ( Which you did a fantastic job.As a fan, and since you were a character that up until then had been a voice,  He really felt like a real person. (You and Haley Atwell had great chemistry) If you hadn't done Agent Carter, what would be another Marvel Or DC character you would have liked to play as? Are you surprised that Marvel dropped it? (My mom and I are, as we were huge fans of the show, and think it really was a great show for young women especially.)
I'm probably not as familiar with the Marvel or DC world so that I could give a good answer to that question. I love to play a variety of roles, so something quite different from Jarvis I guess! That being said, I really loved the show, and it's a great shame that they didn't pick it up for a 3rd season. I thought there was more story to tell, especially around the creation of SHIELD.
Question 2: You recently were cast in Christopher Nolan's WW2 Dunkirk movie with Kenneth Branagh, Mark Rylance, and Tom Hardy. As an actor that has to be a huge moment for you. The time where you were in Drama School was when Rylance and Branagh we exploding on the scene. Does it feel strange when actors you saw as a student are suddenly working with you? Besides the Wachowskis and Nolan, what are some other directors you'd like to work with?
I only worked with Kenneth Branagh, and he was delightful. And yes, working with Nolan is a dream… There are so many directors I admire, but I guess near the top of my wishlist are PT Anderson, Denis Villeneuve, Ang Lee and Spielberg.
Question 3: Master and Commander is one of my favorite films of all time. You did a great job in your role. I was wondering is there any book you'd like to see get made into a movie and would you like to star in it? ( Ps. still hoping for a Master and Commander sequel) And my mom says you were quite the sword fighter in college. do you enjoy films that have that aspect in them like M&C?
Love doing stuff that involves a degree of physicality, especially if it's something new to me… They've actually just made a book I wanted to see as a movie, it's called Billy Lynn. Don't really think there was a role for me in that one though…. 
Question 4:  After doing Hitchcock,  If I were to do a biopic on you, who would you cast as yourself and what would it be about?
Am I still young enough to play myself??? I mean, I guess it would be about my life if it were a biopic!
Question 5: What is the easiest part of being an actor on a set and what is the hardest part? Since you got your start in theater, would you rather be doing theater, film, or TV?
Being an actor is a dream come true, I don't find being on a set hard at all. I love it. If you've been unemployed for a while and you don't have money, well I think that can be tough for actors. 
I'm crazy about the medium of film. Always have been. And I don't really feel like I got a start in theatre… My first professional job was in TV. It's just a bit misleading at drama school bc they focus very heavily on stage work…
Hope that helps Jake. Good luck!
My thanks to Mr. D'Arcy. Can't wait to see DUNKIRK. Going to be EPIC!!!!
Gernika on Slovenian TV with new stills
Details

Category: Latest updates
Gernika is now available on SiOL TV.  The price to rent for 48 hours is € 3.50 on Dkino SiOL TV channel and is in English with Slovenian subtitles. 
siol.net contained a very nice summary of Gernika, points of interest, a trailer and several new stills we haven't seen before. 
A love story during the Spanish Civil War, sited in the Basque town, which was destroyed in the bombing of the Nazis.
Spain in 1937. The civil war raging between the Republican government and battle the forces of the later dictator Francisco Franco, also affects the life of the inhabitants of the Basque town of Gernika. Here you cross over the fate of a cynical American journalist Henry and Teresa - Republican censor responsible for the control of news by journalists sent abroad.
In their relationship is subsumed Soviet apparatchiks Vasily, who was sent against his will in Spain to advise Republican government. Their lives and emotions themselves to the test when the German air force attacked the city.
Points of Interest:
• The film was premiered at the Film Festival in Malaga on 26 April this year, the 79th anniversary of the bombing of Gernika - the first city in history, which was completely destroyed in the bombing.
• Although the event passed almost 80 years, this is the first feature film showing the horrors of the Nazi attack on Gerniko. Alain Resnais was already in 1950 made a short film about the tragedy of 2014 are on television broadcast mini-series bombs over Gerniko .
• Basque director Koldo Serra has started work on the project in 2012, a big part of the story is based on the testimonies of people who survived the attack.
• The character of Henry ( James D'Arcy ) is loosely based on the American correspondent from Spain George Steer . This is arrived at Gerniko shortly after the destruction of the city, an article that was published in publications The Times and The New York Times, is inspired Pablo Picasso to painting masterpiece Guernica.
• Spanish-American productions filmed in the Basque Country, including in Gernika, a budget of EUR 6 million, which is three times more than the average budget of a Spanish film.
This is Aritz Atela's photo.
 A very nice still of Irene Escolar who played Isabel, Teresa's cousin.
Latest advert: BMW Vision #Next 100
Details

Category: Latest updates
BMW celebrated their centenary with the unveiling of their futuristic vision car for the next 100 years, focusing on innovative technologies to meet the driver's every need. This car is self-driving! 
Published on June 6, 2016 on BMW UK
Jarvis' costume at FIDM "The Art of TV Costume Design" Exhibit
Details

Category: Latest updates
Photo credit: @save_agent_carter tumblr
It's not too late to get up-close to the wonderful costumes designed by Giovanna Ottobre-Melton and Phillis Gilliam. 
The costumes for Marvel's Agent Carter are still on display at the FIDM Museum in downtown Los Angeles till 15 October 2016.  
Costume worn by James D'Arcy as Edwin Jarvis.
A great blog was posted on Marvel's Agent Carter TV Costumes on display  with photos by Jason in Hollywood.   
New set of Guernica stills
Details

Category: Latest updates
Sony Pictures Germany just released a gorgeous set of stills for Guernica.  Most of them are of James!  Enjoy!!! 
At the BBC Proms, to hear Julian Ovenden sing
Details

Category: Latest updates
We've been so lucky lately with these random James D'Arcy sightings in London. Many thanks to Nicola Bates @MusicalMissB, we have James and Ed Stoppard waiting at the stage door to watch their friend, Julian Ovenden sing at the Royal Albert Hall tonight.
BBC Prom 38: The John Wilson Orchestra performs Gershwin
7 pm / Saturday 13 August 2016
John Wilson and his orchestra pay tribute to American songwriters, George & Ira Gershwin.
Singers: Louise Dearman, Matthew Ford, Julian Ovenden
Ed Stoppard is an English actor (The Pianist), also a LAMDA grad, and son of play & screenwriter, Sir Tom Stoppard.  You might recall that James directed a play by Tom Stoppard, "The Real Inspector Hound,"  25 years ago at the Grammar School in Australia.
For those of us less fortunate to attend this, BBC iplayer has it.  Here are Julian's renditions of  S'Wonderful and Love Walked In.
First Set Photos of James D'Arcy with Kenneth Branagh
Details

Category: Latest updates
On Friday, 03 June 2016, the 10th day of shooting Christopher Nolan's Dunkirk, we finally have our first glimpse of James!
He appeared with Kenneth Branagh on a rainy and wind-swept Malo East Pier where most of the filming took place since the beginning of the week...on the pier with explosions and on ships.
Nolan and his cinematographer, Hoyte van Hoytema (Interstellar / Tinker, Tailor, Soldier, Spy) filmed their scene on the restored 1940's type wooden pier designed by Guy Belegaud.
James was filmed walking on the pier, wearing an officer's uniform of the British Army while Branagh wore that of an officer of the Royal Navy.  Word on the tweetvine, is that Branagh is not Winston Churchill.
There were many extras also on the pier, but aboard the Norwegian ship, Rogaland which was converted into a hospital ship, the one with a large red cross, hard to miss. Filming was difficult with rain and high winds, all week it was like that.
Nolan had to halt filming at around 9 pm though they were supposed to go on till 2 am. 
A video of the filming on the pier shows exactly how rough the weather was!
The new source was from Nord Pas de Calais as is the actor-bio blurb below. 
Two faces of cinema and British television
55 years old,  Kenneth Branagh  is an actor and filmmaker originally from Northern Ireland. Among his several cinema adapatations Shakespeare ( Hamlet, Much Ado About Nothing, Henry V ) and a recent adaptation of Cinderella  for Disney studios. As an actor, he played for Woody Allen ( Celebrity ), Barry Sonnenfeld ( Wild Wild West with Will Smith), Bryan Singer ( Valkyrie ) and in the saga of Harry Potter  where he played the role of Gilderoy Lockkart. Kenneth Branagh also embodies television Inspector Wallander in the British adaptation of Swedish crime novels of Henning Mankell.
 James d'Arcy , 40, is a familiar face of French viewers who saw in the Season 2 series  Broadchurch broadcast on France 2. the London actor also interprets one of the main characters in the American series Agent Carter. This is illustrated in  Master & Commander Peter Weir, alongside Russell Crowe, and we shall soon find showing another historical fiction,  Guernica , the Spanish war.
Some Trivia: Kenneth Branah had seen James perform Piers Gaveston in Edward II at The Crucible in 2001. Watching Grandage's production inspired Branagh to make his return to the stage after a 10 year gap for Richard III the next year.
Many thanks to Julien Valcke and DidierH@u for their diligence and long telephoto lenses!!