James D'Arcy follows his talent agent to WME
Details

Category: Latest updates
Three weeks after television agent, Sean Grumman exited CAA (Creative Artists Agency) for WME (William Morris Endeavor Entertainment), it has been confirmed that James is among the 10 high profile clients going with him.
Grumman was at CAA (Creative Artists Agency) for 15 years when he abruptly left the agency. His contract was up and he was being courted by many top agencies, before landing at WME.
Among Grumman's high profile TV clients are Milo Ventimiglia, Hayley Atwell, Dominic Cooper, Ruth Wilson, Chris Wood, Ryan Kwanten, James D'Arcy, Nick Nolte, Norman Reedus, Nina Dobrev, Matthew Goode and Donald Sutherland. The practice at CAA is for clients to be represented by teams and multiple agents.
Today, it was confirmed that the 10 TV clients leaving with Grumman from CCA to WME are:
Milo Ventimiglia (NBC's fall breakout drama "This is Us")
Troy Garity (HBO's "Ballers")
Ryan Kwanten (Sookie's brother Jason on "True Blood" and action thriller "Category 5")
Tyler Labine ("Reaper,"  "Sons of Tucson" and "The Boss")
British actor James D'Arcy, who played Jarvis on "Agent Carter" and will appear in Christopher Nolan's upcoming "Dunkirk"
Jaina Lee Ortiz (Miami medical drama "Rosewood")
Chris Wood (CW's "Supergirl" as Mon-El)
Hayes MacArthur (TBS' "Angie Tribeca")
Claire Holt (one of the vampires in CW's "The Originals")
Andrew J. West (Gareth on AMC's "The Walking Dead")
Sources: Variety, Deadline, Hollywood Reporter, Celeb News, Sean Grumman facebook (photo above)
William Morris Endeavor (WME)
Address: 9601 Wilshire Blvd 3rd Fl Beverly Hills, CA 90210 (Google Maps)
Contact: (310) 285-9000 / (310) 859-4085 / (310) 248-2000
Website: http://www.wmeentertainment.com/
Wikipedia: https://en.wikipedia.org/wiki/William_Morris_Endeavor
Facebook: @wmeentertainement
Esquire Townhouse with Dior Launch Party
Details

Category: Latest updates
James D'Arcy attended The Esquire Townhouse with Dior Launch Party  held at the Carlton  House Terrace in London on Wednesday, 12 October 2016.  Arrivals - Photo by Mike Marsland / WireImage  (Many thanks again to @alexander_bendo !)
British men's magazine Esquire is launching The Esquire Townhouse with Dior, a four-day luxury living brand experience.
From October, 12-16, 2016, Esquire will takeover 10-11 Carlton Terrace in London to curate a series of live talks, interviews, screenings and masterclasses showcasing the best in the world of style, sport, tech, travel, food and film.
Activity planned for the event includes a screening of the upcoming film Inferno with its Director Ron Howard and actress Felicity Jones, a Q&A with experimental chef Heston Blumenthal, a men's style panel featuring model David Gandy, a supper club with Michelin star chef Marcus Wareing, and a Sky Sports panel celebrating the best moments in sport over the past 25 years.
Esquire will utilise audience insight and data to target affluent, influential consumers. Dior is headline sponsor of the event, while other brands confirmed include Huawei, Montblanc, Laurent Perrier, Roche Bobois, Surf Air, Starbucks Reserve, Fullers and William Grant & Sons Distillers.
Where: 10-11 Carlton House Terrace, SW1, Central London overlooking St. James's Park
A few images from STARTRAKS.
 A couple by Luca Teuchmann / Getty Images.  (Many thanks, @alexander_bendo!)
 @Frandull (twitter) shared an amazing photo:  "And here's James D'Arcy   Best night ever."   (Many thanks, Bella!)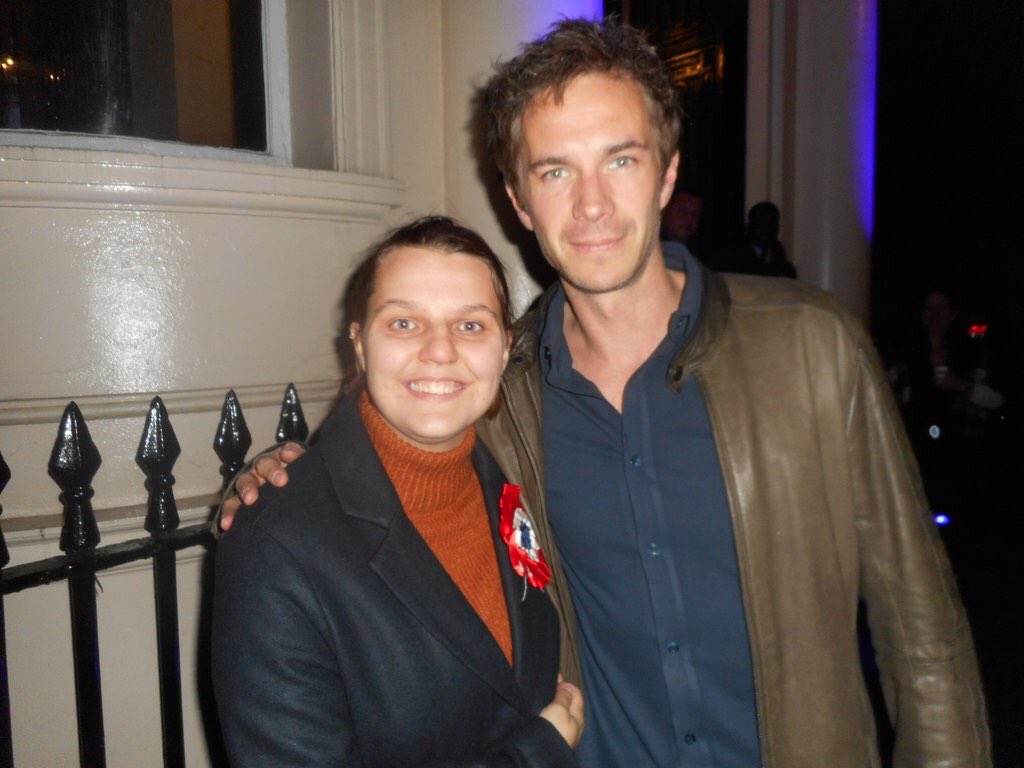 Dinard Film Festival (Day 2): Jury Walkabout and Opening Ceremony
Details

Category: Latest updates
The light drizzle in Dinard did nothing to dampen the enthusiasm of the festival as the members of the Jury made a late morning walkabout and entered the Casino Barrière for the official Opening Ceremony in the evening. The public and the press never tire of pictures of Claude Lelouch, Julie Ferrier, Victoria Bedos and a lovely English gentleman, James D'Arcy, who according to Ouest France, "meets the demands of the ladies." Gosh, how is that even possible?  (Photo by Marc Ollivier below)
 Film producer Colin Vaines tweeted a pic "With two lovely friends who are also on the jury with me, James D'Arcy and Phil Davis."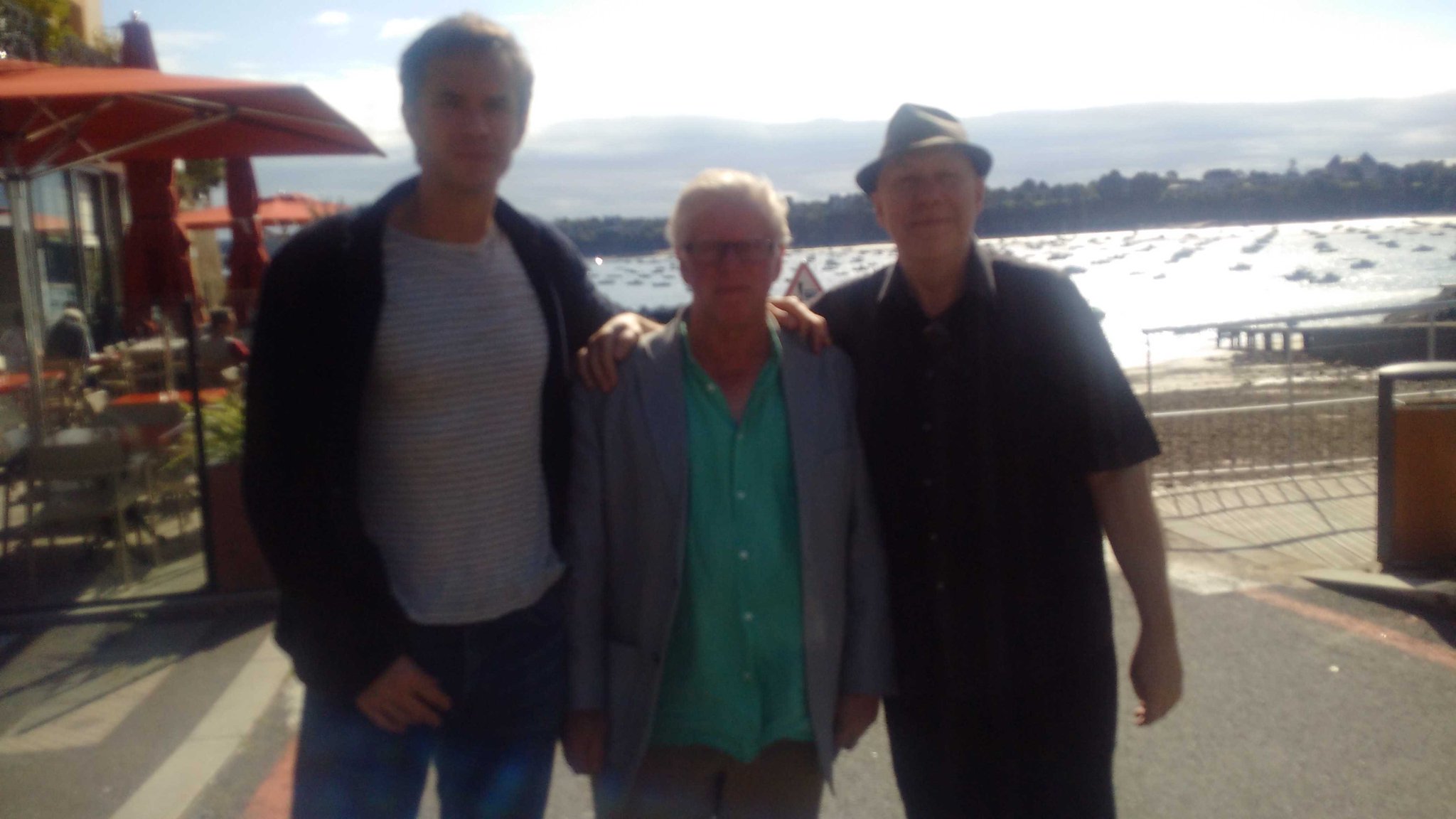 A red carpet walk and photos again, before the opening ceremony. (photo @CoralineLafon twitter, many thanks!)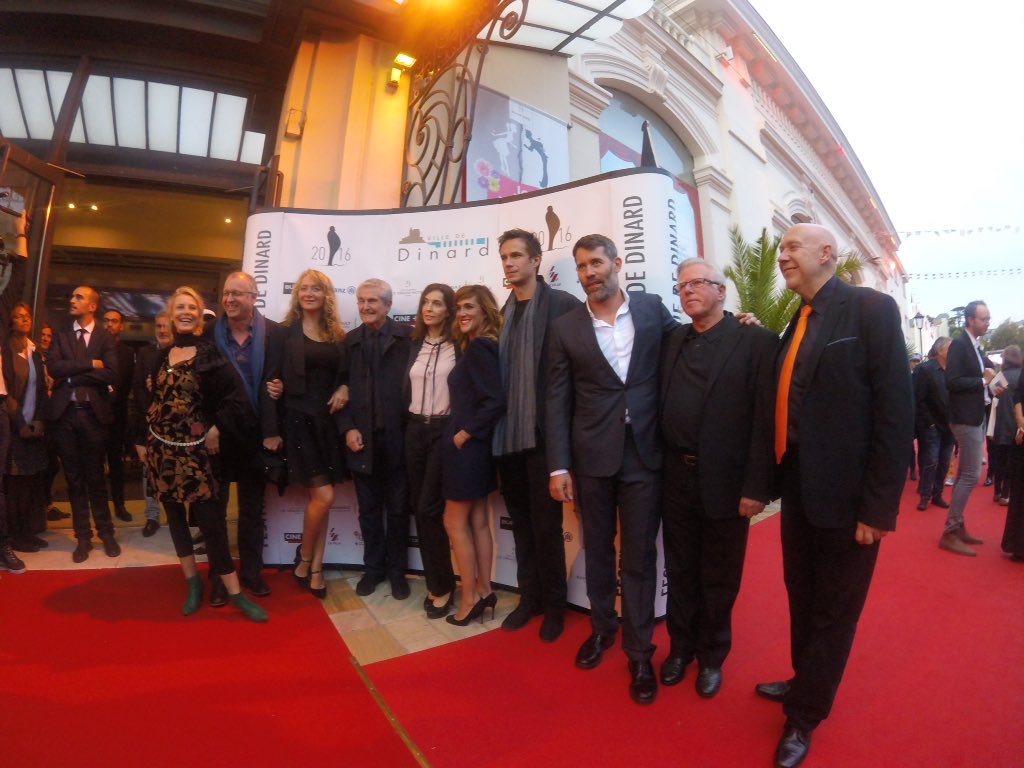 A few minutes before the Opening Ceremony, the Jury pose in the lobby of the Grand Hotel.
Around 7 pm, inside the Casino Barrière. the mayor of Dinard welcomed the audience, then Claude Lelouch presented his team.
There was a short cocktail before Whisky Galore was shown as the opening film.  (Photo below by Mehdi Omais on twitter, many thanks!)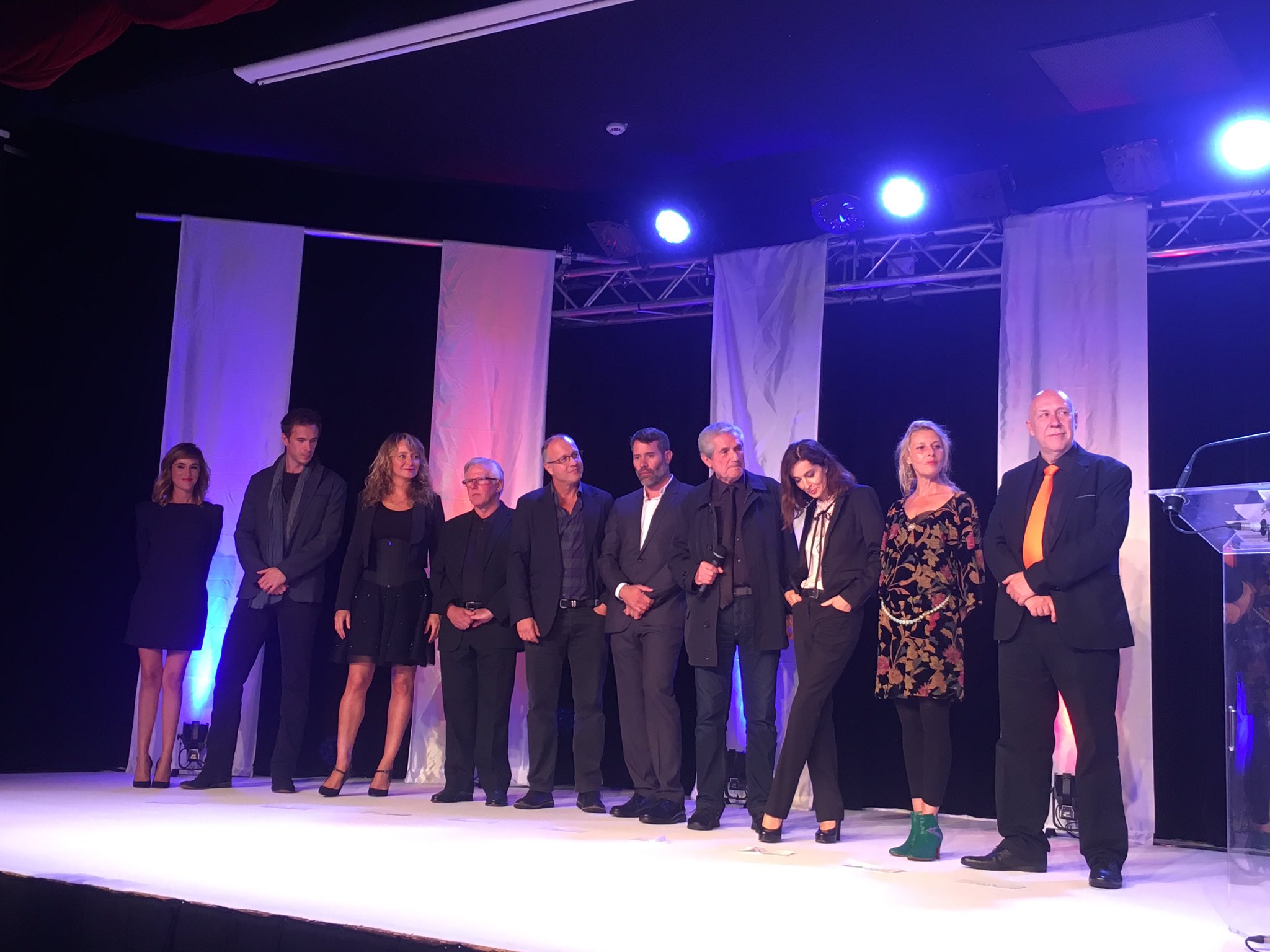 The "beautiful (and funny) jury!" go to the beach front for photos.
Many thanks to the Festival du Film Britannique de Dinard for taking many gorgeous photos (such as the ones above) and putting them on their various social media sites. Official Website Photo page   Flickr   Facebook   Twitter   Instagram  Youtube   Some hunting is required but is always well-rewarded!
Getting cornered by fans is always beneficial for us...  Here's Nicolas LEPETRE twitter pic of the night.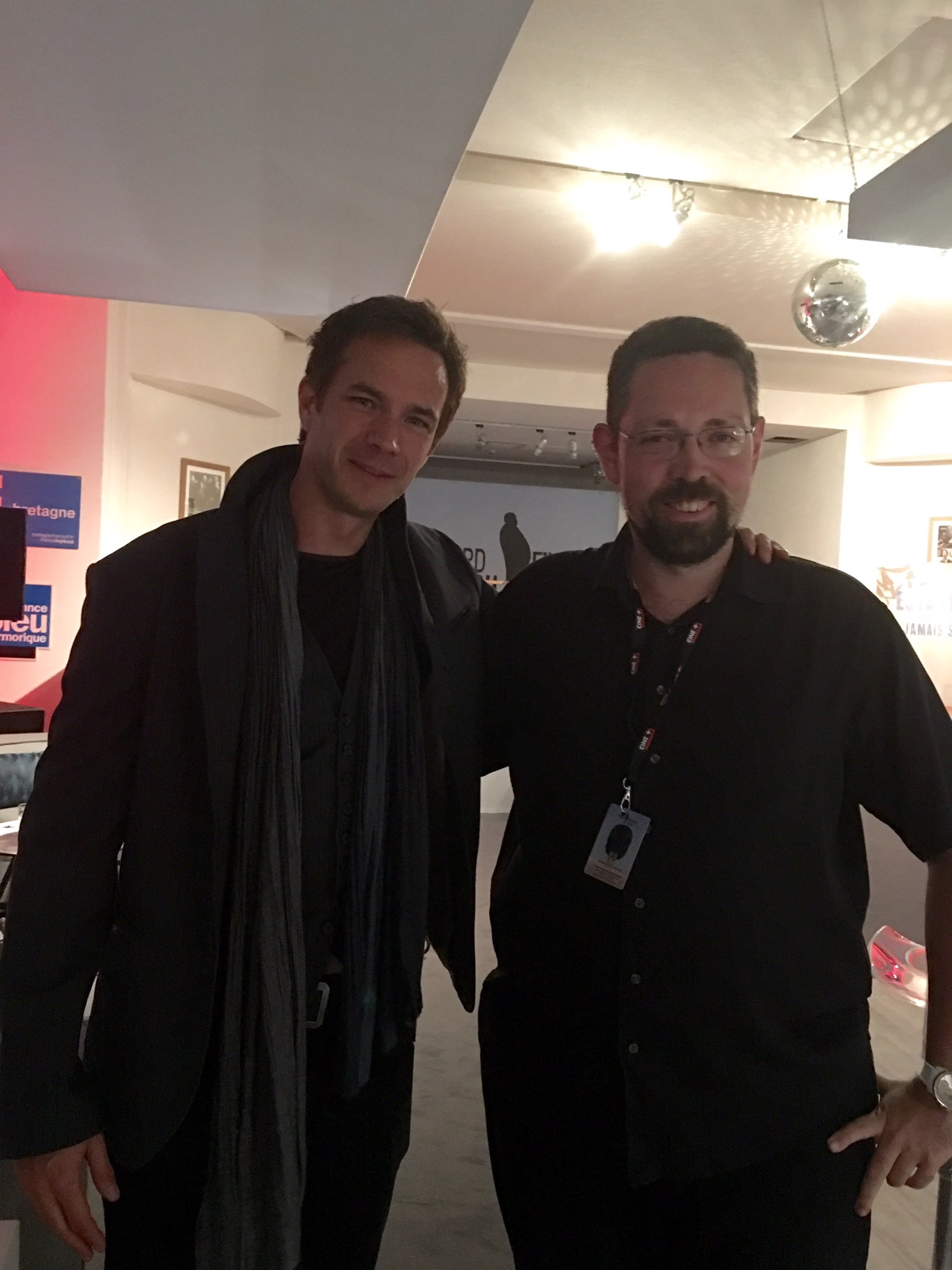 Go to Public Appearances Gallery to see all the photos of the day (52).
The Daily Dinard: Day #2 ( James walking towards the stage ) 
Mag Cinema Opening Ceremony.
Variety: Rome's MIA attracts James D'Arcys Directorial Debut Project
Details

Category: Latest updates
Variety's International Correspondent, Nick Vavarelli ran a story on James D'Arcy's first feature film project, "The Long Way Round" to be presented at MIA Market in Rome next week. 
Published today, 11 October 2016 on Variety:
ROME — More than 400 international buyers, sales agents and producers are expected to attend the second edition of Rome's new-concept Mia market dedicated to feature films, TV series, documentaries and video games. English-language movie projects seeking co-production coin at the market, which is held in tandem with the Rome Film Festival, include the Tuscany-set directorial debut of British actor James D'Arcy ("Agent Carter," "Dunkirk").
D'Arcy (pictured) has teamed up with prominent London-based producer Pippa Cross ("A Hundred Streets") on "The Long Way Round," about an estranged father and son who travel to their family home in Tuscany, which they are thinking of selling. "Once there, they discover the beauty of the place, their love for the people who inhabit it, and renewed feelings of mutual affection," the project's synopsis says.
Mia – an acronym for Mercato Internazionale Audiovisivo, which means International Audiovisual Market in Italian – will run Oct. 20-24.
Photo Credit: NACHO LOPEZ/DYDPPA/REX/Shutterstock
James D'Arcy arrived at the Dinard Film Festival: (Day 1)
Details

Category: Latest updates
First day of the 27th British Film Festival in Dinard.  The jury, chaired by Claude LeLouch arrived at the Hôtel Barrière Le Grand Hôtel Dinard, on Wednesday, 28th September, late afternoon, around 5.30 pm and were immediately greeted by autograph hunters as soon as they stepped out of the cars. The jury went into the hotel to take possession of their rooms and after a couple of hours of rest, they emerged from the hotel at 7pm to walk the red carpet.  
The Mayor of Dinard, Martine Craveia-Schutz welcomed the jury before the first screening of the evening which was "Funny Chubby" by Harry Michell.  (Photo above is by Ville de Dinard on twitter, many thanks!)
Here are a couple of photos of James signing autographs, from Serge Bizeul's facebook.  (Many thanks for sharing!)
 Some new photos from Festival du Film Britannique de Dinard flickr, showing James' arrival at the hotel, and having refreshments, signing a chair in the Bo Concept Lounge before heading out to the first screening.
... sharing chips with Phil Davis... 
Festival-goers have a chance to win the Bo Concept recliner signed by the jury members in a contest.
See more photos in the gallery.
The Daily Dinard Show by Festival du Film Britannique de Dinard youtube  Wed, 28 Sept, Day 1 (James being introduced at the first evening screening)
Me Magazine: "Try to be Kind"
Details

Category: Latest updates
On the digital interactive monthly men's lifestyle magazine, ME Magazine, our charming and ever-youthful James D'Arcy pulls out his top 3 rules of a gentleman.
James d'Arcy. 'Los mandamientos de un Sir' para revista Mine
Published on 10 October 2016
"The Long Way Round" to be presented at the Co-Production Market of MIA
Details

Category: Latest updates
From October 20 to 23, James D'Arcy's "The Long Way Round" will be one of the 18 films presented at the Co-Production Market of MIA (Mercato Internazionale Audiovisivo) in Rome at the Diocletian Baths (pic below).
The International Audiovisual Market in Rome is where filmmakers and producers, selected among the world's most interesting talents on the independent film scene can present their projects for help in funding.
The 2016 Eurimages Co-Production Development Award: a cash prize of 20.000 Euros and ART International Prize: a cash prize of 5,000 Euros will be awarded to the best project presented.  Eurimages is the Council of Europe Fund promoting European film industry, set up in 1988.
The 18 selected projects as announced by e-duessa.it today: (alphabetical order by country)
AURORA'S SUNRISE Inna Sahakyan (Armenia) - Manufactured by Vardan Hovhannisyan
WHAT A COUNTRY? Vinko Bresan (Croatia) - Produced by Ivan Maloca
LET THE NORTHERN LIGHTS ERASE YOUR NAME Eva Weber (Germany / UK / USA) - Produced by Heino Deckert
BALLAD FOR A PIERCED HEART by Yannis Economides (Greece) - Produced by Christos Konstantakopoulos
EDEN Agnes Koscis (Hungary) - Produced by Els Vandevorst
THE GIRL IN THE FOG Donato Carrisi (Italy) - Produced by Alessandro Usai
ASSANDIRA by Salvatore Mereu (Italy) - Manufactured by Arcopinto
FLESH OUT Michela Occhipinti (Italy) - Produced by Marta Donzelli
MONA Tricarico Grazia (Italy) - Manufactured by Donatello Della Pepa
JADE of Sacha Polak (Netherlands) - Produced by Marleen Slot
ALMOST PARADISE Gary ALAZRAKI (Mexico) - Produced by Edgar San Juan
SON OF A VERY IMPORTANT MAN Najwa Najjar (Palestine) - Manufactured by Hani Kort
Fortnight Aga Woszczyńska (Poland) - Manufactured by Agnieszka Wasiak
HISTORY OF LOVE Sonja Prosenc (Slovenia) - Manufactured by Rok Secen
THE DEVIL'S PIT Michele Pennetta (Switzerland) - Produced by Joëlle Bertossa
THREE SISTERS FROM Cukurca Emin Alper (Turkey) - Produced by Nadir Operli
THE LONG WAY ROUND James D'Arcy (UK) - Produced by Pippa Cross
 MOLLY Sally Potter (UK) - Produced by Christopher Sheppard
The Long Way Round is a feature film written and starring James D'Arcy, most likely, also directing.
It is a high end independent feature film seeking a budget of $2-15M.      
Update (21 Sept):  From the MIA Press Release:
From England comes another project co-starring Italy: indeed, The Long Way Round, the debut feature by actor James D'Arcy who, after working as an actor for high-calibre filmmakers (from Christopher Nolan to Peter Weir), has moved behind the camera, is set in Tuscany.
A man and his son, who have been estranged for some time, travel to the family's country home, which they're thinking of renovating and selling: once there, they discover the beauty of the place, their love for the people who inhabit it, and renewed feelings of mutual affection.
Source:  miamarket.it
Best of Luck to James and his brilliant endeavours!!!
"Fan, Friends and Flamingoes, how I met James D'Arcy...."
Details

Category: Latest updates
"Fan, Friends and Flamingoes, how I met James D'Arcy for the 2nd (and 3rd, and 4th) time"
By: Adeline  - 27th Dinard British Film Festival on 30 September and 01 October 2016
A few months ago (or not even that long), I had been informed that James D'Arcy was going to be a jury member for the British Film Festival of Dinard (a festival I knew nothing about before, shame on me). So I asked around who wanted to go with me and my loyal mother was all in. There we were, then, on the road on a Friday (we both took a day off from work for it, totally worth it) to Bretagne.
Friday. Of course, I knew I had quite a lot of chances of meeting him during the weekend but I surely did not expect it to happen so quickly! We were barely arrived in Dinard and walking by one of the theatres where they were showing the movies for the festival, that my mother stopped, saying she had "a feeling" because there were festival cars near the red carpet. We waited and a woman also passing by asked one of the crew guys what was happening and he replied that the jury members were to come out in ten minutes or so. Ok. Keep calm, breathe in, breathe out, you're not the same as you were when you first met him two years ago. I had a gift for him and a card I had not written at that moment (I had to write something real quick and, oh my, was it bad!!). The jury members start to come out on the red carpet, nobody is stopping them even if there are some people around. And then a familiar, tall figure with sunglasses appears and is stopped by a woman who wants a pic or an autograph, I can't tell because I was focused on what I was going to say. Phil Davis (James was always around him each time I saw him, he was his British anchor) was walking before him and he was the one who answered my "hello" even if it wasn't aimed at him (but he was nice and I felt so bad to go right to James!). I started to tell him I had a gift for him, "a stupid gift" but he smiled it off with a "I love stupid gifts!". He then looked in the package and exclaimed "Flamingo socks!" (yeah, there were socks with pink flamingoes on them). He looked at me with a big smile that said that he loved the reference to Edwin Jarvis. He genuinely looked like he loved them and that made me feel a little less stressed. I made him sign my copy of Cloud Atlas; I had trouble spelling my name because it's a very French one and he seemed to get it so I didn't know what to say (achievement unlocked: hearing him say the first 3 letters of my name 'A-D-E  ' in French and a "comme ça" when he was done, so cute!). I then told him that we had met a few years ago in London, for Mojo, he gave it a thought then nodded "I remember, you were shaking!" Yeah, I know, this still haunts me to this day! I then asked for a picture and when he put his hand on my shoulder, he said "we're friends now". So, yeah, we are. When we parted, he told me he would wear the socks on the evening, but to this day I don't know if he had!
And that's how I met James D'Arcy for the second time.
Saturday. Early start of the day to see one of the movies in competition. After that, we walked around Dinard and found ourselves in front of the hotel where the jury is staying (coincidence? maybe, maybe not). My eagle-eyed mother saw Claude Lellouch (the president of the jury) inside so told me to wait a little. Of course, he went out... and the rest of the jury did to. A few people was around but nobody dared to stop him, so I walked to him to ask for an autograph (for my mother, this time, and he wrote her name without hesitation) and another picture. He had his sunglasses on and, embarrassed but daring, I asked him if he could take them off. He did, but I felt so bad after because the sun was blinding! I let the other people take pictures and autographs and went to Phil Davis (to make up for the day before) to have his autograph too. I then returned to James, who was by himself, and asked him about his short movie, Chicken Egg, to know if we'd have some day a chance to see it. He replied that he could not put it online, the only way to see it would be during a festival. "Maybe next year at Dinard, I'll have to ask!". I saw him between two movies during the afternoon but only stared at him while he walked by with the rest of the jury.
Jump to the red carpet of the closing ceremony of the festival. After four hours waiting in the cold, the jury finally arrived. They all seemed to have a great time and happy to be there. James took a selfie with a woman and he may have signed a few autographs, I could not see clearly. The jury went up the red carpet, near where I was, so I, well, yelled "James!" several times until he noticed me and opened his arms, with his face saying "why are you screaming?!", then he approached me with a huge smile on his face (I can't remember it but I've seen the pics of that moment). I told him I wanted another picture because he looked amazing in his black tuxedo ("you look great!" were the words I said, brave me!). I thanked him, of course, and he replied with a more-than-charming "you're welcome, darling" which kind of left me in awe. A few seconds later, the woman presenting the people on the red carpet introduced him so my mother (the fangirl!!) and I cheered, and James blew us a kiss. Which concluded this D'Arcy weekend quite perfectly. Of course, I got to see really good movies, so everything was an epic win!
To see more of Adeline's amazing photos, go to  Gallery: Candids: Fans, Friends and Flamingoes
CHICKEN / EGG Trailer and Updates on the cast/crew screening
Details

Category: Latest updates
Chicken/Egg Trailer is here and omg, it's funny; it's brilliant, as could be expected from something hatched by James D'Arcy. 
CHICKEN / EGG Trailer
Starring Nikolaj Coster-Waldau and Hayley Atwell.  A short film Directed by JAMES D'ARCY
Produced by SAM TIPPER-HALE copyright CrossDay Productions 2016
 The trailer was posted by Sam Tipper-Hale on twitter. 
 On Felix Coles facebook: "We had the utmost pleasure designing this at the beginning of the year, for the wonderful James D'Arcy. All the while, throwing a FULL chicken costume make into the mix! Never a dull day!"
Chicken Egg Trailer from CrossDay Productions on Vimeo.
Updates:
(20 September 2016):  Chicken/Egg has an official Twitter:  Chicken/EggMovie
(21 September 2016):  Chicken/Egg is completed!  
It has a poster and its first cast and crew screening today.  Mr. Director is very fast!
@ChickenEggMovie "Chicken and Egg themselves prepping for tonight"
@ToddVonJoel  "@ChickenEggMovie cast & crew screening bound... #Soho @CrossDayFilms"
 @Joseph_Lindoe  "Just got to see the premiere for @ChickenEggMovie by @CrossDayFilms  HILARIOUS!  Definitely keep your eyes and ears out for it!"
"What an absolute pleasure to attend the premiere of a hilarious short film - 'Chicken/Egg' I worked on this short for a couple of days working alongside James D'arcy the director and Sam Tipper-Hale the producer. Both of whom were fantastic to work with and what I seen tonight was pure quality a brilliant finished product. Many thanks to Sam who is a complete and utter inspiration for his work ethic, he has a great way about him, an absolute professional. Keep your eyes pealed for starfish hopefully screening in late October and chicken/egg will also be available for viewing soon. What a night! Looking forward to my interview with channel 4 tomorrow! #shortfilm #chickenegg #starfish"
Espirit Paillettes: "Meeting with James D'Arcy #Dinard2016"
Details

Category: Latest updates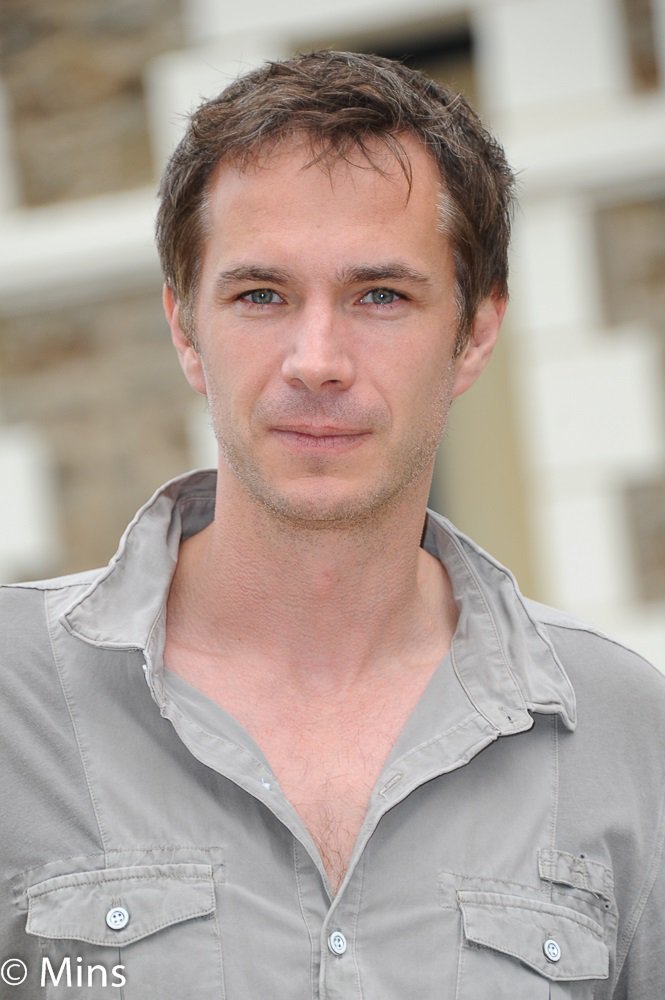 Our lovely Adeline has provided us with an accurate English translation of  Laetitia Heurteau's interview of James on her blog, Espirit Paillettes. (photo above is from her blog)
But if you wish to read the original interview in French it's here.  Laetitia interviewed James on Friday, 30 September at the Dinard Festival.
 Like the sun plays hide-and-seek with the sun, sensations in Dinard keep on changing. That's why we follow the invitation of its President, Claude Lelouch, to seize the moment : "Happiness is very brief et has to be consumed right away. It is the art of the present." We therefore find ourselves speaking an approximate English with a charming British actor, member of the jury, the well-named James D'Arcy, while we are just out from the train from Paris. Sans aucun regret...
 So the start of the festival feels a little like Notting Hill...
 No, I don't work for Horse &  Hound, as Hugh Grant did improvise in front of Julia Roberts in that memorable junket, but I would not have hesitated one second to use that pretext. Fortunately, speaking of my sparkling blog is enough. In front of me, James D'Arcy, 41, cool even if he has been through a lot of mini and various interviews before I arrived unexpectedly.
 After an actor training at the London Academy of Music and Dramatic Art, he quickly favours the cinema from the theatre. Opportunity makes the thief. He cannot tell me why he chose to be an actor. It happened just like that. Deep down, our cultural difference may lie here: France seeks to understand why and how, while Britain is already in the action. And in terms of action, he knows a lot about it since we have seen him braving battleships and storms in Master and Commander, or more recently when he was in the TV show Agent Carter.
  "I love Dinard and this peculiar festival atmosphere, very friendly. We members of the jury enjoy exchanging about our differences of cultures. When, in a British movie, my French colleagues are amazed by the exoticism of the London underground, I can't help but think sincerely the same thing about the Parisian metropolitan."
   If we dare asking him about the films in competition, the actor graciously gestures toward his sealed mouth. The hero of Master and Commander does not hide his enthusiasm for movie sets. He joined last Christopher Nolan's (Dunkirk, 2017, the story of the evacuation of the city of Dunkerque at the beginning of WWII), recently directed a short movie he also wrote, called Chicken Egg. We would love to listen to his speaking for hours, but watch out "you only have two minutes left!"
  During the Festival, we will have the joy to come by him and enjoy his sense of glamour and eccentricity when, accompanying Julie Ferrier (who does not have her eyes in her pockets), he will wear playfully the famous Dinard plastic boots (stars of the 2016 edition poster) during the award ceremony. Très classe, so British... argh!
Gifts from Gernika and James hints at a new film... o.0 ?
Details

Category: Latest updates
Maria Valverde shared this delightful photo on her facebook with this caption:
"And... Are you gonna eat it all?"   #JustKidding #GernikaTheMovie #onset
Mooby.es asked Barbara Goenaga, Alex Garcia and James D'Arcy these questions:
Define your character in 3 words
Describe the construction of your character
How did you get the project to your hands?
What was the hardest thing for you during filming?
Any next project?   <-------    <------  <--------
 @UrbanVLC twitter today: "A present for all fans of #JamesDArcy from @UrbanVLC @GernikaTheMovie"
Urban Valencia is a periodical that accompanies their daily newspaper Levante-emv.
James is on the cover and pages 18-19 of Urban no.32 / 09 September 2016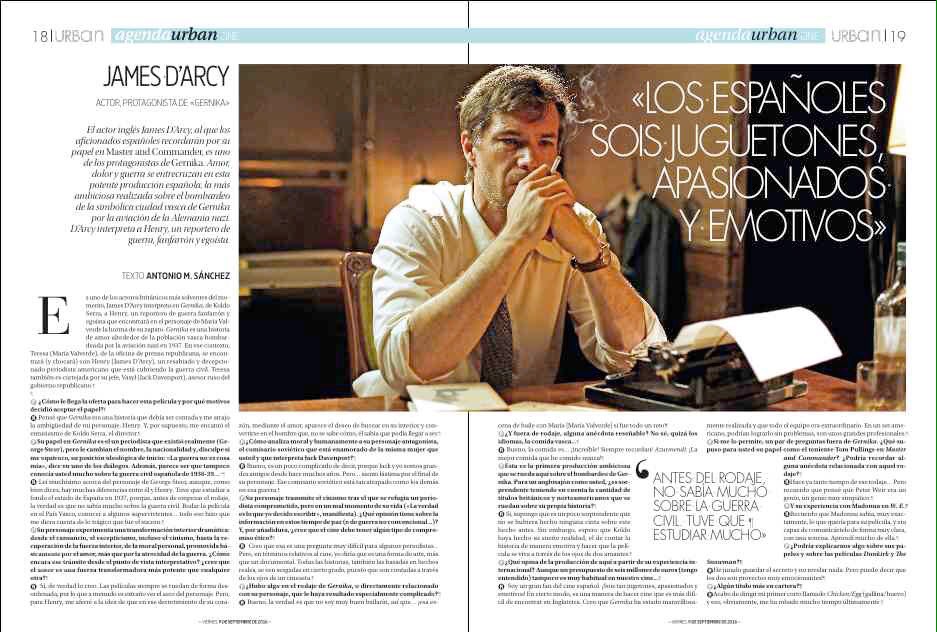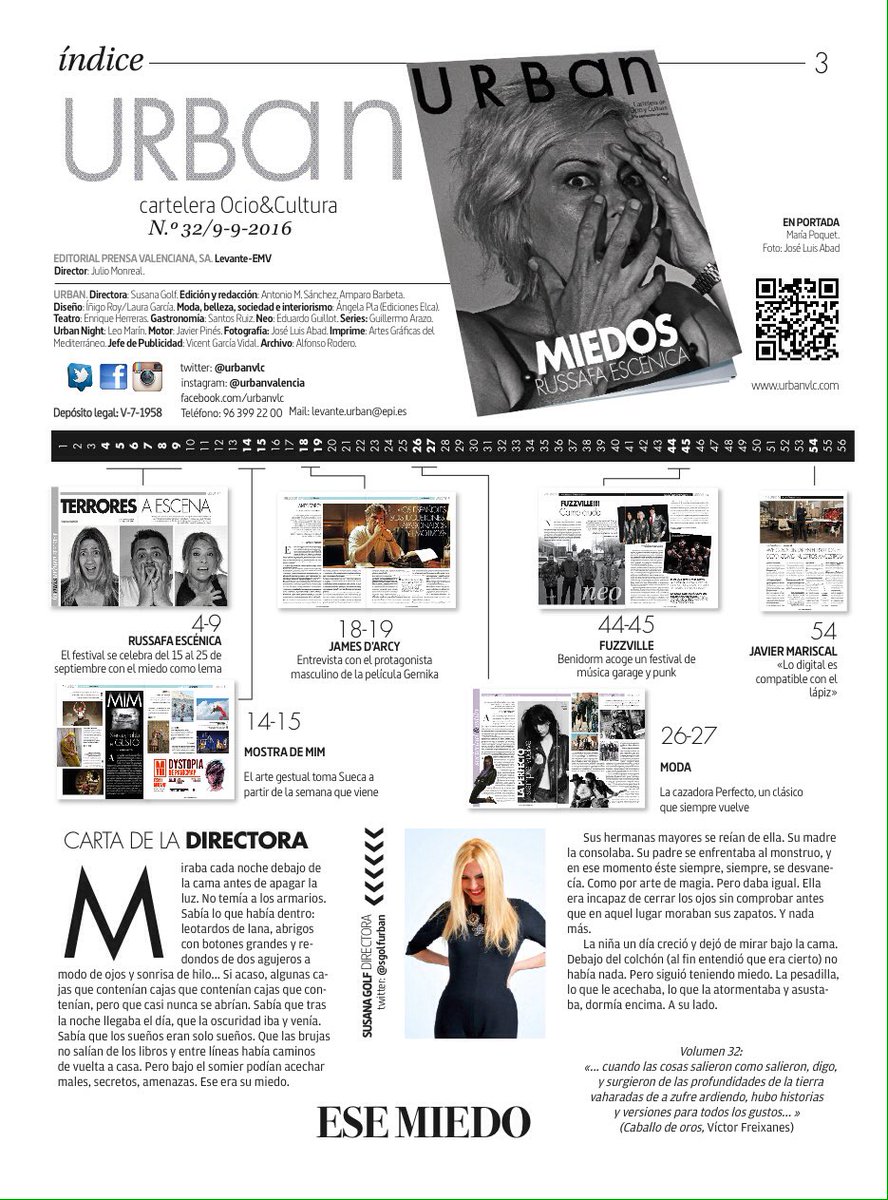 "The Great Butterfly Adventure" Radio Trail on BBC Four
Details

Category: Latest updates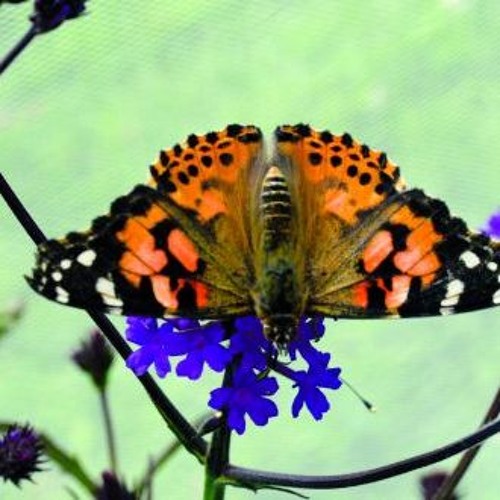 Essex home-based HQ Voice producer, Helen Quigley announced on twitter today that James D'Arcy and Louise Brealey are on the voiceovers for the radio trail for the nature TV documentary, The Great Butterfly Adventure which will be airing on BBC 4 on Monday, 10 October 2016.
Louise Brealey was James' co-star in Green (2007). She played Abi, the girl Stuart (Aidan McArdle) was desperate to impress.
Chicken/Egg is now on IMDB
Details

Category: Latest updates
One of the great things about being a fan of James D'Arcy is that he is energetic and always full of delightful surprises. 
One fine April morning of this year, we were surprised with a funny tweet from a magician who hashtagged Hayley Atwell.  Roffman was doing a little bit of "magic advising" on the set of Chicken/Egg, filming somewhere in London.  
At that time, we weren't  really sure if Hayley had a part in his short film, but now we are as Chicken/Egg was just posted on IMDB.  Hayley Atwell is "Lauren" while Nikolaj Coster-Waldau is "Kenneth."   
James' adorable nephew, Huxley, whom we had last seen giving Hayley a kiss on the set of Agent Carter in his Captain America outfit, on the last day of S1, is also in the cast list as "George."  Perhaps Hux is following the footsteps of his super-fun uncle.
The short film which was originally 13 min, is now extended to 15 minutes.  
In addition, James is director, writer and producer.  That's wearing a lot of hats!   
Synopsis: "A magician and his uncle are entertainers at a children's party, though they are not all that they seem."
 It is now in post-production.  It seems to be developing quite quickly, so hopefully that means we shall see it soon.
James' short film is becoming more and more promising, now that we have the Kingslayer in a chicken suit, Agent Carter and mini-Capt. America on board. Heavens!  What could this all be about? 
Press Snippets Post-Dinard Film Festival
Details

Category: Latest updates
After a whirlwind Dinard Festival weekend, there were noteworthy press mentions that will be lumped together in this update.
Our Adeline had a marvelous weekend meeting James 3x and their happy interaction was caught on camera (photo above) by Le-Telegramme.fr.
On Ecran Noir France blog by Cynthia. on the topic of #Brexit:
To believe that the uncertainty that crossed almost all scenarios of selection was also the general feeling of the British personalities from Dinard.
The actor James D'Arcy , jury member, told us that he had voted to keep the UK in Europe and the future of cinema in his country is blurred: "is- what Brexit will affect the film industry? I have no idea ... besides nobody knows. " Conversely, the jury colleague, actress Anne Parillaud believes that the will Brexit shake the film industry
Ecran Noir interviewed Victoria Bedos on her Franco-British jury experience:  Posted by Kristofy
Victoria Bedos: This is the first time I have sworn and I have much luck with this jury Dinard. I mean super well with the chicks , we do not stop to chat between chicks, Lespert I did not know him well and we get along very well too, same with James D'Arcy. As it is a Franco-British jury, the French speak English rather than the reverse course. I have an English that is not super good so that I have to wait to get a little tipsy for daring to speak the English jury. I feel that British juries have a slightly harder look at their own cinema that French jurors. Obviously for us it is more exotic. I think it will be very funny deliberations.
Dinard fell under the charm of the British actor, James D'Arcy, jury member, claimed Oest-France.
It's hardly surprising to us, isn't it..  James in yellow wellies..  Photo from Pure People.
Gernika Opens in Cinemas Today & Best Interviews of the Week !!!
Details

Category: Latest updates
It is finally here, 09 September, the day that Gernika finally opens in 92 theatres across Spain!
 We wish the Gernika producers and cast/crew, the best success in the world, not only because Koldo Serra is the greatest guy in the world, but also that this is an important story to be told.  We hope that the pre-release of Gernika in downloads and DVD by Sony Pictures will not have adverse effects at the box office.
Here are the best of James' interviews from this week's promotions in Madrid and Bilbao.
e-cartelera, 09 Sept. by Ivan Ginés
NON STOP PEOPLE by Patricia Lopez  (the video is not embed-friendly, so click the link)
"We Talk to to the Stars of 'Gernika'
Series.On Day by Maria Reinoso   "This movie talks about many things"  
An interview with James D'Arcy and Ingrid Garcia-Jonsson.  (only James' below)
SERIES ON DAY: Our own history is erasing apace events that took place in Guernica, and I guess that is not well known outside our borders. How did you hear about the bombing?
James D'Arcy: For me, the first contact with the story was reading the script, if I'm honest. I think he had seen the painting of Picasso, but not something you figure out immediately. Certainly I did not know that Guernica was the first time that civilians had been chosen to be bombed, the first city that had been wiped off the map. I knew I had something to do with the Spanish Civil War, but not much more. Logically, it also taught in British schools, so one of my first impressions when you read the script for the first time was "wow, this is an important story. The world needs to hear this story. " That did it , I will not say exciting, because it seems inappropriate given the background, but I did feel it was a good project that part.
SOD: I do not know much about the attack, how you met with this project and decide to be part of it?
JD: I'm not sure, but I think Jack Davenport, who is my friend, was involved in the project for quite some time, and when he thought about who could play Henry, sent an email to Jack to ask "What would you think James? "and he said" would be great, it's very good friend of mine , "so they sent me the script. But I think Jack had told me about it before, had an inkling about it, although he had not paid much attention.
SOD: Did you have any trouble understanding the script or relacionaros with your colleagues?
JD: If I had been given the script with Spanish I would not have understood a word. I think even the parts in Spanish and German were translated my script when I read it , to understand everything, thank God. In addition, luckily all my classmates were pretty good with English and were very kind to me, because they could have talked all the time in Spanish, but spoke mostly in English to understand almost everything.
SOD: Ingrid is bilingual, have you learned some Spanish?
JD: The truth is no. At first I tried, I said "I will learn Spanish while recording hard" but the runnings are so tired that you can only think of the recording. The idea of learning a language while going about your mind almost at once.
SOD: What has been the hardest for you, James, when preparing your character?
JD: For me was reading a lot about history before shooting began. I knew nothing about how it was the Spanish policy in the thirties, so that enough research needed, look at it from an objective point of view and decipher everything. Actually you could sum up in trying to tell the truth, no sides, but in a way it was also entertaining.
SOD: After seeing the end result of Gernika, what was your first impression? Do you think that has anything changed by adding post-production, such as special effects?
JD: I have not seen the movie (laughs), but I do not think that changes anything. The special effects put them later, so I just have to pretend you are there at the time to act. Really all that involves acting is pretend.
SOD: James, both Dunkirk and The Snowman, your next projects, you will conduct a dramatic role. Do you feel more comfortable in that genre?
JD: Not exactly. Jobs simply are coming. I love doing drama, but for example Agent Carter was fun, I loved working and simply playing the fool.
SOD: We feel the obligation to ask the following. All the news saddened by the cancellation of Marvel's Agent Carter. Do you see possible Jarvis play in the future?
JD: Maybe, yes. I do not think this series is finished. I think we can do more. I do not know how, but I know Hayley continue, Dom continue, Enver showrunners continue ... and also would like to continue. Okay, because you can continue the story five years later and have more adventures, if people wanted. So we'll see, maybe. A I loved playing that character, you may do it again.
El Mundo by Javier Estrada   James D'Arcy: "We must remember tragedies like this"
What did you know about the bombing of Gernika before shooting this film?
I am ashamed to say that I knew almost nothing. I will even admit that he had not seen the famous painting that Pablo Picasso painted until I did not read the script. I think this film honors what happened to many people and sheds light on those facts.
But you will have learned something ...
During filming, my castmates and I had the privilege of meeting a few survivors. I was surprised them the glint of their eyes and they seemed alive. Even after contemplating a tragedy of these dimensions.
Do you think Gernika possible that this story will never be forgotten?
Absolutely. We must remember such terrible tragedies like this. From them you can learn a lot for our future.
How was the experience of shooting on the orders of a Spanish director and Koldo Serra?
Koldo is a true movie lover. I might even say that its most prominent feature is the staff almost encyclopedic knowledge he has of the Seventh Art. It is one of the directors who has more expertise. Every time we shot a scene you saw how excited him what he was doing. It is one of those people who love their craft.
Did you ever think you'd work in a Spanish production?
I was very excited when I was invited to participate in a Spanish film of such a large scale like this. Luckily I played my character in English. My Spanish is terrible and just had to say anything in that language!
How do you definías Maria Valverde, his costar?
Mary is a lovely and talented partner, but also a friendly, helpful and very funny. I think you can not ask for anything more than a star like her (laughs). It has been a pleasure working with him.
You have participated in several period films. What are you most interested in this genre?
Nothing special. Actually, I've always looked for stories that have heart. And that is something that quite often occur in period films. Since I was little I have always loved to pretend. I guess I got lucky and somehow became that fun at work! (Laughs).
Series.On Day by Helena Rubio   Excerpt from interview with Ibon Perez
Ibon Perez is a young journalist , well known in Euskadi and has also worked nationally in chains like Cuatro or Telecinco.
SOD: How did you live the experience of working on something? And sharing scenes with actors of great prestige as Maria Valverde or James D'Arcy?
IP: When you hear this "3,2,1" action ", your head goes into the background and forget to where you are. You do not know if it's 1937 or 2016. Maria Valverde and James D'Arcy were very respectful. They do not be looking over his shoulder, which is what I think anyone who does not know them. To me touched me share scenes with D'Arcy and ... I could not be a more folksy uncle!
EITB.eus  by Natxo Velez   Interview with Koldo Serra "We had to tell the story of the bombing of Gernika"
What would you highlight what each of the protagonists has brought to the film?
James and Jack have been known for 15 years, are friends, and although never before had worked together, that helped the atmosphere in the backlot. In addition, when they discovered what was behind the word "Gernika" were very involved emotionally, and it was very easy to work with.
As more will come, check our Press: Articles and Interviews 2015-2016 for new ones
09 Sept 2016 issue of Fotogramas approves James' style :
OK - James D'arcy
We like James D'arcy work in our cinema and comes multiple times to Spain.
The list of theatres in Spain where Gernika is playing. (from Gernika Facebook)
"Get Out There" BMW TV & Cinema
Details

Category: Latest updates
FCB Inferno is running print ads and film for their global campaign to showcase BMW's xDrive technology. The campaign was launched in the UK on 26th September. 
In a fast-paced film, a voiceover by James D'Arcy tells the viewers to "Get Out There"  and 'remember when everything you did was for the sheer pleasure of doing it."  The film is set to the soundtrack of "Song 2" by Blur with scenes of all-weather scenarios and children adventurously exploring the outdoors.
The 60 second and 30 second film edits will run across UK cinemas and TV starting 1st of October. The film is directed by Sam Pilling for Pulse Films and Post-Production Audio is by Angell Sound (Dave Robinson).  
  New Source: Little Black Book Online / October 2, 2016
A high profile Gernika premiere at the Guggenheim Museum Bilbao
Details

Category: Latest updates
Wednesday, 07 September 2016: It was a wonderful and thrilling day promoting Gernika at the splendid Guggenheim Museum in Bilbao.  After an intense 6 weeks of filming in Bilbao in the months of May and June last year, the film returned to the city for its premiere. (photo above by @jonpi_reyes twitter)
It started with Maria Valverde posting "Flying to Bilbao!' on her instagram.
The tall gentleman at the back looks like James, doesn't it?
The day began with Press Passes at 11.00 am and interviews starting before noon and through the early afternoon. 
At 2 pm, @BistroGuggenheim instagram.   What a glorious setting for an interview!
Maria Valverde twitter, in the afternoon, after 4 pm.
Barbara Goenaga reminded everyone that there was a presentation at the Fnac Bilbao at 5 pm!
Fnac Espana (twitter) "James D'Arcy and Barbara Goenaga accompany Koldo Serra (and Jose Alba) in our shop presenting @GernikaTheMovie"
Our super-lucky friend @aleja_rdjr met James at the Fnac dvd/book/music store after the presentation at 6 pm.
"Fangirleo 150%  A year late again see #JamesDarcy"     
Note to self:  It must be that Star Wars T-shirt...  James is a big fan of Star Wars.
 In the evening, it was back to a night at the museum...  (I've always wanted to say that)
At 8.30 pm, VIPs and actors prepare to present Gernika at the Guggenheim Museum Auditorium. 
(photo by @koldoserra twitter)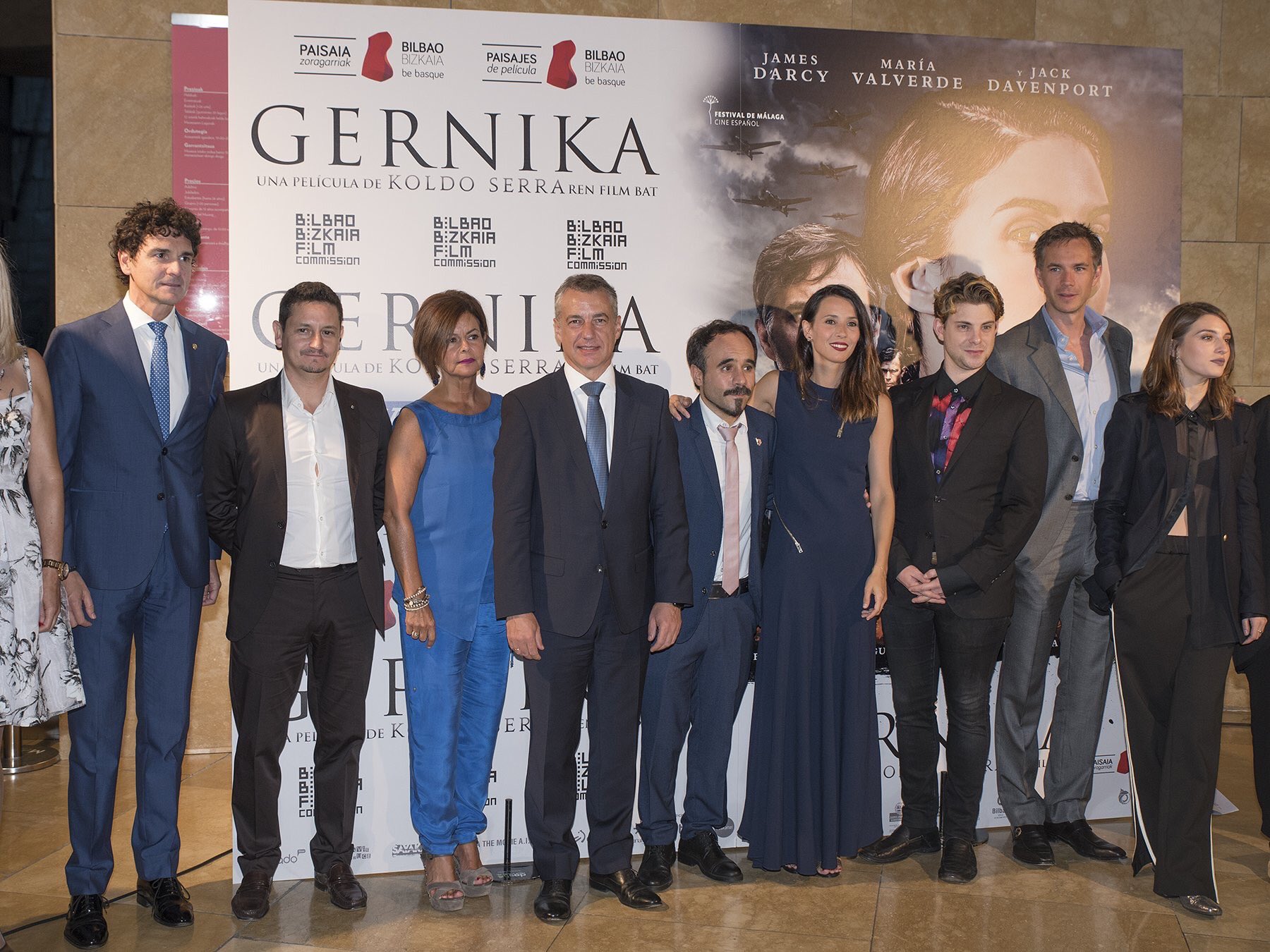 Koldo Serra with James D'Arcy, Maria Valverde and Barbara Goenaga, along with producers Daniel Dreifuss, Carlos Clavijo and co-writer Nahikari Ipina took the stage to address the audience.
With a great sense of humour, Koldo began the presentation by saying: "In my years as a student of Fine Arts, I always knew that one of my works would end up being hanged in this museum. Today we play at home, and for that I am a little nervous in this presentation. I want all attendess leave happy with the work done."  Source: El Correo
James must have been nervous as well as thrilled because in the front rows sat some very important regional, provincial  and local authorities: Lehandakari Iñigo Urkullu, Deputy General of Bizkaia Unai Rementeria, Mayor of Bilbao Juan Maria Aburto, Minister of Public and Justice Administration Josu Erkoreka, Minister of Economic Development Arantxa Tapia, directors of the Basque Government, President of General Meetings, Ana Otadui, Bilbao councilmen... I could go on, but I think you get the gist..
The 297 audience comprised mostly of authorities, artists and film lovers... This is a well-dressed crowd, folks!
(photo below by Bilbao Ekintza twitter)
After the successful evening with many congratulations, James got to greet more VIPs..
Koldo introduced James to the Mayor of Bilbao, Juan Maria Burto (pic from @juanmariburto instagram)
A pic with his lovely co-stars, Maria Valverde and Barbara Goenaga.... in the plaza of the giant flower cat..  I digress..
(photos by @Montxohache and @Asiersanger twitter)  Many thanks!
.... and he's off to the sunset, no, not quite..    a night still young and luminous to celebrate in beautiful Bilbao!    
There have been several video clips recording this special event, we shall try to embed it here whenever it is possible. 
VIDEO LINKS 
Iñigo Urkullu video on his facebook   
Bizkaia Media: Unai Rementeria previews Gernika - a little bit of James at the end  
Bilbao Ekintza: Before the premiere at the Guggenheim Museum.
Bilbao Ekintza: The Gernika Team taking photos before the premiere
 Jose Erkoreka Facebook: James meeting Lehandakari Iñigo Urkullu
Some new photos just came in:  Thanks to the eagle eyes of @alexander_bendo..   From Ibon Perez TV facebook
And look who made the pages of El Correo the next day!!!    Thanks to @carlosclavijo22 twitter for the scan!
Update 2016.09.09:  The photos for this event are now in the Gallery
Dinard Festival (Day 4): Deliberation Castelbrac & Closing Ceremony
Details

Category: Latest updates
Overlooking the splendid Emerald Coast at Castelbrac, the Jury was treated to lunch today, hosted by Dominick Adrian, the hotel director. The restaurant was a great place for the jury of the 27th Dinard British Film Festival to deliberate over the films to win the Golden Hitchcock, the Jury Prize and Best Screenplay from the 6 films in competition. I find it quite fitting that James would put on a striped referee shirt. Maybe it went into his subconscious.
At 7.45 pm, the Jury entertained the crowds in front of Cinema 2 Alizés. The women wore piqued flowers in their hair giving a spring note to their eccentric hairstyles, while Julie Ferrier paraded with a fur hat of the British guards bringing laughter to the red carpet. News Source: Oest France "Glamour and Humour to the Dinard Closing"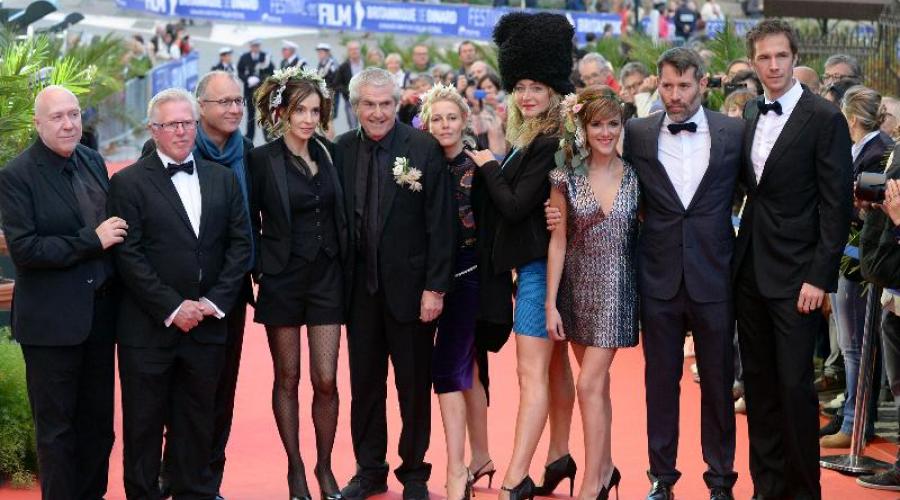 On the red carpet jury members: Colin Vain, Phil Davis, Eric Lagesse Anne Parillaud, Claude Lelouch, Florence Thomassin, Julie Ferrier, Victoria Bedos, Lespert and James D'Arcy.  Photo by Marc Ollivier.
At the award ceremony, James brought his special brand of humour, wearing an emblem from the festival poster, yellow wellies! (twitter photo @stephchermont, merci! ) - the winners and members of Jury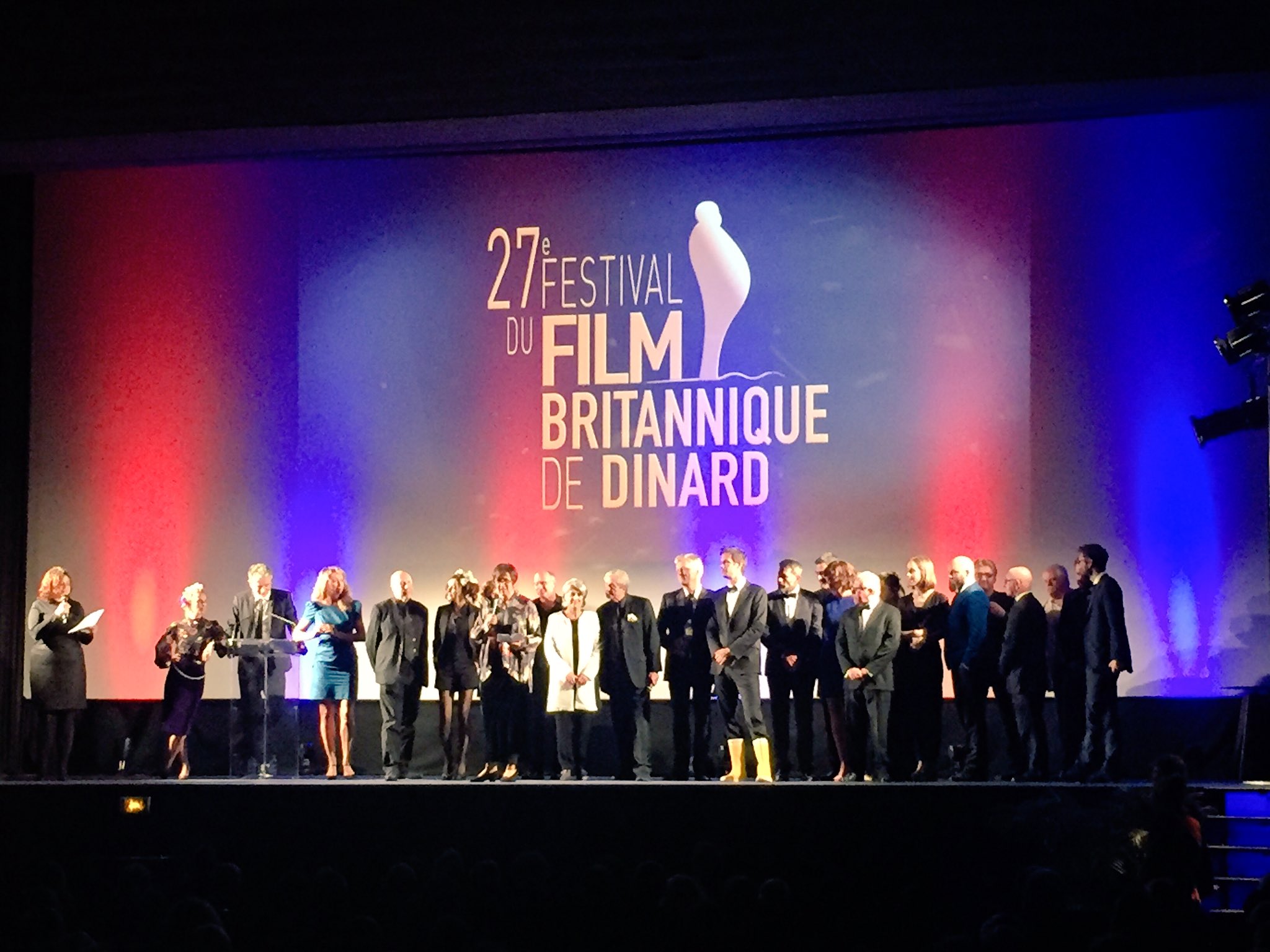 The overwhelming sweep of the night was the comedy by John Carney, Sing Street, winning the Golden Hitchcock + Grand Jury Prize + Best Screenplay, and Special Mention of the Jury to Away by David Blair.  
Finally someone posted a good photo of James with the wellies. Many thanks @superfillion (twitter)!
The Daily Dinard Show: Day 4 
Recent articles with stunning new behind-the-scenes images
Details

Category: Latest updates
Two new articles have been published with breathtaking images of Gernika.
From Hola! , an interview with Alex Garcia which touched on the subject of the beautiful scenery of Gaztelugatze, the Basque farmhouse where Henry meets Teresa's family and final the scenes of devastation. Very interesting and worth a read.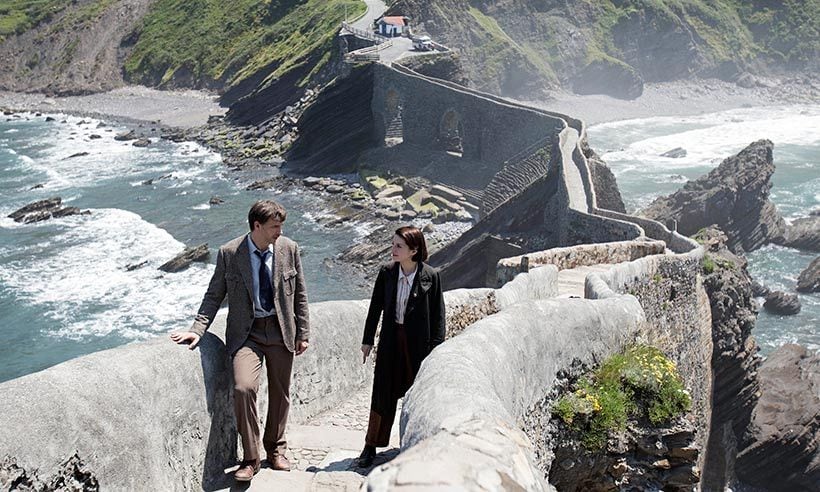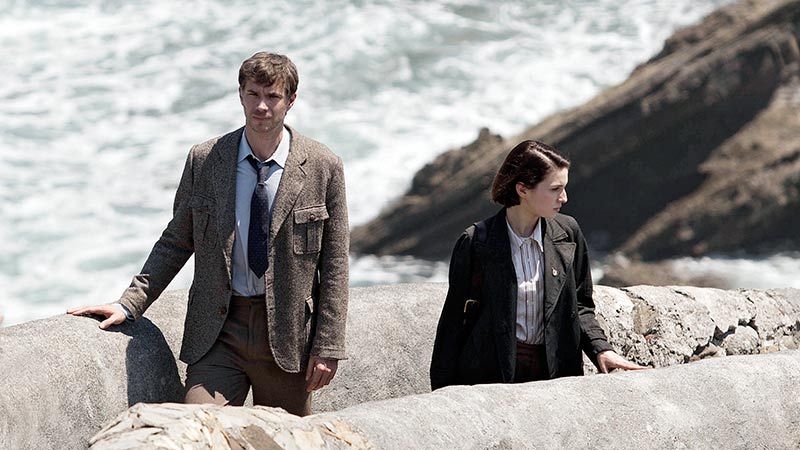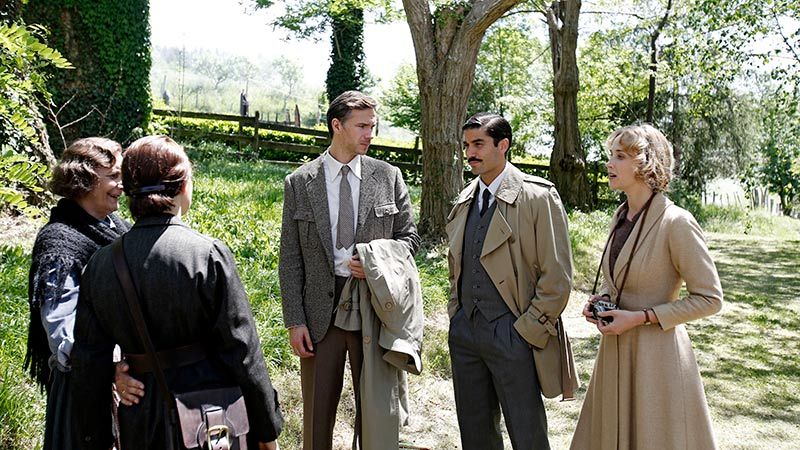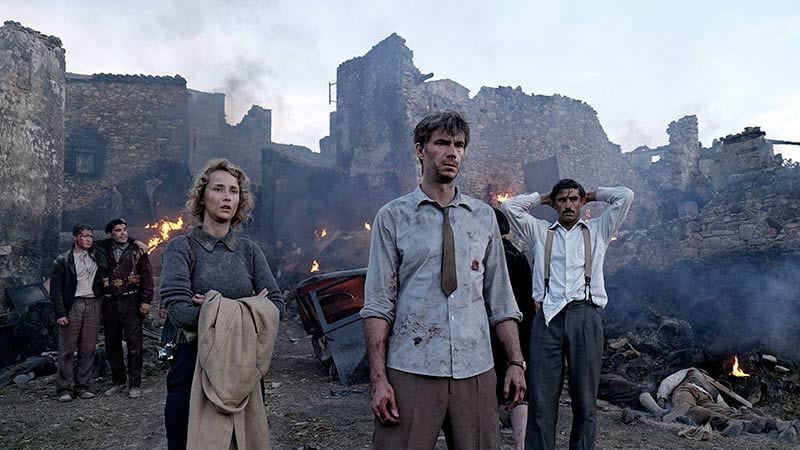 The second article is by Oskar Belategui, 07 September 2016, called "Bombs fall back on Gernika" on El Correo.
It is a film review and comes with 39 of the best images during the filming and these are the ones with James.
These are the press photos when they were filming at Barakaldo. You might have seen them before...
Dinard Film Festival (Day 3): Interviews and Photoshoots
Details

Category: Latest updates
Day 3 of the British Film Festival is a busy one with interviews and photoshoots on the most gorgeous terrace of the Le Grand Hotel Dinard. Oh my gosh, I have died and gone to heaven!!
Many thanks to Hotel Barriere - Le Grand Hotel Dinard facebook for these beautiful photos!
@VilledeDinard "photocall with Mayor"
Laetitia Heurteau tweeted this heart-stopping pic of James "Meeting with James D'Arcy, member of Jury Dinard, "I'm so happy on a platter of cinema" cc.  Did James say that?  We'll find out when the interview is posted, I guess.
More photocall images from Getty and Dinard Film Fest's Flickr.
At the Hôtel Barrière Le Grand Hôtel Dinard's "Café 333": Burton & Champagne Fleury Bow Tie & Piano Bar Soirée   
The Daily Dinard Show: Day #3   (James being interviewed and at the bowtie soiree)
First photos from the Madrid Photocall & Premiere of Gernika
Details

Category: Latest updates
Monday, 05 September 2016, was a very busy press day for Gernika in Madrid.  James who had flown in the night before, attended the morning photocall, presentation and press interviews at the Palafox Cinemas. I think we've seen this shirt before.

In attendance were: director Koldo Serra, Maria Valverde, Ingrid Garcia-Jonsson, Alex Garcia, Barbara Goenaga, Julian Villagran, Victor Clavijo and Hugo Silva.  #GernikaTeam
Series On Day editor, Maria Reinoso interviewed James in the morning.  
TV presenter, Raquel Atanes also interviewed James :"With my d'Arcy particular... I feel like Bridget Jones"  
Videos Diarios interviewed Maria Valverde and there's a bit of James' interview near the end. There's a longer interview with James, but unfortunately, it's in flash and can't be embedded here, but it's in the Telemadrid website. 
In the evening, starting around 9.30 pm, there were more photos, a presentation on the stage of Palafox cinema and the premiere of Gernika. It must have been sweltering, but James wore his black suit being the proper gentleman that he is.
 The premiere wrapped up quite late, (poor Koldo!)  but seems to have been a resounding success! 
Photo sources: Zeleb  & Katrina magazine, Series On Day, GernikaTheMovie, El Palomitron & Raquel Atanes facebook, Marcos Pergon, Ignacio Bustamente, Eneko Rugino on instagram. (Many thanks for your great photos!)
Bilbao Kultura reports that there will be another Premiere of Gernika in Bilbao to be held in the auditorium of the Guggenheim Museum Bilbao on Wednesday, 07 Septembre at 20.30 and a media press pass at 11.00 a.m.
The gala will be attended by the Lehendakari, Iñigo Urkullu, the Deputy General of Bizkaia, Unai Rementeria, and the Mayor of Bilbao, Juan Mari Aburto.
Maria Valverde, James D'Arcy, Barbara Goenaga and the director Koldo Serra, will attend the Bilbao event.
There is also another screening of Gernika on Tuesday, 06 September at 20.00 at Cinesur Nervion Plaza in Sevilla. But we don't know who will be attending, only that it might have "the presence of part of the film crew."
Stay tuned as more interviews and photos will come in during the week. 
Some wonderful additions, this morning..    Many thanks!!!   (Thanks to rebelheart1647 for the finds!)
From CarlosClavijo (twitter)
Oh James!! 
Does that mean there was a party after the party??   Priceless photos, thank you Mr. Clavijo22! 
 From MariaValverde who tweeted that this was the "best of yesterday."    Go #teamgernika!
From CUORE.. 
More photos have been uploaded into the Public Appearances Galleries.