"Love The Keepers" - First Trailer
Details

Category: Latest updates
The first trailer of "Love Thy Keeper" has been posted by Sprockeller Pictures. 
Published on 28 Sep 2017
An idealistic attractive young couple acquires a stunning, life-like robot for guilt free help but as the three grow closer, their perception of humanity will be altered forever.
Director and Writer: Josh Janowicz
Stars: Steven Strait, Addison Timlin and James D'Arcy
James' character is called Julian and he seems to be the creator of these life-like androids. 
Steven Strait  --- Henry
Addison Timlin --- Sophie
Drew Van Acker  --- James  
James D'Arcy recruits Bill Nighy and Jack Lowden for his comedy, "Made in Italy"
Details

Category: Latest updates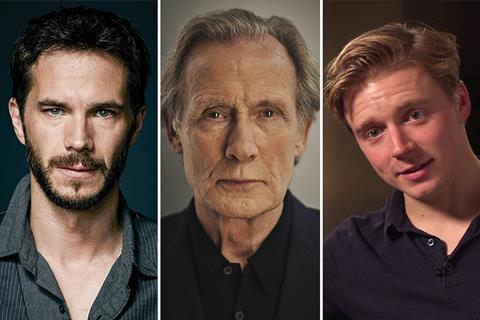 Our wonderful James D'Arcy who has written several screenplays in the past, found two brilliant leads for his first full-length feature film which he wrote and will be directing next year, a comedy called "Made in Italy."
His co-stars, Bill Nighy (Count Bilbuloff in The Bass Player) and Jack Lowden (Collins in Dunkirk) have signed to star in it.
It appears to be same project James was developing since 2015, called "The Long Way Round."   Pippa Cross and Sam Tipper-Hale presented "The Long Way Round" at the MIA Co-Production Market in Rome last year.
"Made in Italy" is set in Tuscany with Nighy as a bohemian London artist who returns to Italy with his estranged son (played by Lowden) to make a quick sale of the house they inherited from his late wife. However, they are shocked to discover their once beautiful villa has fallen into disrepair.   --- Screen Daily
Renovations go badly, and father and son find themselves at odds – not for the first time. Nighy's character then falls for a vivacious young Italian chef, who restores both body and soul until the pair find their relationship in jeopardy from her jealous and threatening ex-husband."  --- Variety
Shooting of "Made in Italy" will start next year (2018), in London and Tuscany.
Producers: Pippa Cross, Janet Day & Sam Tipper-Hale (London's CrossDay Productions)
                     Nicola Serra (Italy's Palomar Television & Film Production)
 Worldwide Sales & Distribution: Gabrielle Stewart (Hanway Films)
                     HanWay Films will commence sales at the American Film Market.
Release Date: Late 2018 or early 2019
Chicken/Egg featuring two charismatic co-actors, Hayley Atwell (Agent Carter) & Nicholas Coster-Waldau (Virtuality) was James D'Arcy's first short film. He wrote the script while on a plane to L.A. for Agent Carter and directed it in April 2016.
It won three nominations and screened at the Edinburgh International Film Festival on 23 June 2017. 
Attached Image from Screen Daily (Source: A&E, Hanway Films, Youtube)
Additional News Coverage from: Deadline, Movie Player Italy,  Empire Online  Hollywood Spy and Celebretainment
James steals a Van Gogh in a new radio drama / Paradise 5 & Baldi on air again
Details

Category: Latest updates
James is in a new witty and intense radio play about stealing a Van Gogh and waiting 20 years to sell it.  The Twenty Years Stretch is written by Colin Bytheway and directed by Alison Crawford. It  airs next Tuesday, 20 June 2017 from 2:15 - 3.00 pm on BBC Radio 4.  Catch it on the BBC Player Radio.   All the details are below. 
 Colin Bytheway posted on his facebook and twitter on 26 April 2017.
"A gun and Champagne effect drink.  Must be in studio with m'new radio play." @BBCDrama @BBCRadio4 #Dutchtreat #vangogh
@ColinBytheway posted another photo on 18 June 2017
Doctor Who: The Lost Stories: Paradise 5 is on the air again!  
Episode 1 aired last Saturday and Sunday and is still available on BBC Radio 4 Listen Again   25 days left
Episode 2 will air this weekend  and you can listen on BBC Radio 4 Extra shortly after broadcast
Sat 17 Jun 2017 @ 18.00 (1 hour) 
Sun 18 Jun 2017 @ 00.00 (1 hour) 
Paradise 5 was originally written for the BBC's Doctor Who TV series but was never made so Barnaby Edwards made it  into a radio play for Big Finish and radio broadcast.
Recording at Moat Studios on 13/14 July 2009. (James D'Arcy, Colin Baker, Alex Macqueen)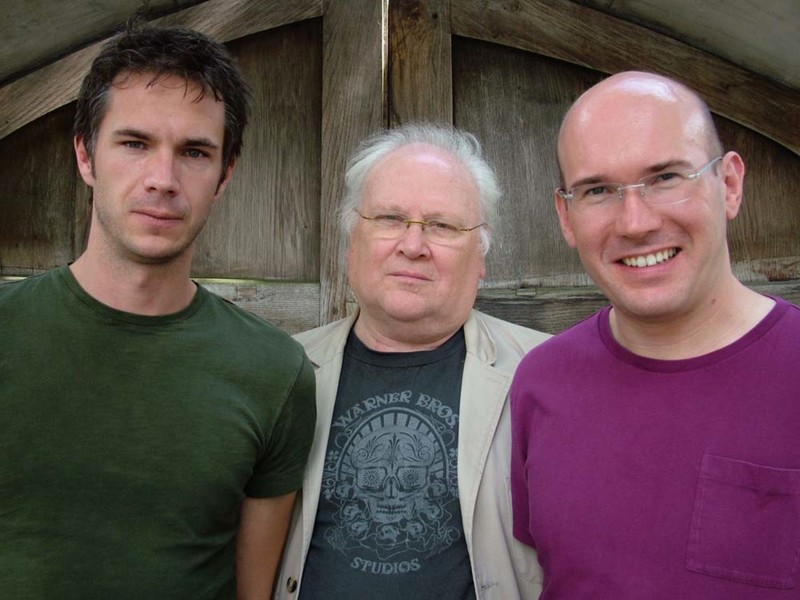 And on BBC Radio 4 Extra, Baldi: A Very Neglected Fish will air again.  James is celebrity chef, Gavin Farley.
Tue 20 June 2017 from 11.15 to 12.00 
Tue 20 June 2017 from 21.15 to 22.00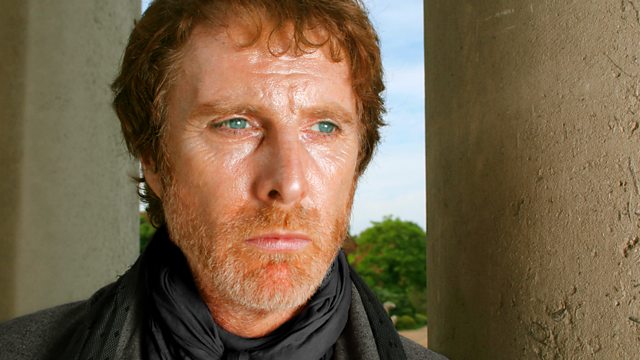 James D'Arcy in "Das Boot"
Details

Category: Latest updates
James has been added to the cast of Das Boot , a German mini-series set during WW II, Deadline.com reported:
Tom Wlaschiha (Game of Thrones), Vincent Kartheiser (Mad Men), James D'Arcy (Marvel's Agent Carter) and Thierry Frémont (Juste un regard) round out the cast of Das Boot, as filming begins on the Bavaria Fernsehproduktion, Sky Deutschland and Sonar Entertainment co-production. The series is shooting in Prague, La Rochelle, Malta and Munich.
The four join an international cast including Lizzy Caplan (Masters of Sex), August Wittgenstein (The Crown), Rainer Bock (Inglourious Basterds), Rick Okon (Tatort), Vicky Krieps (Phantom Thread), Leonard Scheicher (Finsterworld), Robert Stadlober (Summer Storm), Franz Dinda (The Cloud) and Stefan Konarske (The Young Karl Marx). Das Boot starts in autumn 1942, as U-boat warfare becomes increasingly brutal. While a very young crew put out to sea on a dangerous combat patrol, the Résistance rises in the U-boat port of La Rochelle.
The eight-part TV series is set right after the events of Wolfgang Petersen's 1981 Oscar-nominated anti-war classic Das Boot. Tony Saint, who wrote the BBC drama Margaret Thatcher: The Long Walk to Finchley, co-writes the Das Boot script with German screenwriter Johannes W. Betz, whose credits include the award-winning period dramas The Tunnel (2001) and The Spiegel Affair (2014). Andreas Prochaska is directing. Sky plans to premiere the series, budgeted at around $28 million (€25 million) across all five of its European territories in 2018.
According to Hollywood Reporter  Das Boot —The Series starts where the film ended: at La Rochelle harbor where the crew of the U 96 submarine surfaces only to be hit by an Allied bombing attack. Like the original film, which was based on the best-seller by German writer Lothar-Gunther Buchheim, the Das Boot series will be told from the perspective of the German soldiers. The new series, however, will extend that perspective to include characters from the French resistance, who help the Allies in targeting the German military. The producers say the series will have a strong, anti-war message. "Telling an anti-war story is now more relevant than ever," said Bavaria Film CEO Christian Franckenstein.
Variety wrote about the project in 2016:
The TV drama primarily focuses on the German perspective of events, but also includes the experiences of French Resistance and Allied forces in the war. Running through all the action is Buchheim's central theme: the blind fanaticism that drives young men into a senseless war.
Christian Franckenstein, CEO of Bavaria Film, said in a statement: "Today, more than ever before, anti-war stories need to be told. The notions of war and terror are ubiquitous. The misguided actions of young men driven to commit acts of terror by false ideologies are obvious." Franckenstein added: "The 1981 film 'Das Boot' is unique, and we are approaching our work with the greatest of respect for this masterpiece. We want to build on the strong brand of 'Das Boot' and continue telling the story in a contemporary manner by making use of every filmmaking and storytelling technique available to us today."
The series is expected to begin airing in 2018 across all the Sky territories: Germany, Austria, U.K., Ireland and Italy.
Oliver Vogel ("Dengler," "SOKO Stuttgart," "Dr. Klein") and Moritz Polter ("Spotless," "Crossing Lines") are executive-producing for Bavaria Film. Marcus Ammon and Frank Jastfelder will oversee the production for Sky. Carsten Schmidt, CEO of Sky Deutschland, said: "With 'Das Boot — the Series,' we have once again found a subjectmatter that fits Sky perfectly and will excite our customers… [It] is the next step into the field of original  fictional productions at Sky, and others will follow. Sky… continues its transformation into an entertainment brand for the entire family."
Scottish Premiere of Chicken/Egg
Details

Category: Latest updates
We have the Scottish premiere of Chicken/Egg created by James at the Edinburgh International Film Festival and the synopsis has gotten funnier.  Nikolaj Coster-Waldau and Max Fowler play a bizarre pair of con-artists who will do some very outlandish things at a children's party.  We're still not sure how Hayley Atwell will fit into all this.
When: Friday, 23 June 2017 @ 18.00
Venue: Cineworld Cinema 5    Get Directions
              Fountain Park, 130/3 Dundee Street, Edinburgh EH11 1AF
Program: Part of the Shorts Strands: UK - Spectrum
                  A dizzying array of the finest contemporary UK Short Film talent.                       
Dunkirk Behind the scenes & Red Carpet Interviews with James D'Arcy
Details

Category: Latest updates
Hailed as Nolan's "masterpiece" and receiving an impressive A- CinemaScore, Dunkirk opened first place in its opening weekend, exceeding studio estimates. In the North American markets, it took in $55.4 million for Warner Bros., exceeding its initial $30 - 40 million forecast, while globally, in 46 overseas markets on 10,775 screens, it debut with $105.9 million, ranking No.1 in all major markets, including UK, France, Spain, Korea, Australia, Russia, etc..
To celebrate its triumph at the box offive, here's a look back James D'Arcy's interviews in the past two weeks from the London and New York Premieres of Dunkirk.
Special Thanks to Alexander Bendo for painstakingly saving these videos for us to enjoy!
@Cinergia and @dunkirkmovie TW: Listen to James D'Arcy - "Do yourself a favor" and see #Dunkirk in IMAX this Friday
 Celebrity Page TV: 
Senior Correspondent Arthur Kade has the #BigStory from the Premiere of Warner Bros. Pictures Dunkirk, chatting on the Red Carpet with stars Mark Rylance, Aneurin Barnard, Cillian Murphy and James D'Arcy.
The film from Christopher Nolan opened to rave reviews and a 92% fresh rating from Rotten Tomatoes
BBC America Anglophenia
WATCH: James D'Arcy on 'Dunkirk' Co-Star Harry Styles: 'He's REALLY Good in the Film'
Compilation of James D'Arcy cut (by Alexander Bendo) from the Warner Bros livestream at the London Premiere
 Meeting Prince Harry.
Cinema City Czech: Dunkerk v IMAX
Filmbeat UK:   James D'Arcy discusses the film's storyline and working with film director Christopher Nolan.
Filmology:  Dunkirk - Behind The Scenes Interview with James D'Arcy
 Nerd Site - Interviews with actors Harry Styles and James D'Arcy
James narrated Diana: 7 Days That Shook The Windsors on Channel 5
Details

Category: Latest updates
James narrated a feature length documentary on Channel 5 called  Diana: 7 Days That Shook The Windsors.  
First Broadcast:  Tue 30 May 2017
9.00 pm - 11.05 pm (2 hours 5 minutes)
1.3 million viewers in the UK tuned in to watch the gripping and highly revealing account of the week that followed Princess Diana's tragic car accident in Paris in 1997.  After 20 years have past, the story of the event is just as heartbreaking as ever.
The special feature includes interviews with Anji Hunter, former Director of Government Relations; Diana's personal security consultant Colin Tebutt, Diana's private secretary Patrick Jephson and Diana's friend & biographer, Tina Brown.
The royal documentary was directed by Ben Ryder and produced by Blakeway Productions from 16 Sept 2016 - 17 Feb 2017.  We only found out about it retroactively as it appeared very late on James' IMDB.
Short clips from The Sun & Daily Mail confirm that it's James' voice in the narration.
I haven't had much luck with it, but the documentary might still be available to watch and download on the Channel 5 Catchup.
James D'Arcy attended the Premiere of Dunkirk in New York
Details

Category: Latest updates
James attended the North American Premiere of "Dunkirk" at the AMC Lincoln Square IMAX yesterday, 18 July 201 in New York City. MAP
No one really knew who was attending until @FionnDaily posted a photo list of the cast attending which included James along with Fionn Whitehead, Harry Styles, Aneurin Barnard, Jack Lowden, Cillian Murphy, Barry Keoghan, Kenneth Branagh and Mark Rylance.  Tom Hardy did not attend.
Shortly after, at 6.20 PM, @FionnUpdates tweeted "The cast is just now arriving at the #DunkirkPremiere!"  
AT 6.33 PM, @IMAX posted:  James D'Arcy just arrived at the dunkirkmovie premiere!
The cast came in limos & black SUVs and were shepherded through a canopied corridor on a BLACK carpet..  not red..  
Pic by Gary Patrick Lukas @hickslv426 IG
@mrbenwinston captured this moment when the cast posed for photos.
James wore an all blue suit ala Jim Caddon, matching Kenneth Branagh. 
There are too many gorgeous photos of James to put here, so don't forget to check out the gallery later.
The cast appeared in high spirits following rave reviews of the film. Rotten Tomatoes gave Dunkirk a 98% !!!
James with Jack Lowden, Barry Keoghan and Mark Rylance. 
His tie has green to match his green, green eyes..      Photo by Ivan Niklov / WENN         
 Screening was scheduled to start at 7 PM.  
After the screening, they went to the After Party at The Rainbow Room from 9.00 to 11.30 PM approximately.   MAP
And these last two photos with fans will make you smile because of the way he beams ...  oh James!
 @angrybritishguy IG:  I was very fortunate to have met James D'Arcy, he was a complete gentleman and super nice.  
@technadeschanel IG  Jarvis in the Flesh!
Spotlight on James for Dunkirk
Details

Category: Latest updates
Hooray for our Captain Winnant!
This week, Total Film Magazine (Summer 2017 issue) has a large photo of James in its 10 page exclusive on Dunkirk.  
You will be able to see and read the article in our Magazine Scans gallery.
Many thanks to the scans by Lord Shade at www.nolanfans.com/forums. 
Also this week, Warner Bros. France featured James with an interesting bio and new photo.
Go to Dunkerque : Coup de projecteur sur James D'Arcy to read the article in French.  
A google-translated English version below.  (sorry, it's not the best, but  hopefully, you get the gist).
 Dunkirk: Spotlight on James D'Arcy
His surname seems to have come out of a novel by Jane Austen, but it is in the register of the SF that James D'Arcy has made a name. Wachowski's favorite actor , he has collaborated twice with the tandem. Giving a more historical tour to his filmography, he joined the cast of Dunkerque , ambitious war film signed Christopher Nolan (July 19). Portrait of this actor plunged into the hell of a military operation that goes wrong.
Trained on London boards
Born in London, James D'Arcy was raised by a nursing mother, which earned the actor-in-a-lifetime to study medicine before embarking on the arts. After a hook by Australia, he returns to the country with the intention of breaking on the boards. A graduate of the London Academy of Dramatic Arts in 1995, he managed to win several roles in the theater but was already dreaming of cinema.
SF and costume films
After appearances in television series in the 1990s, James D'Arcy is introduced to the seventh art by the film Revelation (2001). Two years later, we find his name in the credits of the blockbuster Master and Commander , then The Exorcist, in the beginning and, more recently, the first realization of Madonna, WE . In 2014, the actor turns Cloud Atlas for Lana and Lilly Wachowski and returns with the duo the following year with Jupiter: The fate of the universe .
From then on it was at Nolan that he continued his career, in Dunkerque , on July 19th at the cinema.
And out on the newstands this month is Issue #70 of Little White Lies Magazine that is dedicated to Dunkirk.
The Dunkirk Issue covers an in-depth conversation with Christopher Nolan and report from the front line of his wartime epic.
The July 2017 issue of Empire Magazine has a massive six-page feature on Dunkirk with interviews with the cast. Here is one of their exclusive preview images.
Kenneth Branagh as Commander Bolton, standing alongside James D'Arcy as Captain Winnant with soldiers waiting to be evacuated from the jetty.
 You can purchase a single issue of Empire Magazine here.
 The Dunkirk On the Set exclusive in the July 2017 Empire Magazine is now in our Magazine Scans and Publications gallery.
James D'Arcy at the World Premiere of Dunkirk in London
Details

Category: Latest updates
James D'Arcy arrived on the red carpet shortly before 6 PM, sporting a great smile and chatting with Harry Styles.
(photo @fionarhionnon IG)
Hayley Atwell asked James to try and top her Harry Styles photobomb and he sent her this!  Well played, James!!! 
Great photo of Harry Styles and James by thedailystyles tumblr
There's a live stream of the red carpet arrivals.  Watch here:
James on the lineup to meet Prince Harry.  Wow, he's tall... it's not often that James looks up to talk to someone...
When James met Harry, Prince Harry...
James' suit is by Alfred Dunhill. 
And some more happy photos on the red carpet:
With Andini @AndiniRia9 who met James before when he was shooting After the Dark in Indonesia.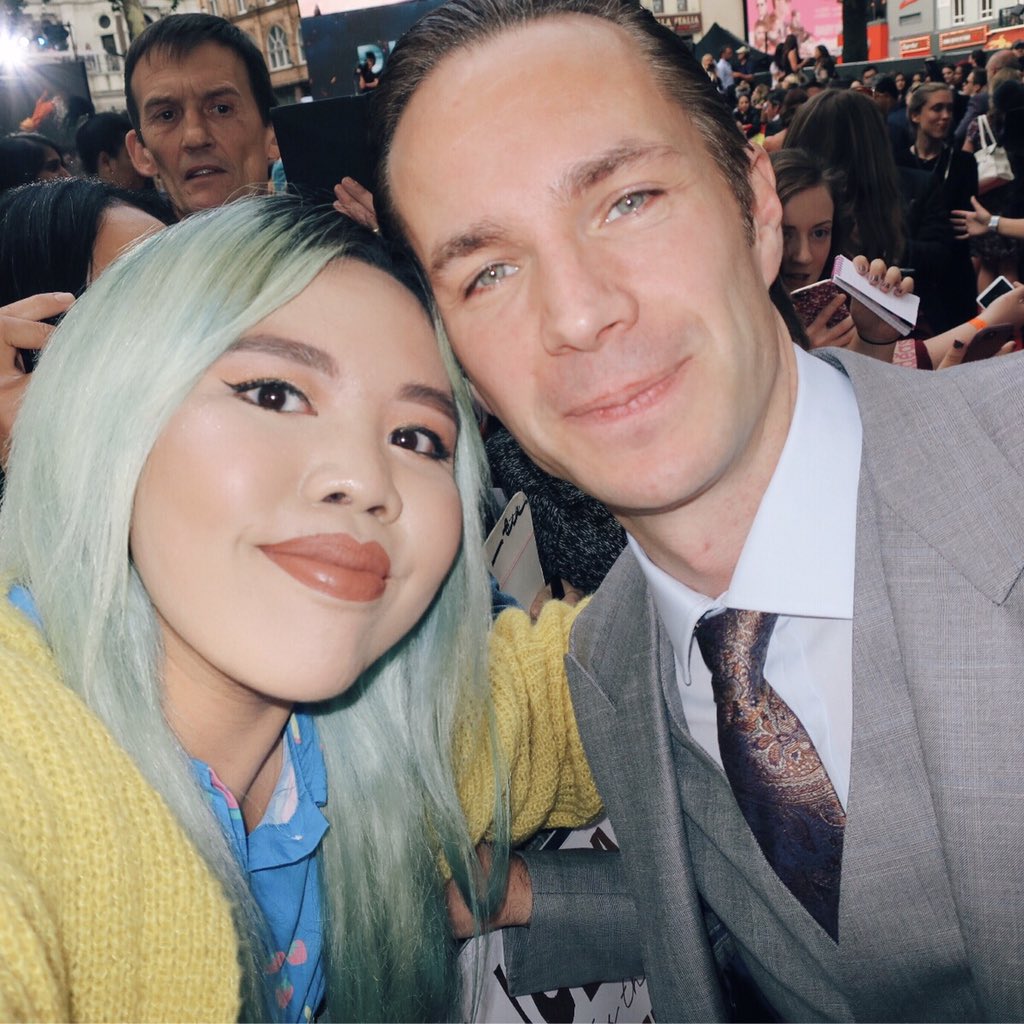 With our niky @_down_butnotout
 With Rosanna @rossers14 on IG ... and the very dashing James D'Arcy!
With Danielle @filmthusiastic TW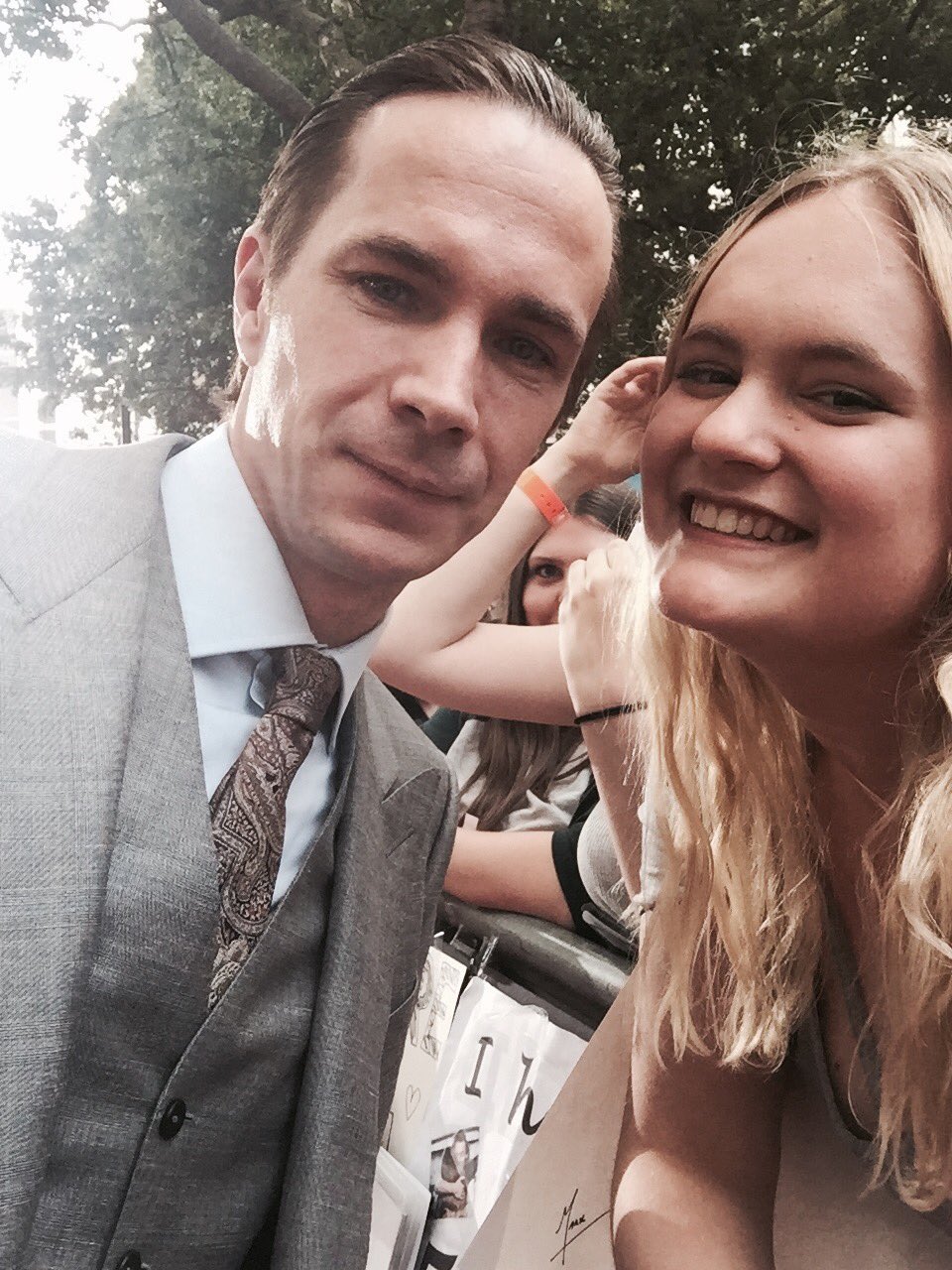 The Hollywood News:  James D'Arcy Interview
Inside Arrivals and Presentation (mostly from Harry Styles fans, sorry, it's almost impossible to track the first source..)
Thanks to Niky @_down_butnotout, we have some photos of James after the screening at the BFI. He came out around 22.10 and was one of the last to come out. He was such a gentleman and stopped for autographs and photos. 
From The Telegraph
From sorrisi.com / Splash News
Check out our  Gallery: Public Appearances: Dunkirk World Premiere for more photos 
Dunkirk Official Main Trailer: "They need to send more ships!"
Details

Category: Latest updates
Warner Bros. just released the highly anticipated official trailer for Dunkirk (2.26 min long), offering a harrowing, strong, visual narrative of 400,000 trapped Allied soldiers fighting to survive on land, air and sea. 
Medics running past rows upon rows of worried soldiers stranded on a grim beach surrounded by corpses, intense aerial dogfights, faces of relief on a departing hospital ship before getting torpedoed.....       
Nolan told Premiere some of the challenges the soldiers faced, like being stuck on the beach for one week waiting to be picked off or if you were flying to Dunkirk via British Spitfires, you'd only have an hour of fuel. 
We see how dire the evacuation situation is from the military perspective of the officers played by Kenneth Branagh and James D'Arcy; and civilians with small boats like Mark Rylance doing their courageous best. They simply don't have enough ships to evacuate and the enemy is closing in rapidly. 
"They need to send more ships."  "Every hour, the enemy pushes closer."
"They've activated the civilian boats."
"Civilians?  We need destroyers."
The story of Dunkirk is pivotal in the history of WWII. With a failed evacuation mission, Britain would invariably concede and the Germans would have conquered Europe. But this is more than a war story, it's a lesson on courage and unity in the face of impossible adversity.  
Dunkirk opens worldwide on July 21 on IMAX, 70 mm, 35 mm and all other screens.
001Lithium X is done! - James returns to London
Details

Category: Latest updates
001Lithium X completed filming in Vilnius.  James flew back to London this morning.
11 July 2017: Anna @messbrewster shared this on her IG.  Many thanks!!!
Thanks James D'Arcy for being an all round Great leading man 

After three weeks of night shoots and sometimes in inclement rainy weather,  001Lithium X wrapped on 09 July 2017.
There are a few more pictures of the night set from Natalex Apartments FB from last week who posted that the magnificent James D'Arcy was walking the neighborhood because he was given the main role in the American movie about ozone or zombies?  She wasn't sure what.
 29 June 2017: Lukas @sidlauskaslukas tweeted At night, when the yard becomes a shooting area. As far as I know, it will be a fantastic drama called X 001Lithium. Film director Guy Moshe, and the main page role, James D'Arcy.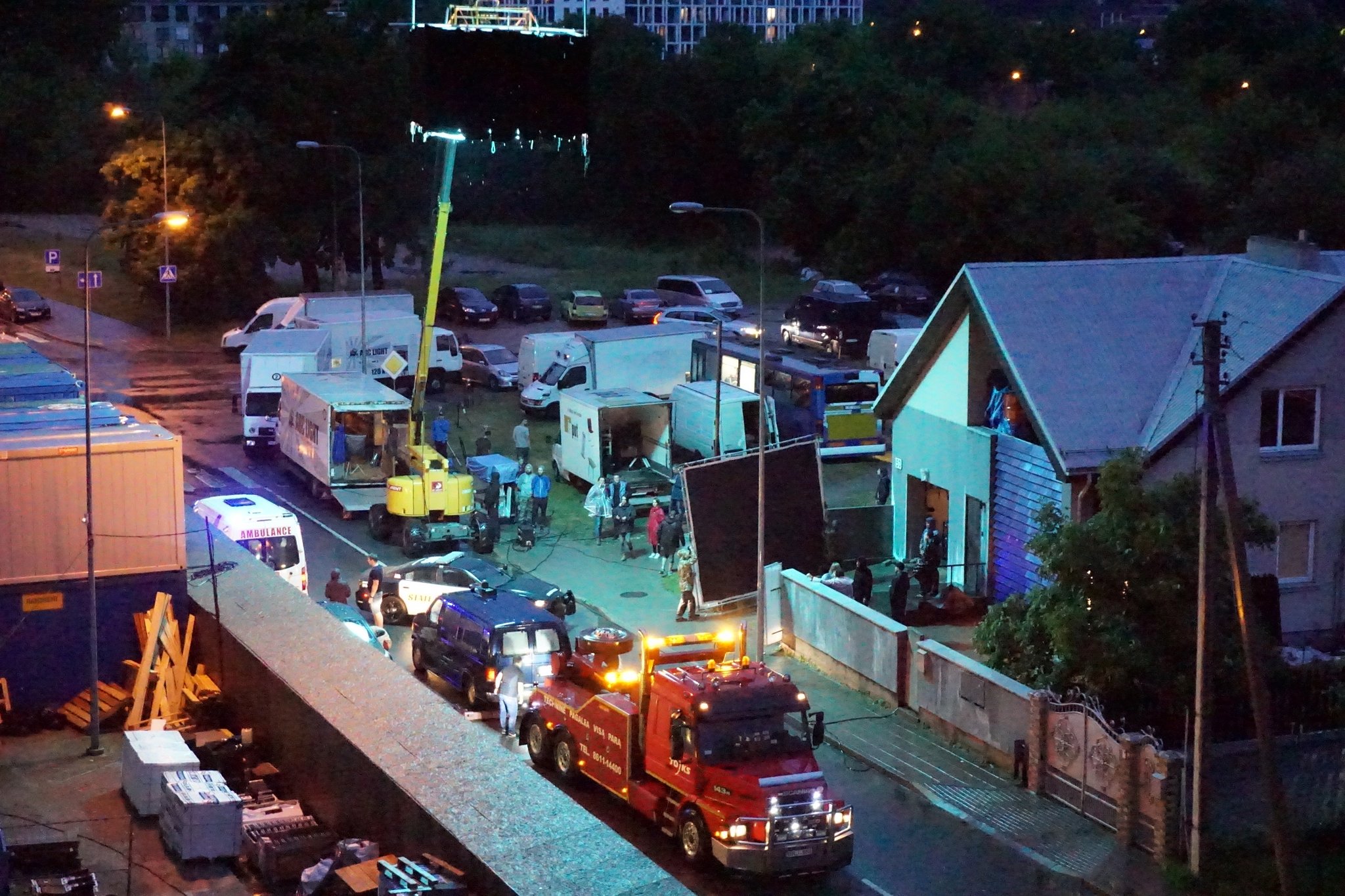 It seems to have wrapped early as a call for a body double per Actors Agency Lithuania came out on 01 June for work till 12 July.
Hi, The movie is looking for a double who looks like aktorių and free from 12 June. Before 12 July, in vilnius. 
Important Height-190 cm (+- 2 CM), hair color as in the picture, eyes light colour (Blue, green, Grey).
Hardly surprising it wrapped a few days ahead as we know James to be an incredibly efficient actor.
So now we wait for the much anticipated World Premiere of Dunkirk this Thursday, 13th July 2017 at Odeon Cinema, Leicester Square, London.
James will be attending along with Tom Hardy, Cillian Murphy, Kenneth Branagh, Mark Rylance, Christopher Nolan, Fionn Whitehead, Jack Lowden, Aneurin Barnard, Barry Keoghan and Harry Styles.  
Red carpet arrivals around 5.00 to 6.15 PM.   Warner Bros.Red Carpet Viewing Instructions   You need a wristband!
You can watch live stream on Dunkirk Facebook
Gernika debut on Cosmo TV Espana, new stills & TV spot
Details

Category: Latest updates
Marking the 80th anniversary of the tragic air raid on the Basque population of Guernica on market Monday, April 26, 1937, several media sources announced that "Gernika" will premiere exclusively on a Spanish television channel, Cosmopolitan TV Espana to commemorate the event.
COSMO:
Tuesday, 09 May at 10 PM 
 Sunday, 14 May at 6 PM
TV spot 
New stills from Ocio News and Movie Star Plus.
What Went Right With… James D'Arcy?
Details

Category: Latest updates
Posted on 02 July 2017, this article from WhatWentRightWith.com is so spot-on about James' career.  Thank you to the astute unnamed author who wrote it.
James D'Arcy is a very underexposed and underrated actor. His roles which are usually small or sometimes in unsuccessful films have kept this very talented actor from becoming a household name. It's a strange situation that just because someone's films are either commercial failures (Jupiter Ascending), poorly directed (W.E.), or underrated (Cloud Atlas), the talents of the performers can also go unnoticed and without praise. This is an unfortunate thing to happen, after all it's not always the actor's fault that a film is less than satisfying, sometimes that's down to the director, the writer, the editor, the promoters, or a combination. When it comes to D'Arcy, it's never his performance that hampers a film's success, in fact he is usually the person to look out for.
It's funny that the audience and critics can't see past an average film and notice the talent of one or two of the actors. Along with the underrated Rachel Miner, James D'Arcy played the jittery, awkward (and psychopathic) neighbour in the home invasion thriller In Their Skin very convincingly. With all the problems with the film itself (plot, script etc.) it was James' acting that kept me engrossed. From In Their Skin, the aforementioned Cloud Atlas to playing Anthony Perkins in Hitchcock, D'Arcy's performance for me is always enjoyable.
On a side note, in my article about Benedict Cumberbatch, I mentioned the fact that many people out there confuse these two actors. That really is a shame, especially since James D'Arcy in my opinion, is the more gifted actor of the two. To prove this confusion, after posting the Cumberbatch article, I've had many people navigating to it after writing search terms such as "Benedict Cumberbatch Cloud Atlas" and other annoyingly similar terms. The fact that Benedict Cumberbatch seems to be getting recognition for films he hasn't even appeared in is very irritating to say the least.
D'Arcy these days is better known for his television roles in Broadchurch or Agent Carter rather than his film work. It's unfortunate that he's taken part in movies such as Let's Be Cops or Survivor, films that must be pot-boiler work rather than those selected to showcase his skills as an actor. To break from this string of mediocre movies, James D'Arcy will appear in the upcoming Christopher Nolan film Dunkirk, but since he's not one of the main characters, his performance may once again go unnoticed. Casting directors and the casting department in general, really need to get their act together because they are underusing one of the best actors out there right now. They instead seem to be preferring weaker and less talented people simply because they have acted in more profitable movies. That's not how filmmaking should work, how will someone ever get out of a casting rut if nobody takes a chance and casts them in a better movie? Until someone breaks this vicious cycle, James D'Arcy will undoubtedly be part of a few more lacklustre films, but if you ignore other less important aspects of his movies and concentrate on his performance, it becomes obvious that D'Arcy is a very talented actor.
BMW dDrive - The Thrill of the drive for canines
Details

Category: Latest updates
James D'Arcy presents one of BMW's most pleasurable early spring offerings. The revolutionary BMW dDrive. Give your dog the exhilaration of the open road without having to leave a bespoked dog's basket.  
There are also actual BMW products that will enhance the life of you dog, like the BMW Active Dog Collar, BMW Active Dog Lead and BMW Active Dog Bowl.  
All are made to BMW's exacting standards and are available at a 25% discount, for this exciting weekend.
 This offer is only valid for orders made between 01 April and 02 April 2017.
James and the good people of BMW work tirelessly on surprising new technologies to bring you a long-running April Fool's tradition.  Cheers! 
Dunkirk Premieres & Events - James confirmed to attend the London World Premiere
Details

Category: Latest updates
Thursday, 13th July:  London World Premiere
Odeon Cinema, Leicester Square @ 7:15 or 7:30 pm    MAP  
Attending: Tom Hardy, Harry Styles, Cillian Murphy, Fionn Whitehead, James D'Arcy, Kenneth Branagh, Mark Rylance, Tom Glynn-Carney, Jack Lowden, Aneurin Bernard, Barry Keoghan, Christopher Nolan plus very special guests.
Cast Arrival between 5:15 and 6:15 pm  
Confirmed by Marks Meets, Whats on the Red Carpet
Guide Timing:
Media pens open: 4:00 pm
Photography pen called: 4:45 pm
Media pens shut: 5:15 pm
Red carpet arrivals: 5:45 pm
Film starts: 7:15 or 7:30 pm
Tickets: Sold Out  but free to watch stars on the red carpet
Watch the Dunkirk World Premiere Live Stream at version.co.uk
Sunday, 16th July: Irish Premiere at Galway Film Fleadh (Closing Day)
Town Hall Theatre, Main Auditorium @ 4:00 pm 
Tickets: Still Available
Sunday, 16th July: Dublin Premiere
Dublin at 6:30 pm
Tickets:  Contest        ( Entertainment.ie   98FM  RTE  Eason Edition )
Sunday, 16th July: Dunkerque Premiere (National Preview)     
Ociné Dunkerque, Pôle Marine Complex             MAP
Attending: Christopher Nolan, Emma Thomas, Fionn Whitehead, Jack Lowden, Tom Glynn-Carney, Harry Styles   (unconfirmed)
Tickets: By Invite Only    
Monday, 17th July:  Paris Premiere
The Grand Rex Paris @ 8:30 - 11:00 pm             MAP
Attending:  Christopher Nolan
Tickets: Opening sales on 08 July @ 10:00
Tuesday, 18th July:  New York North American Premiere
AMC Leows Lincoln Square IMAX Theatre, NYC @ 5:00 - 8:00 pm          MAP
Tickets: Invite / Contest Winners only     ( Indigo Books Canada   1057 WROR Boston )
Wednesday, 19th July: Special 70 MM Matinee Preview - Q & A with Christopher Nolan
Film Society of Lincoln Center at Walter Reade Theatre, NYC @ 12:00 pm
Attending:  Christopher Nolan for Q & A
Tickets:  Standbys Only
Friday, 21 July:  Dunkirk Opens in Cinemas Worldwide in 70 MM, 35 MM and IMAX  
                            Worldwide Release Dates by Country  
Special 70 MM Screenings:
Irish Film Institute: Tickets: On Sale starting 7th July       Screenings
Science Museum, London:  Tickets available now 
A special thanks to the great people at Nolan Fans Forum for their reliable intel and also to Sasha @CarpetScenes
Here's a poster I saw at the bus stop yesterday!
A new radio play about Edward Thomas + Chicken/Egg at RiverRun Film Festival
Details

Category: Latest updates
From the BBC Radio 4 Media Centre comes an announcement of a new biographical radio play about the enigmatic English poet, Edward Thomas penned by Nick Dear which originally opened at The Almeida Theatre in November 2012. The Dark Earth and the Light Sky is a moving evocation of the seven years before his death in France at the Battle of Arras on April 9th, 1917. The broadcast on BBC Radio 4 next Saturday afternoon, April 8th, 2017 marks its centenary.  James voices this poignant, complex & perpetually mysterious personality who became one of the most influential poets of the twentieth century.
Follow this link  BBC Radio  to listen to the program shortly after its broadcast.
Meanwhile, Chicken/Egg is in the Narrative Shorts #2 program at the RiverRun International Film Festival.  So, if you're anywhere near the University of North Carolina, now is your chance to see it at two screenings:
Buy Tickets:  
Sunday 02 April 2017  @ 2 pm  /  Babcock Theatre 
Saturday 08 April 2017 @ 5 pm / Babcock Theatre
Chicken/Egg has proved pretty mighty for James' first directorial short. It has garnered 3 nominations to date:
London Short Film Festival UK 2017:    Best Short Film - Short Fiction
Santa Barbara International Film Festival US 2017: Best Live Action Short Award - Best Film
RiverRun International Film Festival US 2017: Best Short Film
001Lithium X is James D'Arcy's new film in Vilnius
Details

Category: Latest updates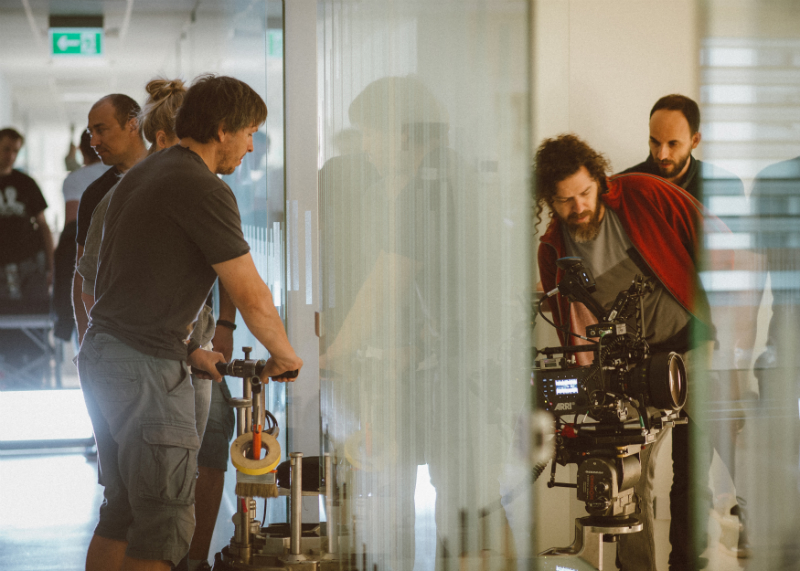 From the Vilnius Film Office (23 June 2017) comes exciting news that James is indeed filming in Vilnius, Lithuania.  
The feature film "001Lithium X" directed by Israel born, U.S. based director, Guy Moshe will begin this week in Vilnius.
It is fantasy drama about a near future: The ozone layer over the planet during the day has risen to 50 degrees Celsius thereby turning the rhythm of life upside down - people sleep during the day and live at night. Communication in the virtual world becomes the norm blurring the limits between what is real and what is virtual.
James D'Arcy plays the main character who is aware that his heart is "unhealthy." His last hope is to use a government-funded program "to change the heart and cloned." The ex-wife agrees, but she has a different plan - not to only change the heart.  
The main cast include:
Delroy Lindo (Gone in 60 Seconds, Cider House Rules, Malcolm X)
Anna Brewster (Star Wars: The Force Awake, Versailles)
Gina Mckee (Notting Hill, Our Friends in the North)
Gabriele Labuckas (a young Lithuanian actress playing a student in Los Angeles)
13 June 2017 Delfi.lt reported that Gina Mckee is visiting Vilnius the past days, enjoying the local cuisine and walking the old streets. Sipping a cup of tea in Vilnius Old Town, she didn't want to divulge details of the film she's here for, but said this much:
Today matavomės clothes, have tried hairstyle and Make-up, but now I have free time, I go for a walk - I want to feel the atmosphere
It's a story about a man who is struggling with many problems. Family, wife, children - many details of his life. He fights trying to control everything, find the key, 
 24 June 2017, delfi.lt  also inteviewed Delroy Lindo: 
I got the script and the director talked on the phone. I think he was already in Lithuania. I agreed, because the role was interesting. 
I was working all the time, but one night I went out for a walk, and today was the first day when I saw Vilnius. All right, I visited the National Museum and Art Gallery. The driver said that some of it reminds me of Paris, and he - Prague, but then I'm not the former. So, although I have seen a little, but I liked ..
A certain number of things you see may come true in reality. This film is also associated with microchips that can be implanted in man to give him any other real life experiences. It is, at some level, is already underway, but in the movie, this technology is already well advanced.
 The director, Guy Moshe
All the filming will take place in Vilnius with a Lithuanian film crew of 66.  It's a U.S. and Lithuania co-production.
Guy Moshe filmed in Vilnius last year (one scene in a nightclub for "The Man who was Thursday" with Francois Arnaud, I think) . In an interview with Delfi.lt, he said he found it very easy to work there, the Lithuanians being passionate and detailed-oriented in their work ethic.  It's not surprising he returned to film in Vilnius again.
The Filming Permit says that from 27 June to 01 July, they are shooting street scenes at night on Lvovo street from building #41 to 53. Two tents and several film cars will be parked next to the buildings.  The film production company is called "Great Rocket" and Karolis Malinauskas, the producer.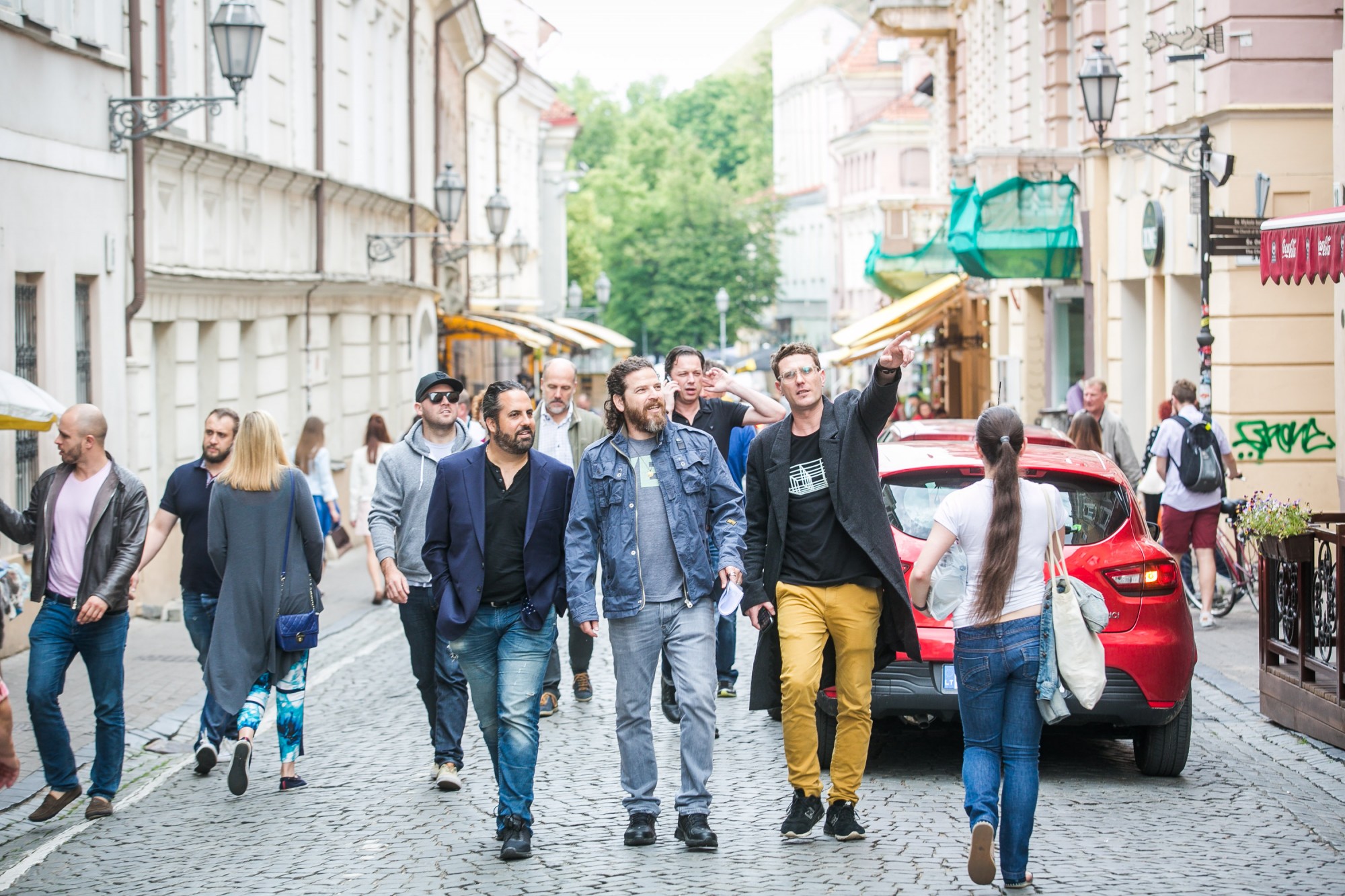 Guy Moshe checking out Vilnius Old Town last year. (source: delfi.lt)
Co-star Anna Brewster @messbrewster  arrived in Vilnius last week to film:   
19 June 2017:  Another day another airport... see you soon Lithuania... let's make a movie together
23 June 2017:  These ladies  a photo from Vilnius Old Town
23 June 2017:  Night shoots
26 June 2017:  New friends
( Our first photo of James on the set with director and cast from Vilnius Old Town --- Many thanks, @messbrewster! )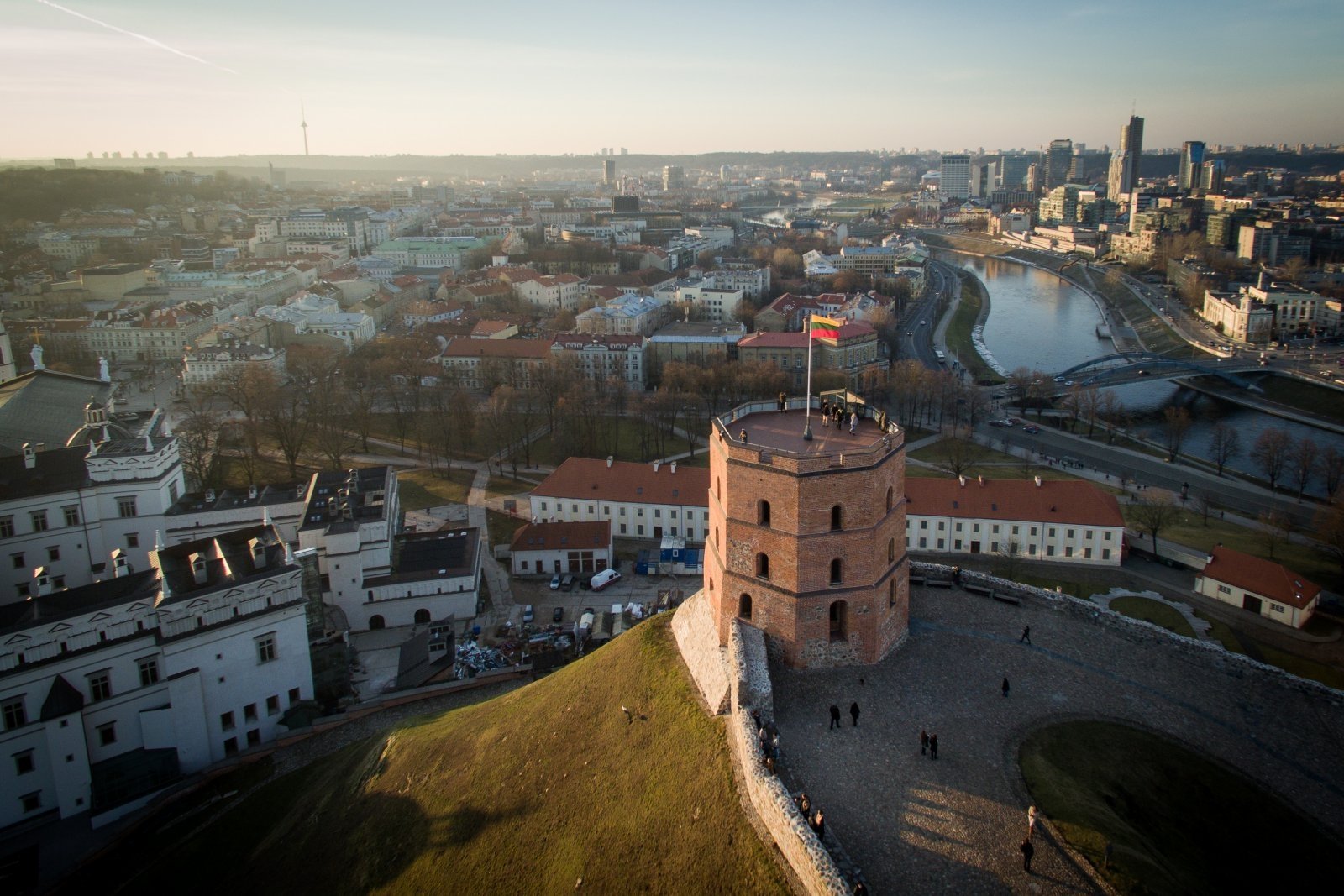 Vilnius filming a fantasy drama about the future: residents warned of traffic restriction (source: delfi.it)
Director Guy Moshe on filming 001 Lithium X in Girteka Logistics in Vilnius and a behind the scenes pic of James from Girteka Logistics FB.

Rare magazine scan, a new screenplay "No Man's Land" and Chicken/Egg selected for competition at Nashville Film Fest
Details

Category: Latest updates
As promised, here is the scan of an old magazine spread on Rebel Heart from the 06-12 January 2001 issue of Radio Times.  It's now in our Press/ Magazines and Publications Gallery where the image will open to its more readable Full size.
And here's some interesting news of one of James' new projects found in https://www.ascendantfilms.co.uk/
Hello, Hugo Weaving!  Any project with Hugo Weaving is always a good one!
Great clucking news!  Out of over 4,000 films submitted to Nashville Film Festival, Chicken/Egg was selected for the Narrative Shorts Competition. The winner has a good chance to qualify for consideration for the 2017 Academy Awards. Last year's Best Animated Short went on to receive an Academy Award nomination. The winner will be announced on Sunday, 17 April 2017. 
The 47th Nashville Film Festival takes place between 20 to 29 April 2017 at the Regal Hollywood 27 at 100 Oaks.
Chicken / Egg / UK (Director: James D'Arcy) — Mark's gonna help his uncle out. Maybe. Tennessee Premiere
"Stars in Shorts" Program / 99 min / Shorts Competition
Break (20min) - stars John Hurt
Chicken / Egg (15min) - stars Nikolaj Coster-Waldau | Hayley Atwell | Max Fowler
Home (14min) - stars Marianne Jean-Baptiste
Lightningface (20min) - stars Oscar Isaac
Lorne (15min) - stars Guy Pearce
Wig Shop (16min) - stars Emily Mortimer
There are 2 screenings. Tickets will go on sale on 12 April 2017 at 10 AM.
Regal Hollywood 27 Theater 3Thu, Apr 20 7:30 PM - 9:09 PM
Regal Hollywood 27 Theater 4Fri, Apr 21 3:00 PM - 4:39 PM
Where's James?
Details

Category: Latest updates
Since 17 May 2017, we had heard that James was in Vilnius, Lithuania. Someone spotted him near Vilnius Old Town.
Guoda Arlau Skaite posted: "Just saw James D'Arcy casually strolling by?????"  "I was in Vero Cafe near Vilnius Town Hall." 
She recognized him from Agent Carter and W.E.   Perhaps he's filming something, but we weren't sure what he's doing there.
We thought that was a one-off, but it seems James is still in Vilnius...
Today, 14 June 2017, Teniso Treneris Mazvydas posted:
"Great start of the day with nice company - actor James D'Arcy and perfect energy level!" 
An hour later, ExitRoom.lt posted:
"Guess who visited us ? It's James D'Arcy.  Excited to see him trying out our escape rooms." 
 It's great to see him enjoying his time there. The last time he was in Vilnius filming POW, he was stuck in Stalag 39. 
Festival Awards for Gernika
Details

Category: Latest updates
 It's been a grand week for winning prizes for Gernika! 
On Wednesday night, 22 February 2017, at the awards ceremony of the 20th Spanish & Latin American Film Festival in Ajaccio, France, Gernika took home double awards.
At the Espace Diamant, Gernika won the Student Jury Prize (University of Corsica) and the CCAS Special Prize.
Then, on Saturday, at the closing gala of the 33rd Basque Film Week in Vitoria-Gasteiz, Spain, the audience voted Gernika for Best Feature Film while Times Dead by David P. Sañudo took the Best Short. 
Koldo Serra was on hand to accept the prize.  Congratulations!!!
To celebrate the success of Gernika, let's have a look-back at the filming of the "kiss in the rain" scene at the Plaza Nueva. 
Many thanks to Bar Cafe Bilbao for the video.
Gernika pelikula from Café Bar Bilbao on Vimeo.
UPDATE:  Carceres, March 15, 2017  La Vanguardia
Congratulations to Koldo Serra for winning the Best Director Award for Gernika at the 24th Spanish Solidarity Film Festival of Caceres. At the gala at the Great Theatre of Caceres, he received the San Pancracio from Julian Lopez who handed him a pin of Athletic de Bilbao, the team for which they share a hobby. He dedicated the award to his team that made this story possible.