Where's James?
Details

Category: Latest updates
Since 17 May 2017, we had heard that James was in Vilnius, Lithuania. Someone spotted him near Vilnius Old Town.
Guoda Arlau Skaite posted: "Just saw James D'Arcy casually strolling by?????"  "I was in Vero Cafe near Vilnius Town Hall." 
She recognized him from Agent Carter and W.E.   Perhaps he's filming something, but we weren't sure what he's doing there.
We thought that was a one-off, but it seems James is still in Vilnius...
Today, 14 June 2017, Teniso Treneris Mazvydas posted:
"Great start of the day with nice company - actor James D'Arcy and perfect energy level!" 
An hour later, ExitRoom.lt posted:
"Guess who visited us ? It's James D'Arcy.  Excited to see him trying out our escape rooms." 
 It's great to see him enjoying his time there. The last time he was in Vilnius filming POW, he was stuck in Stalag 39. 
James steals a Van Gogh in a new radio drama / Paradise 5 & Baldi on air again
Details

Category: Latest updates
James is in a new witty and intense radio play about stealing a Van Gogh and waiting 20 years to sell it.  The Twenty Years Stretch is written by Colin Bytheway and directed by Alison Crawford. It  airs next Tuesday, 20 June 2017 from 2:15 - 3.00 pm on BBC Radio 4.  Catch it on the BBC Player Radio.   All the details are below. 
 Colin Bytheway posted on his facebook and twitter on 26 April 2017.
"A gun and Champagne effect drink.  Must be in studio with m'new radio play." @BBCDrama @BBCRadio4 #Dutchtreat #vangogh
@ColinBytheway posted another photo on 18 June 2017
Doctor Who: The Lost Stories: Paradise 5 is on the air again!  
Episode 1 aired last Saturday and Sunday and is still available on BBC Radio 4 Listen Again   25 days left
Episode 2 will air this weekend  and you can listen on BBC Radio 4 Extra shortly after broadcast
Sat 17 Jun 2017 @ 18.00 (1 hour) 
Sun 18 Jun 2017 @ 00.00 (1 hour) 
Paradise 5 was originally written for the BBC's Doctor Who TV series but was never made so Barnaby Edwards made it  into a radio play for Big Finish and radio broadcast.
Recording at Moat Studios on 13/14 July 2009. (James D'Arcy, Colin Baker, Alex Macqueen)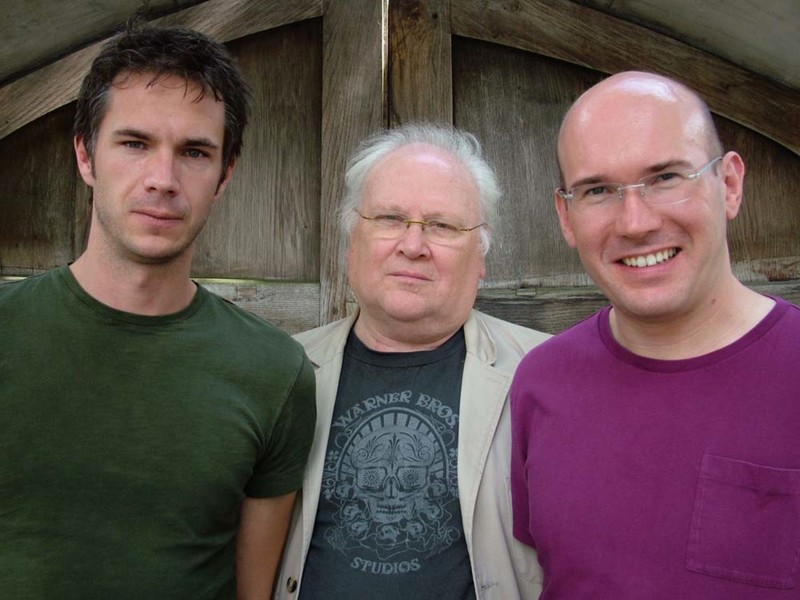 And on BBC Radio 4 Extra, Baldi: A Very Neglected Fish will air again.  James is celebrity chef, Gavin Farley.
Tue 20 June 2017 from 11.15 to 12.00 
Tue 20 June 2017 from 21.15 to 22.00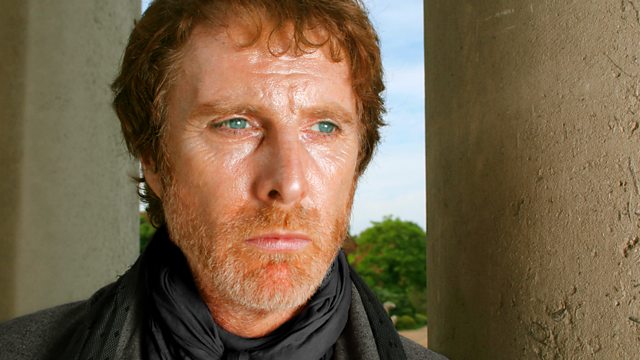 Chicken/Egg at The Atlanta Film Festival on 29 March 2017
Details

Category: Latest updates
The 41st Atlanta Film Festival (ATLFF) announced its lineup yesterday and we're happy to see Chicken/Egg in its short film programming in its narrative comedy lineup.
LOL (Laughing Out Loud) - Amusing moments and familiar faces.
Narrative (Comedy), 114 minutes
Wednesday, March 29, 2017, 8:00 - 9.45 PM — Dad's Garage      Tickets
Chicken / Egg | directed by James D'Arcy, United Kingdom, 15:00
Mark's a good guy. Kenneth not so much. Mark's gonna help Kenneth out. Maybe.
Chicken/Egg Trailer is on the Atlanta Film Society vimeo.
Directed by James D'Arcy / 14 mins | Narrative Short | UK
The program on OZ Magazine (March/April 2017 issue) page 61.
Scottish Premiere of Chicken/Egg
Details

Category: Latest updates
We have the Scottish premiere of Chicken/Egg created by James at the Edinburgh International Film Festival and the synopsis has gotten funnier.  Nikolaj Coster-Waldau and Max Fowler play a bizarre pair of con-artists who will do some very outlandish things at a children's party.  We're still not sure how Hayley Atwell will fit into all this.
When: Friday, 23 June 2017 @ 18.00
Venue: Cineworld Cinema 5    Get Directions
              Fountain Park, 130/3 Dundee Street, Edinburgh EH11 1AF
Program: Part of the Shorts Strands: UK - Spectrum
                  A dizzying array of the finest contemporary UK Short Film talent.                       
Chicken/Egg premiere at Santa Barbara IFF
Details

Category: Latest updates
Chicken/Egg directed by James D'Arcy will have its UK-US Premiere at Santa Barbara International Film Festival (1-11.02.2017).
It will be one of the 7 shorts compiled under Live-Action Shorts - Dramedy.
Filmed during the month of April 2016 in London, Chicken/Egg stars Hayley Atwell (Lauren), Nikolaj Coster-Waldau (Kenneth), Max Fowler (Mark), James' nephew, Huxley Davenport (George) and Billy Jenkins (Johnny) who played young Prince Charles in Netflix's The Crown.  
The original synopsis indicates that there is a magician and his uncle at a children's party, but "they are not all that they seem."  
Chicken / Egg, UK - US Premiere
Directed by James D'Arcy
Cast: Nikolaj Coster-Waldau, Hayley Atwell, Max Fowler
Mark's a good guy. Kenneth not so much. Mark's gonna help Kenneth out. Maybe.
James narrated Diana: 7 Days That Shook The Windsors on Channel 5
Details

Category: Latest updates
James narrated a feature length documentary on Channel 5 called  Diana: 7 Days That Shook The Windsors.  
First Broadcast:  Tue 30 May 2017
9.00 pm - 11.05 pm (2 hours 5 minutes)
1.3 million viewers in the UK tuned in to watch the gripping and highly revealing account of the week that followed Princess Diana's tragic car accident in Paris in 1997.  After 20 years have past, the story of the event is just as heartbreaking as ever.
The special feature includes interviews with Anji Hunter, former Director of Government Relations; Diana's personal security consultant Colin Tebutt, Diana's private secretary Patrick Jephson and Diana's friend & biographer, Tina Brown.
The royal documentary was directed by Ben Ryder and produced by Blakeway Productions from 16 Sept 2016 - 17 Feb 2017.  We only found out about it retroactively as it appeared very late on James' IMDB.
Short clips from The Sun & Daily Mail confirm that it's James' voice in the narration.
I haven't had much luck with it, but the documentary might still be available to watch and download on the Channel 5 Catchup.
The Creator
Details

Category: Latest updates
Special Effects reel of The Creator that was filmed in Glasgow 2 years ago (March 2014).
Set in Manchester, 7th June 1954, Alan Turing is visited by Thinking Machines from the future and on the last day of his life, he discovers his greatest scientific theory.  On James` CV with Markham, Froggatt & Irwin, it says his role is Turing.
 Alan Turing is the English scientist considered to be the father of theoretical computer science and artificial intelligence. His work as a codebreaker at Bletchley Park was vital in enabling the Allies to defeat the Nazis and shortening WWII by 2 years.
The Creator presents the story that artificial intelligence from the future might one day want to discover where they come from, assuming they`ve also figured out time travel.
Directed by Al Holmes and Al Taylor, produced by Paul Welsh (Edge City Films + AxisVFX) with the support of Creative Scotland and BFI.  
The Creator from axisVFX on Vimeo.  (10 Dec 2015)
And from an earlier reel (03 March 2015), there are 2 extra short scenes.
axisVFX Showreel 2015 from axisVFX on Vimeo.
Spotlight on James for Dunkirk
Details

Category: Latest updates
Hooray for our Captain Winnant!
This week, Total Film Magazine (Summer 2017 issue) has a large photo of James in its 10 page exclusive on Dunkirk.  
You will be able to see and read the article in our Magazine Scans gallery.
Many thanks to the scans by Lord Shade at www.nolanfans.com/forums. 
Also this week, Warner Bros. France featured James with an interesting bio and new photo.
Go to Dunkerque : Coup de projecteur sur James D'Arcy to read the article in French.  
A google-translated English version below.  (sorry, it's not the best, but  hopefully, you get the gist).
 Dunkirk: Spotlight on James D'Arcy
His surname seems to have come out of a novel by Jane Austen, but it is in the register of the SF that James D'Arcy has made a name. Wachowski's favorite actor , he has collaborated twice with the tandem. Giving a more historical tour to his filmography, he joined the cast of Dunkerque , ambitious war film signed Christopher Nolan (July 19). Portrait of this actor plunged into the hell of a military operation that goes wrong.
Trained on London boards
Born in London, James D'Arcy was raised by a nursing mother, which earned the actor-in-a-lifetime to study medicine before embarking on the arts. After a hook by Australia, he returns to the country with the intention of breaking on the boards. A graduate of the London Academy of Dramatic Arts in 1995, he managed to win several roles in the theater but was already dreaming of cinema.
SF and costume films
After appearances in television series in the 1990s, James D'Arcy is introduced to the seventh art by the film Revelation (2001). Two years later, we find his name in the credits of the blockbuster Master and Commander , then The Exorcist, in the beginning and, more recently, the first realization of Madonna, WE . In 2014, the actor turns Cloud Atlas for Lana and Lilly Wachowski and returns with the duo the following year with Jupiter: The fate of the universe .
From then on it was at Nolan that he continued his career, in Dunkerque , on July 19th at the cinema.
And out on the newstands this month is Issue #70 of Little White Lies Magazine that is dedicated to Dunkirk.
The Dunkirk Issue covers an in-depth conversation with Christopher Nolan and report from the front line of his wartime epic.
The July 2017 issue of Empire Magazine has a massive six-page feature on Dunkirk with interviews with the cast. Here is one of their exclusive preview images.
Kenneth Branagh as Commander Bolton, standing alongside James D'Arcy as Captain Winnant with soldiers waiting to be evacuated from the jetty.
 You can purchase a single issue of Empire Magazine here.
 The Dunkirk On the Set exclusive in the July 2017 Empire Magazine is now in our Magazine Scans and Publications gallery.
Chicken/Egg debuts at the London Short Film Festival this Saturday!
Details

Category: Latest updates
The London Short Film Festival which runs from 6th - 14th January will feature James D'Arcy's directorial and screenplay debut. 
Chicken/Egg will be shown on at Hackney Picturehouse on Saturday, 07 January at 6.30 pm. 
It will be one of the 10 shorts compiled under #LSFF2017 New Shorts: 'Til Death Do Us Part whick looks at love in long term relationships or love in the twilight years.
Filmed during the month of April 2016 in London, Chicken/Egg stars Hayley Atwell (Lauren), Nikolaj Coster-Waldau (Kenneth), Max Fowler (Mark), James' nephew, Huxley Davenport (George) and Billy Jenkins (Johnny) who played young Prince Charles in Netflix's The Crown.  IMDB Cast List
The original synopsis indicates that there is a magician and his uncle at a children's party, but "they are not all that they seem."  The festival program adds ....   (James isn't giving away much.)
CHICKEN / EGG
James D'Arcy 15 mins
Mark's a good guy. Kenneth not so much. Mark's gonna help Kenneth out. Maybe.
Hackney Picturehouse: 270 Mare Street, London     Google Map     Program Info
Shortfilms.org.uk  Event Info 
And on a sidenote, James and Hayley are spending fun times together; fingers-crossed they'll attend Chicken/Egg.  
Dec. 23, 2016 @wellhaley  "Flaming Christmas pud for the Jarv. #jamesdarcy #savoygrill"
January 06, 2016 @wellhaley "Sending cryptic messages via Bananagrams with #JamesD'Arcy"
Dunkirk Official Main Trailer: "They need to send more ships!"
Details

Category: Latest updates
Warner Bros. just released the highly anticipated official trailer for Dunkirk (2.26 min long), offering a harrowing, strong, visual narrative of 400,000 trapped Allied soldiers fighting to survive on land, air and sea. 
Medics running past rows upon rows of worried soldiers stranded on a grim beach surrounded by corpses, intense aerial dogfights, faces of relief on a departing hospital ship before getting torpedoed.....       
Nolan told Premiere some of the challenges the soldiers faced, like being stuck on the beach for one week waiting to be picked off or if you were flying to Dunkirk via British Spitfires, you'd only have an hour of fuel. 
We see how dire the evacuation situation is from the military perspective of the officers played by Kenneth Branagh and James D'Arcy; and civilians with small boats like Mark Rylance doing their courageous best. They simply don't have enough ships to evacuate and the enemy is closing in rapidly. 
"They need to send more ships."  "Every hour, the enemy pushes closer."
"They've activated the civilian boats."
"Civilians?  We need destroyers."
The story of Dunkirk is pivotal in the history of WWII. With a failed evacuation mission, Britain would invariably concede and the Germans would have conquered Europe. But this is more than a war story, it's a lesson on courage and unity in the face of impossible adversity.  
Dunkirk opens worldwide on July 21 on IMAX, 70 mm, 35 mm and all other screens.
The first full-length trailer for Dunkirk is here!
Details

Category: Latest updates
Warner Bros. released the first full-length (2.18 min) trailer for Dunkirk this morning and James D'Arcy appears and speaks at the beginning and end of the trailer.  On the pier conversing with Kenneth Branagh, he says "The enemy tanks have stopped."  "Why waste precious tanks when they can pick us off from the air like fish in a barrel."
The World War II action thriller chronicling the evacuation of British & Allied troops from the beaches of Dunkirk does indeed present an harrowing and intense scenario.  The direction by Christopher Nolan and cinematography by Hoyte van Hoytema is sure to bring to us an expansive epic experience which you will want to see on the IMAX. 
Rogue One: A Star Wars Story which is opening in 2 days (December 16) will preview an extended trailer of Dunkirk with 5.20 minutes of footage.  IMAX twitter posted the list of US, Canada and International theatres showing the Dunkirk prologue. (see bottom of page or click link)
Dunkirk opens next summer,  21 July 2017. 
https://www.facebook.com/Dunkirkmovie/
https://twitter.com/dunkirkmovie
http://instagram.com/dunkirkmovie/
In addition to the trailer, the first promotional poster was released on Tuesday.
Gernika debut on Cosmo TV Espana, new stills & TV spot
Details

Category: Latest updates
Marking the 80th anniversary of the tragic air raid on the Basque population of Guernica on market Monday, April 26, 1937, several media sources announced that "Gernika" will premiere exclusively on a Spanish television channel, Cosmopolitan TV Espana to commemorate the event.
COSMO:
Tuesday, 09 May at 10 PM 
 Sunday, 14 May at 6 PM
TV spot 
New stills from Ocio News and Movie Star Plus.
Gernika is a candidate of The Goya Awards 2017
Details

Category: Latest updates
The 31st edition of The Goya Awards chose 155 films released in Spain between 01 January and 31 December 2016. Among the candidates is Gernika. The Movie which received 21 Nominations including a Best Leading Actor for James D'Arcy.
Good Luck, James!!!
The nominees will be announced at the headquarter of the Academy on December 14.
The awards ceremony will be held on February 04, 2017 at the Auditorium Madrid Hotel Marriott and will be led by performer and stand-up comedian, Dani Rovira.
From the official website of the Goya:
Perhaps in preparation of the Goya, Gernika producer, Jose Alba recently released 17 new behind the scenes clips on his youtube channel on November 28.
Clip 06: The Kiss Sequence
Clip 03: Henry Howell
Clip 08: The Team
 Clip 2: The History
BMW dDrive - The Thrill of the drive for canines
Details

Category: Latest updates
James D'Arcy presents one of BMW's most pleasurable early spring offerings. The revolutionary BMW dDrive. Give your dog the exhilaration of the open road without having to leave a bespoked dog's basket.  
There are also actual BMW products that will enhance the life of you dog, like the BMW Active Dog Collar, BMW Active Dog Lead and BMW Active Dog Bowl.  
All are made to BMW's exacting standards and are available at a 25% discount, for this exciting weekend.
 This offer is only valid for orders made between 01 April and 02 April 2017.
James and the good people of BMW work tirelessly on surprising new technologies to bring you a long-running April Fool's tradition.  Cheers! 
Latest Update for Kickstarter "Enemy of Man"
Details

Category: Latest updates
As a backer, now and then, I still get an e-mail from Kickstarter for Enemy of Man.  
Here are the updates I received this morning and in May. 
#28
Update on Sean
Once again, apologies for keeping you in the dark for so long. I have been working away behind the scenes trying to get the project back on track since the Justin Kurzel/Michael Fassbender Macbeth torpedoed us below deck!!!
The good news is that Sean is back on board and looking forward to playing Macbeth. I believe now some time has passed audience and critics will be prepared to look at the material with fresh eyes.
I was hoping to announce our Lady Macbeth but alas that is no longer the case and the search still continues.
I have at last tracked down the T shirts and along with the posters I hope to have them all delivered in time for Christmas.
I will also be meeting new investors soon and will have a better idea as to when we will eventually go into production.  
I will make every effort to keep you all informed of my progress and I know how frustrating it has been for you all not having updates. I apologise for this unreservedly.
Unlike other Kickstarter projects this a behemoth and succeptible to all the vagaries of the film industry. It is a marathon and not a sprint.
Thank you for your continued patience and understanding. 
Vincent Regan
11th November 2016
# 27
For backers only
Firstly, a massive apology to all those who have backed the project and felt let down by a lack of information.
An obvious and unfortunate development has been the release of Justin Wurzels Macbeth with Michael Fassbender and Marion Cottilard. A major landscape changer. This has led to our finance (in the shape of David Mutch) to pull out.  He could still be interested in financing a television version of the project but now I believe he feels the Macbeth film market place to be saturated. Sean Bean likewise is now more interested in a television format.
Personally I feel the project should be a feature and not a two parter for television but I am continuing to explore a couple of possible options with some US TV cable companies.
If this fails to find traction I intend to drastically reduce the budget and if need be take over the leading role myself and shoot guerrilla style in the UK. 
I understand this is not the project you signed up for so for those who wish to have the money they pledged returned let me know and it will be returned as soon as we can raise this extra finance.
All of you who have seen the trailer and watched Instruments of Darkness can see the massive amount of work that has gone into the project and I'm hugely disappointed that I have no more positive news to communicate.
Now I have pulled my head out from under the stone of despondency I promise to keep you informed of all developments, good and bad. 
For myself I've been establishing my theatre in East Yorkshire,  taking film and television work and developing projects which require a lesser leap of faith from investors. 
Enemy of Man will be made, I am certain of that and once again thank you for your support.
Vincent Regan
13th May 2016
A new radio play about Edward Thomas + Chicken/Egg at RiverRun Film Festival
Details

Category: Latest updates
From the BBC Radio 4 Media Centre comes an announcement of a new biographical radio play about the enigmatic English poet, Edward Thomas penned by Nick Dear which originally opened at The Almeida Theatre in November 2012. The Dark Earth and the Light Sky is a moving evocation of the seven years before his death in France at the Battle of Arras on April 9th, 1917. The broadcast on BBC Radio 4 next Saturday afternoon, April 8th, 2017 marks its centenary.  James voices this poignant, complex & perpetually mysterious personality who became one of the most influential poets of the twentieth century.
Follow this link  BBC Radio  to listen to the program shortly after its broadcast.
Meanwhile, Chicken/Egg is in the Narrative Shorts #2 program at the RiverRun International Film Festival.  So, if you're anywhere near the University of North Carolina, now is your chance to see it at two screenings:
Buy Tickets:  
Sunday 02 April 2017  @ 2 pm  /  Babcock Theatre 
Saturday 08 April 2017 @ 5 pm / Babcock Theatre
Chicken/Egg has proved pretty mighty for James' first directorial short. It has garnered 3 nominations to date:
London Short Film Festival UK 2017:    Best Short Film - Short Fiction
Santa Barbara International Film Festival US 2017: Best Live Action Short Award - Best Film
RiverRun International Film Festival US 2017: Best Short Film
James D'Arcy follows his talent agent to WME
Details

Category: Latest updates
Three weeks after television agent, Sean Grumman exited CAA (Creative Artists Agency) for WME (William Morris Endeavor Entertainment), it has been confirmed that James is among the 10 high profile clients going with him.
Grumman was at CAA (Creative Artists Agency) for 15 years when he abruptly left the agency. His contract was up and he was being courted by many top agencies, before landing at WME.
Among Grumman's high profile TV clients are Milo Ventimiglia, Hayley Atwell, Dominic Cooper, Ruth Wilson, Chris Wood, Ryan Kwanten, James D'Arcy, Nick Nolte, Norman Reedus, Nina Dobrev, Matthew Goode and Donald Sutherland. The practice at CAA is for clients to be represented by teams and multiple agents.
Today, it was confirmed that the 10 TV clients leaving with Grumman from CCA to WME are:
Milo Ventimiglia (NBC's fall breakout drama "This is Us")
Troy Garity (HBO's "Ballers")
Ryan Kwanten (Sookie's brother Jason on "True Blood" and action thriller "Category 5")
Tyler Labine ("Reaper,"  "Sons of Tucson" and "The Boss")
British actor James D'Arcy, who played Jarvis on "Agent Carter" and will appear in Christopher Nolan's upcoming "Dunkirk"
Jaina Lee Ortiz (Miami medical drama "Rosewood")
Chris Wood (CW's "Supergirl" as Mon-El)
Hayes MacArthur (TBS' "Angie Tribeca")
Claire Holt (one of the vampires in CW's "The Originals")
Andrew J. West (Gareth on AMC's "The Walking Dead")
Sources: Variety, Deadline, Hollywood Reporter, Celeb News, Sean Grumman facebook (photo above)
William Morris Endeavor (WME)
Address: 9601 Wilshire Blvd 3rd Fl Beverly Hills, CA 90210 (Google Maps)
Contact: (310) 285-9000 / (310) 859-4085 / (310) 248-2000
Website: http://www.wmeentertainment.com/
Wikipedia: https://en.wikipedia.org/wiki/William_Morris_Endeavor
Facebook: @wmeentertainement
Rare magazine scan, a new screenplay "No Man's Land" and Chicken/Egg selected for competition at Nashville Film Fest
Details

Category: Latest updates
As promised, here is the scan of an old magazine spread on Rebel Heart from the 06-12 January 2001 issue of Radio Times.  It's now in our Press/ Magazines and Publications Gallery where the image will open to its more readable Full size.
And here's some interesting news of one of James' new projects found in https://www.ascendantfilms.co.uk/
Hello, Hugo Weaving!  Any project with Hugo Weaving is always a good one!
Great clucking news!  Out of over 4,000 films submitted to Nashville Film Festival, Chicken/Egg was selected for the Narrative Shorts Competition. The winner has a good chance to qualify for consideration for the 2017 Academy Awards. Last year's Best Animated Short went on to receive an Academy Award nomination. The winner will be announced on Sunday, 17 April 2017. 
The 47th Nashville Film Festival takes place between 20 to 29 April 2017 at the Regal Hollywood 27 at 100 Oaks.
Chicken / Egg / UK (Director: James D'Arcy) — Mark's gonna help his uncle out. Maybe. Tennessee Premiere
"Stars in Shorts" Program / 99 min / Shorts Competition
Break (20min) - stars John Hurt
Chicken / Egg (15min) - stars Nikolaj Coster-Waldau | Hayley Atwell | Max Fowler
Home (14min) - stars Marianne Jean-Baptiste
Lightningface (20min) - stars Oscar Isaac
Lorne (15min) - stars Guy Pearce
Wig Shop (16min) - stars Emily Mortimer
There are 2 screenings. Tickets will go on sale on 12 April 2017 at 10 AM.
Regal Hollywood 27 Theater 3Thu, Apr 20 7:30 PM - 9:09 PM
Regal Hollywood 27 Theater 4Fri, Apr 21 3:00 PM - 4:39 PM
Esquire Townhouse with Dior Launch Party
Details

Category: Latest updates
James D'Arcy attended The Esquire Townhouse with Dior Launch Party  held at the Carlton  House Terrace in London on Wednesday, 12 October 2016.  Arrivals - Photo by Mike Marsland / WireImage  (Many thanks again to @alexander_bendo !)
British men's magazine Esquire is launching The Esquire Townhouse with Dior, a four-day luxury living brand experience.
From October, 12-16, 2016, Esquire will takeover 10-11 Carlton Terrace in London to curate a series of live talks, interviews, screenings and masterclasses showcasing the best in the world of style, sport, tech, travel, food and film.
Activity planned for the event includes a screening of the upcoming film Inferno with its Director Ron Howard and actress Felicity Jones, a Q&A with experimental chef Heston Blumenthal, a men's style panel featuring model David Gandy, a supper club with Michelin star chef Marcus Wareing, and a Sky Sports panel celebrating the best moments in sport over the past 25 years.
Esquire will utilise audience insight and data to target affluent, influential consumers. Dior is headline sponsor of the event, while other brands confirmed include Huawei, Montblanc, Laurent Perrier, Roche Bobois, Surf Air, Starbucks Reserve, Fullers and William Grant & Sons Distillers.
Where: 10-11 Carlton House Terrace, SW1, Central London overlooking St. James's Park
A few images from STARTRAKS.
 A couple by Luca Teuchmann / Getty Images.  (Many thanks, @alexander_bendo!)
 @Frandull (twitter) shared an amazing photo:  "And here's James D'Arcy   Best night ever."   (Many thanks, Bella!)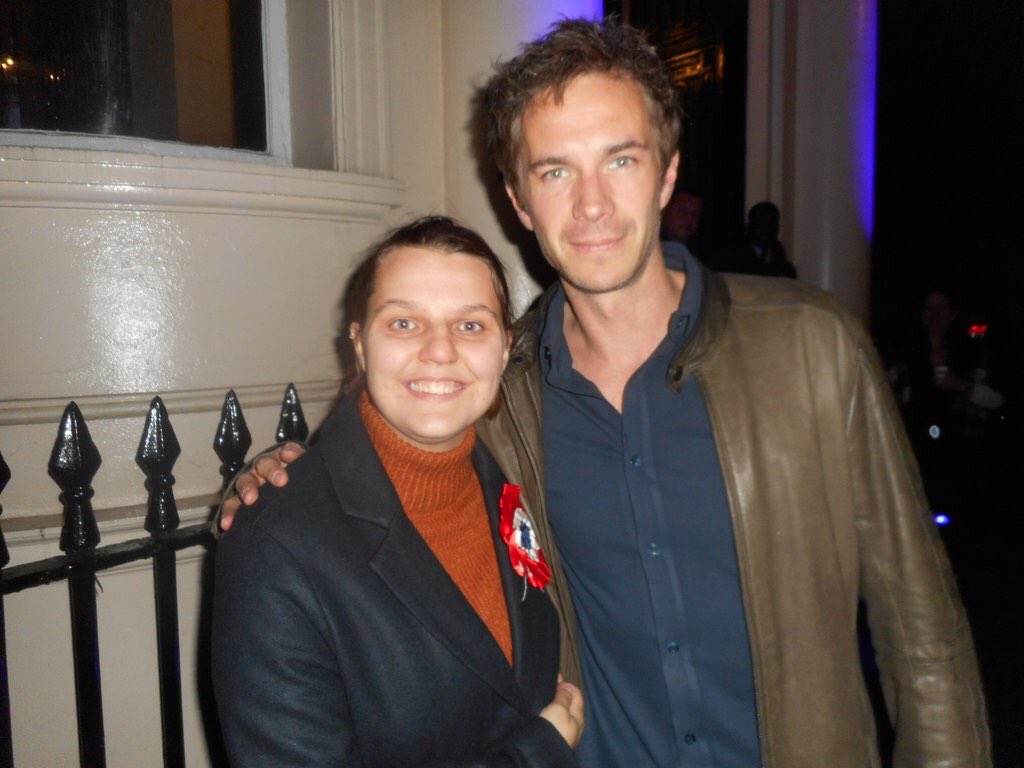 Festival Awards for Gernika
Details

Category: Latest updates
 It's been a grand week for winning prizes for Gernika! 
On Wednesday night, 22 February 2017, at the awards ceremony of the 20th Spanish & Latin American Film Festival in Ajaccio, France, Gernika took home double awards.
At the Espace Diamant, Gernika won the Student Jury Prize (University of Corsica) and the CCAS Special Prize.
Then, on Saturday, at the closing gala of the 33rd Basque Film Week in Vitoria-Gasteiz, Spain, the audience voted Gernika for Best Feature Film while Times Dead by David P. Sañudo took the Best Short. 
Koldo Serra was on hand to accept the prize.  Congratulations!!!
To celebrate the success of Gernika, let's have a look-back at the filming of the "kiss in the rain" scene at the Plaza Nueva. 
Many thanks to Bar Cafe Bilbao for the video.
Gernika pelikula from Café Bar Bilbao on Vimeo.
UPDATE:  Carceres, March 15, 2017  La Vanguardia
Congratulations to Koldo Serra for winning the Best Director Award for Gernika at the 24th Spanish Solidarity Film Festival of Caceres. At the gala at the Great Theatre of Caceres, he received the San Pancracio from Julian Lopez who handed him a pin of Athletic de Bilbao, the team for which they share a hobby. He dedicated the award to his team that made this story possible.
Variety: Rome's MIA attracts James D'Arcys Directorial Debut Project
Details

Category: Latest updates
Variety's International Correspondent, Nick Vavarelli ran a story on James D'Arcy's first feature film project, "The Long Way Round" to be presented at MIA Market in Rome next week. 
Published today, 11 October 2016 on Variety:
ROME — More than 400 international buyers, sales agents and producers are expected to attend the second edition of Rome's new-concept Mia market dedicated to feature films, TV series, documentaries and video games. English-language movie projects seeking co-production coin at the market, which is held in tandem with the Rome Film Festival, include the Tuscany-set directorial debut of British actor James D'Arcy ("Agent Carter," "Dunkirk").
D'Arcy (pictured) has teamed up with prominent London-based producer Pippa Cross ("A Hundred Streets") on "The Long Way Round," about an estranged father and son who travel to their family home in Tuscany, which they are thinking of selling. "Once there, they discover the beauty of the place, their love for the people who inhabit it, and renewed feelings of mutual affection," the project's synopsis says.
Mia – an acronym for Mercato Internazionale Audiovisivo, which means International Audiovisual Market in Italian – will run Oct. 20-24.
Photo Credit: NACHO LOPEZ/DYDPPA/REX/Shutterstock