James D'Arcy recruits Bill Nighy and Jack Lowden for his comedy, "Made in Italy"
Details

Category: Latest updates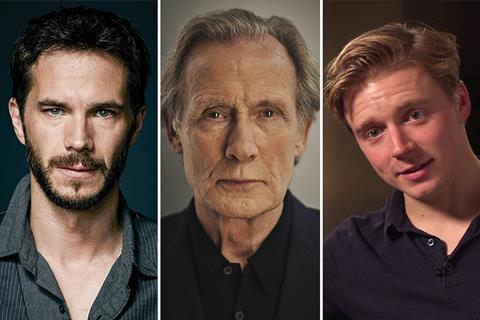 Our wonderful James D'Arcy who has written several screenplays in the past, found two brilliant leads for his first full-length feature film which he wrote and will be directing next year, a comedy called "Made in Italy."
His co-stars, Bill Nighy (Count Bilbuloff in The Bass Player) and Jack Lowden (Collins in Dunkirk) have signed to star in it.
It appears to be same project James was developing since 2015, called "The Long Way Round."   Pippa Cross and Sam Tipper-Hale presented "The Long Way Round" at the MIA Co-Production Market in Rome last year.
"Made in Italy" is set in Tuscany with Nighy as a bohemian London artist who returns to Italy with his estranged son (played by Lowden) to make a quick sale of the house they inherited from his late wife. However, they are shocked to discover their once beautiful villa has fallen into disrepair.   --- Screen Daily
Renovations go badly, and father and son find themselves at odds – not for the first time. Nighy's character then falls for a vivacious young Italian chef, who restores both body and soul until the pair find their relationship in jeopardy from her jealous and threatening ex-husband."  --- Variety
Shooting of "Made in Italy" will start next year (2018), in London and Tuscany.
Producers: Pippa Cross, Janet Day & Sam Tipper-Hale (London's CrossDay Productions)
                     Nicola Serra (Italy's Palomar Television & Film Production)
 Worldwide Sales & Distribution: Gabrielle Stewart (Hanway Films)
                     HanWay Films will commence sales at the American Film Market.
Release Date: Late 2018 or early 2019
Chicken/Egg featuring two charismatic co-actors, Hayley Atwell (Agent Carter) & Nicholas Coster-Waldau (Virtuality) was James D'Arcy's first short film. He wrote the script while on a plane to L.A. for Agent Carter and directed it in April 2016.
It won three nominations and screened at the Edinburgh International Film Festival on 23 June 2017. 
Attached Image from Screen Daily (Source: A&E, Hanway Films, Youtube)
Additional News Coverage from: Deadline, Movie Player Italy,  Empire Online  Hollywood Spy and Celebretainment