A high profile Gernika premiere at the Guggenheim Museum Bilbao
Details

Category: Latest updates
Wednesday, 07 September 2016: It was a wonderful and thrilling day promoting Gernika at the splendid Guggenheim Museum in Bilbao.  After an intense 6 weeks of filming in Bilbao in the months of May and June last year, the film returned to the city for its premiere. (photo above by @jonpi_reyes twitter)
It started with Maria Valverde posting "Flying to Bilbao!' on her instagram.
The tall gentleman at the back looks like James, doesn't it?
The day began with Press Passes at 11.00 am and interviews starting before noon and through the early afternoon. 
At 2 pm, @BistroGuggenheim instagram.   What a glorious setting for an interview!
Maria Valverde twitter, in the afternoon, after 4 pm.
Barbara Goenaga reminded everyone that there was a presentation at the Fnac Bilbao at 5 pm!
Fnac Espana (twitter) "James D'Arcy and Barbara Goenaga accompany Koldo Serra (and Jose Alba) in our shop presenting @GernikaTheMovie"
Our super-lucky friend @aleja_rdjr met James at the Fnac dvd/book/music store after the presentation at 6 pm.
"Fangirleo 150%  A year late again see #JamesDarcy"     
Note to self:  It must be that Star Wars T-shirt...  James is a big fan of Star Wars.
 In the evening, it was back to a night at the museum...  (I've always wanted to say that)
At 8.30 pm, VIPs and actors prepare to present Gernika at the Guggenheim Museum Auditorium. 
(photo by @koldoserra twitter)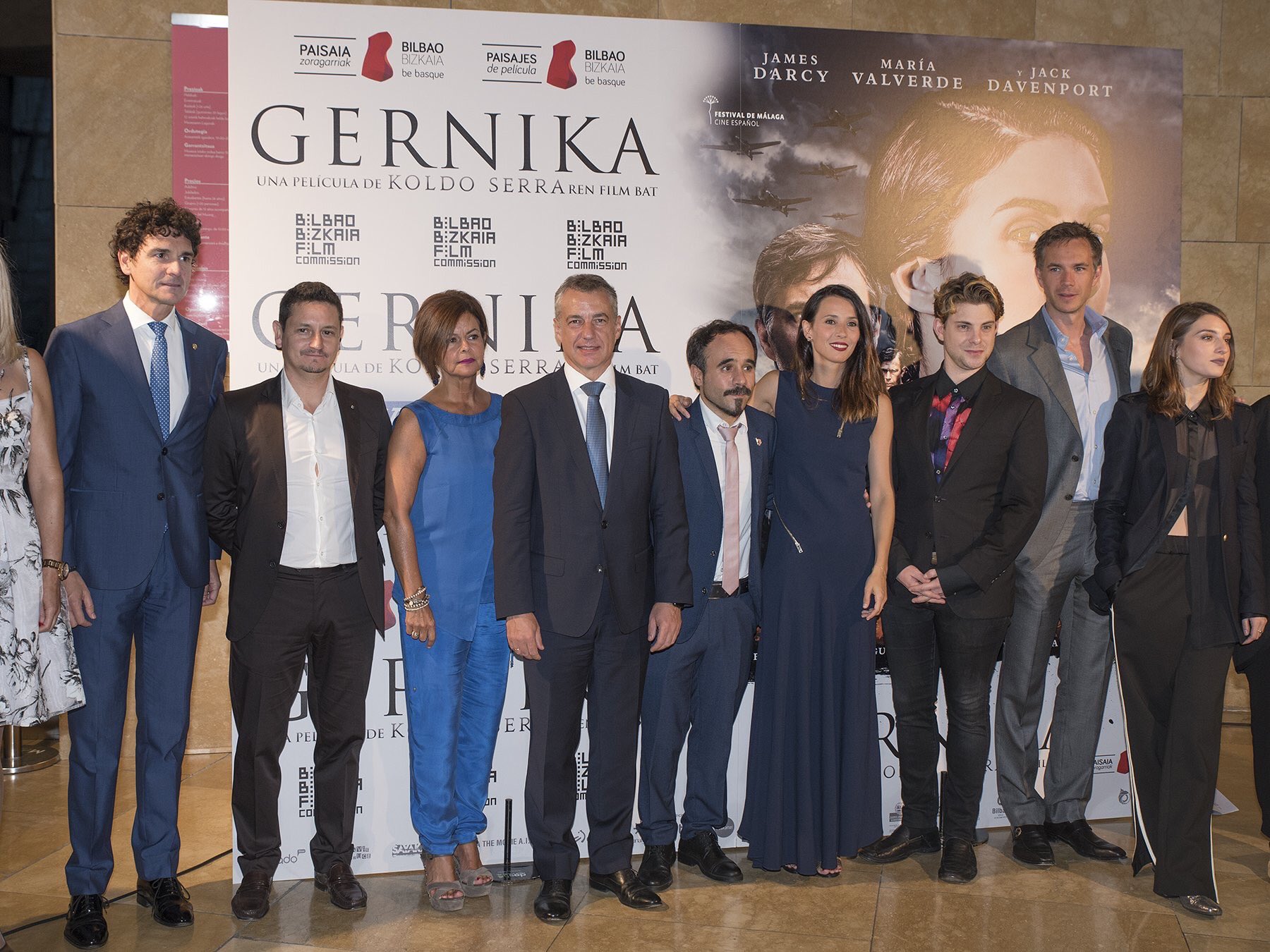 Koldo Serra with James D'Arcy, Maria Valverde and Barbara Goenaga, along with producers Daniel Dreifuss, Carlos Clavijo and co-writer Nahikari Ipina took the stage to address the audience.
With a great sense of humour, Koldo began the presentation by saying: "In my years as a student of Fine Arts, I always knew that one of my works would end up being hanged in this museum. Today we play at home, and for that I am a little nervous in this presentation. I want all attendess leave happy with the work done."  Source: El Correo
James must have been nervous as well as thrilled because in the front rows sat some very important regional, provincial  and local authorities: Lehandakari Iñigo Urkullu, Deputy General of Bizkaia Unai Rementeria, Mayor of Bilbao Juan Maria Aburto, Minister of Public and Justice Administration Josu Erkoreka, Minister of Economic Development Arantxa Tapia, directors of the Basque Government, President of General Meetings, Ana Otadui, Bilbao councilmen... I could go on, but I think you get the gist..
The 297 audience comprised mostly of authorities, artists and film lovers... This is a well-dressed crowd, folks!
(photo below by Bilbao Ekintza twitter)
After the successful evening with many congratulations, James got to greet more VIPs..
Koldo introduced James to the Mayor of Bilbao, Juan Maria Burto (pic from @juanmariburto instagram)
A pic with his lovely co-stars, Maria Valverde and Barbara Goenaga.... in the plaza of the giant flower cat..  I digress..
(photos by @Montxohache and @Asiersanger twitter)  Many thanks!
.... and he's off to the sunset, no, not quite..    a night still young and luminous to celebrate in beautiful Bilbao!    
There have been several video clips recording this special event, we shall try to embed it here whenever it is possible. 
VIDEO LINKS 
Iñigo Urkullu video on his facebook   
Bizkaia Media: Unai Rementeria previews Gernika - a little bit of James at the end  
Bilbao Ekintza: Before the premiere at the Guggenheim Museum.
Bilbao Ekintza: The Gernika Team taking photos before the premiere
 Jose Erkoreka Facebook: James meeting Lehandakari Iñigo Urkullu
Some new photos just came in:  Thanks to the eagle eyes of @alexander_bendo..   From Ibon Perez TV facebook
And look who made the pages of El Correo the next day!!!    Thanks to @carlosclavijo22 twitter for the scan!
Update 2016.09.09:  The photos for this event are now in the Gallery